Written by

KCJC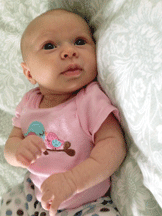 Shana and Douglas Enns announce the birth April 1 of a daughter, Aviva Sylvia Enns. They are also the parents of Henry Enns.
Grandparents are Steve and Judy Weinberg, and Dennis and Helga Enns of Kingsville, Ontario, Canada. 
Sorry, but the remainder of the article is only available for our subscribers.
Click here to enroll in a subscription plan OR Click here to login and read the full article along with our archives.