Opinion
We must reduce gun violence
Written by Marcia Montgomery
Created: 20 February 2014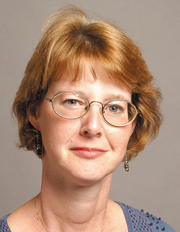 In December I sat with 5,000 other Reform Jews and joined in an erev Shabbat service that was uplifting and heartfelt, musical and deeply engaging. It was a blast! … but for me the most poignant part of the service was one that was anything but joyful. I sat with eyes welling up with tears as I listened to Mindy Finkelstein tell her story.
When Mindy was 16 years old, in the summer of 1999, she was a Jewish camp counselor at the North Valley Jewish Community Center (JCC) in Los Angeles. That summer Buford Furrow drove to LA desiring to open fire at the Skirball Cultural Center, the American Jewish University and the Simon Wiesenthal Center's Museum of Tolerance. He had maps for these places in his car. But when he arrived at these Jewish locales, he saw their security and decided he needed a different target. Buford had five rifles, two pistols, 6,000 rounds of ammunition in his car. He later said that he wanted his shooting to "be a wake-up call to America to kill Jews."
So where could he go now? While filling up his car with gas, he looked across the street and saw the JCC. It did not have security. The next morning Buford went in to the JCC with his Uzi-style semiautomatic weapon. At the same time that he entered through the front door, Mindy, with her class of preschoolers, was coming in through the back door. Buford opened fire — spraying at least 70 shots into the complex. Three children, a receptionist and Mindy were shot. It is surprising that more people were not hurt. Mindy was shot several times in her leg, and one of her campers was shot as well. Amazingly, all of the people at the JCC survived that day. Buford Furrow left the JCC, went to another neighborhood and opened fire at short range on a mail carrier — who died.
Mindy recuperated and has made it her life mission to work to reduce gun violence. I hope we will all join her in the fight to curtail access to guns — especially semi-automatic and automatic weapons — which NO average person needs in our society. On the very day that Mindy told this story to 5,000 of us, there was a shooting at a school and more school shootings have happened since. On average, 30,000 Americans are killed by firearms each year! Thirty Americans are murdered each day. With 88 guns per 100 people, the United States has the highest rate of gun ownership in the world. By contrast, Yemen, the No. 2 country, has 55 guns per 100 people. Israel, you might be interested to know, has only seven guns per 100 people.
A year after Sandy Hook most people agree that we need to reform gun legislation but pro-gun lobbies have made that very difficult, but not impossible.
As Sarah Brady, wife of former press secretary James Brady), put it, "We have cracked down on library books, cell phone calls, fertilizer purchases and wearing shoes in the airport, but we have done almost nothing (at the state level) to make it harder for either a terrorist or garden variety armed robber, or young person to get their hands on a handgun."
Is this a religious issue? It is! Our religion urges us to get involved in creating a more just and compassionate world. This is a rallying call of Judaism. Deuteronomy urges "justice, justice you must pursue." Leviticus commands "do not stand idly by while your neighbor bleeds."
We as an American Jewish community have often been a voice for reason and activism in the political arena. We have not been afraid to speak out strongly for causes we felt were important. And we HAVE been effective. Now is a time to join our voices to those of others around the United States who are looking for ways to reduce gun violence. You can go on to the Reform movement's Religious Action Center's website (rac.org) to learn more about advocacy on this topic. We should not turn a blind eye to the violence. I hope we can work together and with others to reduce the bloodshed.
Rabbi Debbie Stiel is the rabbi of Temple Beth Sholom in Topeka, Kan. This article is adapted from a sermon she gave on Dec. 20, 2013. It was originally published in the congregation's February newsletter to members.
Letter to the Editor
Written by Marcia Montgomery
Created: 13 February 2014
Service honors Judy Jacks Berman
They came by the dozens. Chairs were added to the back of the room. Young children sat on the floor in front of the bimah. Educators, grandparents, parents, school age youngsters and preschoolers all packed into Congregation Beth Shalom's services last Shabbos (Feb. 8) to honor Judy Jacks Berman, a teacher's teacher and director of the Rose Family Early Childhood Education Center of Congregation Beth Shalom.
Everyone helped "Miss Judy" celebrate 20 years as teacher and director of the nationally accredited children's preschool program. Miss Judy has infused the curriculum with Judaic and life principles gained growing up as the daughter of practicing Jewish parents and KU early childhood training. It was so natural for her to greet congregants with "boker tov" and a smile, and hug all the service participants as they left the bimah. Miss Judy remembered the names of her preschoolers, their parents, former students and the 40 or so present and past educators who joined in paying homage to her for her many abilities and joyful attitude over the past two decades.
Miss Judy encourages children to learn about their world and religion through creative programs and an evolving curriculum. If the lessons worked before, she thinks of ways in which the students can become more involved or leave with a more positive experience. Jewish current events help students connect the present to the past. Services express how important tradition is to Judaism. All the service participants last Saturday have a direct connection to the education program — present and past, except for Rabbi Glickman and Hazzan Ben-Yehuda — although the rabbi's youngest is enrolled in the school. Middle-schoolers and high school students chanted the service. A few undergraduates traveled home from nearby universities. Many community members honored Jacks Berman by donating to the Education Center to keep it a program of excellence.
Jacks Berman admitted other synagogues in the area also have good early childhood programs, but with her skills and heart invested in Beth Shalom's, its participants will continue to be winners.
Marlene Lerner
Overland Park, Kan.
Letter to the Editor
Written by Marcia Montgomery
Created: 06 February 2014
One-side article
I thought the J Street/ Peace Now item in the Jan. 30 issue (written by Ron Kampeas, distributed by JTA) was remarkably one-sided. It addresses the Obama/Kerry Iran strategy, but neglects to observe that the world's leading sponsor of terrorism is Iran. The Kerry/Obama deal can support the Iranian economy to achieve its goal of completion of a nuclear weapon. Mr. Kampeas does not seem to recall that this is the same Iran that demands the annihilation of Israel and of the United States as well. How does Mr. Kampeas explain that this arrangement enhances national security of the United States? Of Israel?
Attempts to block the world's most dangerous and fanatic regime from achievement of nuclear weapon capability is defensive, not warmongering! I perceive J Street as legitimizing the anti-Israel policies of the Obama administration. Obama, Kerry and Ron Kampeas have not explained how continuation of Iran's uranium enrichment and development of heavy water increase the security of the United States or that of Israel. Iran is being permitted to continue on its path to possible global destruction.
David S. Jacobs, MD
Overland Park, Kan.
Leadership in stressful times: Jews in America then and now
Written by Marcia Montgomery
Created: 13 February 2014
As President's Day approaches, we can rededicate ourselves to protecting the liberties we enjoy today by reflecting on Jewish life in colonial America, when we were granted both citizenship and religious freedom for the first time.
To the first president of the United States, George Washington, liberty and democracy were central causes. Letters from various congregations to Washington urging action on these fundamental tenets are considered to be among the most important letters in American Jewish history. An excerpt from one letter from the Newport Congregation in Rhode Island begins "Sir: Permit the children of the stock of Abraham to approach you with the most cordial affection and esteem for your person and merit. … we rejoice to think that the same spirit which rested in the bosom of the greatly beloved Daniel. … rests and ever will rest upon you, enabling you to discharge the arduous duties of the Chief Magistrate of these States. Deprived as we hitherto have been of the invaluable rights of free citizens, we now — with a deep sense of the gratitude to the Almighty Disposer of all events — behold a government which to bigotry gives no sanction, to persecution no assistance, but generously affording to all liberty of conscience and immunities of citizenship, deeming everyone of whatever nation, tongue or language, equal parts of the great governmental machine." (Friedman, L. M. [1942]. "Jewish Pioneers and Patriots,"  Philadelphia: Jewish Publication Society of America.)  It was signed: Moses Seixas, Warden, August 17, 1790.
Washington replied as follows, "… The citizens of the United States of America have a right to applaud themselves for having given to mankind examples of an enlarged and liberal policy — a policy worthy of imitation. All possess alike liberty of conscience and immunities of citizenship. … For happily the Government of the United States, which gives to bigotry no sanction, to persecution no assistance, requires only that they who live under its protection should demean themselves as good citizens, in giving it on all occasions their effectual support…." (Friedman 1942). It was signed: G. Washington.
The letter from the congregation refers back to our biblical history with pride but it does not hold back from voicing concerns about the status of the Jewish people. Washington's response reiterated the Jewish writer's own words in assuring him that intolerance and discrimination had no place in America. Washington added the phrase "the Government of the United States" to emphasize that the Jewish people had the protection of the authority of the federal government. Consequently, for the first time, the Jewish people became both citizens of a nation and enjoyed religious freedom.
George Washington is a towering figure in American history. He was a leader who recognized the real and pressing problems of the new nation. Washington addressed the concerns of a minority group by guaranteeing the principles of equality and religious liberty to the Jewish people. We can be guided today in our own search for good leaders by the sound foundation established by our American heritage. We need leaders who are guided more by ethical principles than emotional reactivity. We need leaders who recognize the real problems our society faces and solve them without putting unjustified pressures on minority groups.
Individually and collectively, we must become advocates for choosing responsible leaders who address real societal problems. Each of us must acknowledge the challenges of our times and take well defined positions on real problems. Real problems are in contrast to imagined problems, which universally falsely target vulnerable minority groups such as the Jewish people. Each of us must speak up and speak out. Every society has real problems that need solutions. Each of us is responsible to direct attention to these problems and to make sure that our leaders listen and act. Our colonial ancestors' words and actions can be the benchmarks to inspire us with the courage to meet the challenges of being responsible American Jews.
Mary Greenberg, Ph.D. is a member of the State of Kansas Holocaust Commission and Temple Beth Sholom in Topeka, Kan. An adjunct research associate at the Department of American Studies at The University of Kansas, Greenberg also holds a master's degree in social work. Her commentary is based on "The Staying Power of Anti-Semitism and a Possible Explanation of Its Resilience," which she gives at speaking engagements.
Taglit Birthright's Israel trip life-changing experience for KU student
Written by Marcia Montgomery
Created: 06 February 2014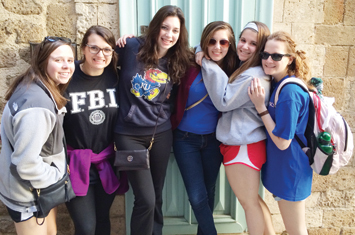 Boker tov, Kansas City!
The average person lives for about 27,375 days. I am only 18 and I have already had the 10 best days of my life. It sort of seems a little crazy. Now you are probably curious as to what made these 10 days the best, right? Well I can make it simple for you, it is called Birthright. Birthright, or Taglit in Hebrew, is a 10-day trip to Israel for Jewish teens. I went on this trip with KU Hillel in early January and returned feeling like a totally new person. I know it all sounds so cliché, but hear me out.
You become a different person after climbing Masada. You become a different person after floating in the Dead Sea. You become a different person after eating falafel and schwarma for 10 days in a row. And you most definitely become a different person after visiting the Western Wall. I just did all of these things on my trip. So, if all of these things make me such a different person, then there is absolutely no way that I am the same person that I was before going to Israel. I am different now and I love it.
Israel taught me to be open to new things. Israel taught me to make friends even when I thought I already have enough. Israel taught me to eat foreign foods and enjoy them. Israel taught me to do things that I would never do at home. Let Israel change you like it did me.
I have never been so affected by something like this in my entire life. I look at the whole world differently now, in a good way. I have 46 new best friends, I have eaten spicy schwarma and burned my lips off, my skin has cringed from all the salt in the Dead Sea, and I have had one of the most impactful experiences of my life.
On one of the first nights of the trip we were each asked what we wanted to get out of being in Israel. My response was that I wanted to cry while I was there. It seems strange, so let me clarify. I am not an emotional person, but I wanted something we were going to do or see in Israel to make me emotional. Nothing got to me and I sort of felt guilty about it.
I have had some time to reflect since we got back and I have come to realize that I did not mean emotional like tears streaming down my face. I think what I meant was that I wanted to feel touched by Israel. I wanted to feel inspired and rejuvenated and I am glad to say that I have accomplished that. It was a new type of emotional experience for me and I would not change it for the world.
While in Israel, Rabbi Neal Schuster, who was one of our group leaders, talked about how participating in Shabbat does not necessarily mean that a person must attend services, all someone has to do is acknowledge it. Light a candle, have some challah at dinner, or say the Shema before bed. What the rabbi said made me recognize how easy it can be to celebrate Shabbat and I look at Judaism differently now because of that.
I am having major Birthright withdrawals because Israel really did change me. I know I will go back and meet again with the Holy Land — I can hardly wait. I know that when I get there, everything will be — as they say in Israel — sababa (everything is all good).
Rebeka Luttinger is a freshman at the University of Kansas majoring in journalism.
Page 1 of 63