'Wicked' and 'Glee' star flies into Kansas City for benefit
Published: Thursday, 03 November 2011 12:00
Written by Ruth Baum Bigus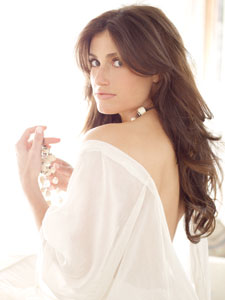 These days, Idina Menzel is "defying gravity," bringing her powerful voice to Helzberg Hall of the Kaufmann Center for the Performing Arts on Saturday evening Nov. 12. Perhaps best known for playing the role of the green witch Elphaba in the long-running hit Broadway musical "Wicked" (written by Jewish composer Stephen Schwartz), Menzel will appear with members of the Kansas City Symphony for a 90-minute, no intermission performance.
Menzel's concert is a benefit for Kansas City Young Audiences celebrating its 50th Anniversary bringing professional performing and visual artists into area schools. KCYA also manages the Arts Partners program and the Community School of the Arts and is the largest provider of arts programs in the Kansas City area.
KCYA Executive Director Martin English said his organization is "thrilled" to have Menzel here to celebrate his organization's half century in Kansas City.
"She's a wonderful arts education advocate herself and she's on a show ("Glee") that's all about arts education," English said.
Menzel loves performing live, something she's been doing since her teens when she sang with different bands at Bar Mitzvahs and weddings. It was a natural for Menzel, who grew up on Long Island, the daughter of Stuart and Helene Mentzel (she changed the spelling).
"I come from a Jewish family (although) we weren't very religious," she said during a recent telephone interview from Los Angeles, where's she taping the popular television series "Glee." Menzel said her grandparents came from Russia and Eastern Europe.
"I feel very connected to the culture and history of the Jewish people," said Menzel, "but I've struggled and waivered with my connection to organized religion. Now that I'm a mom, we're struggling with how Jewish we are going to be."
Menzel is referring to Walker Nathaniel Diggs, her 2-year-old son with fellow actor and husband Taye Diggs. The couple, who first met when Menzel starred as Maureen in the musical "Rent," have been married since 2003. Menzel said being a mom has been a powerful and rewarding experience.
"I'm a more well-rounded person," Menzel said. "He's changed my entire perspective. It's put me more at ease. All these things that were so important aren't as important, (and) it's made me a better artist. I'm able to explore."
Her son has become a great inspiration to Menzel in her own song writing. She sings with her son all the time and is now writing some children's songs.
"I'll ask him, 'what should Mommy write about,' and he'll say an egg, so we sing about eggs," said Menzel with a giggle.
But being a mom has also brought new worries for Menzel.
"I didn't know how much your heart would feel — this aching heart of worrying," she said. "There is so much love — and sometimes it's heavy with love."
Menzel's been working on her dream of performing for a while. She's a drama graduate of the prestigious Tisch School of the Arts at New York University. She was working on her career as a singer/song writer when Menzel was cast in "Rent," which became a Broadway hit. She also received her first Best Actress in a Musical nomination. In addition to "Wicked," the prequel musical to the "Wizard of Oz" story, Menzel has tread the boards on Broadway in such shows as "See What I Wanna See," "The Wild Party" and as the character Amneris in "AIDA." However, it was her performance in "Wicked" that shot Menzel into super stardom and garnered her a Best Actress Tony Award. Menzel has also dabbled in film, including "Enchanted," as well as television — beyond "Glee" — having just completed an arc in "Private Practice."
Menzel's Kansas City show will be a mix of musical theater selections, some standards and a mix of her own music, some of which is on her "I Stand" album. However, the Kansas City concert almost didn't happen, said KCYA's English. When Menzel was called to make a longer filming commitment for "Glee," in which she plays the recurring role of vocal coach Shelby Corcoran, the actress cancelled most of her concert engagements. But English said Menzel is so committed to arts education, she kept the Kansas City date — with one caveat.
"She told us she needed to do her symphony show instead of a new show she had put together, and she needed a symphony to do it," English said. Quick conversations were held with the Kansas City Symphony and ta da, there's a show.
"Kudos to the symphony for making this work," English said.
So what does the future hold for Menzel?
"I'm developing a new musical, although I can't say much about it right now," she said. Menzel continues to write her own music and would love to do a project with her husband, who's written his own children's book "Chocolate Me!" that's illustrated by Kansas City artist and longtime friend Shane Evans. And, she hopes, Broadway is calling her name.
"I'm dying to get back to the theater and do an original role," Menzel said. "My love is to sit at the piano with a composer and hear how a song goes in Act One, Scene seven...."