Chiefs' Geoff Schwartz scores at HBHA
Published: Thursday, 24 October 2013 12:00
Written by Marcia Montgomery, Community Editor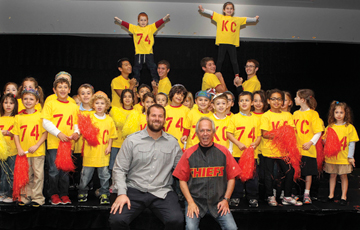 A sea of excited elementary, middle school and high school students dressed in red and gold greeted Kansas City Chiefs offensive lineman Geoff Schwartz at the Hyman Brand Hebrew Academy in Overland Park on Tuesday, Oct. 15. Besides students, members of the HBHA community of families, faculty and staff attended the all-school assembly in the Social Hall of the Jewish Community Campus.
Schwartz took time to speak frankly to the K thru 12 student body about personal character.
"Character is what you do when nobody is watching," Schwartz told the students. He emphasized learning from failures instead of getting upset by them, and he encouraged kids to be their best selves 100 percent of the time.
In a question-and-answer session following his talk, Schwartz, who grew up in a Conservative Jewish home in Los Angeles, shared that his Hebrew name is Gedaliah and that Sandy Koufax was his childhood hero. He revealed to the students that he gets anxious before games, and that he believes the outcome of a game does not matter as long as he gives it his all and is respectful toward his opponents.
Schwartz's visit to HBHA also included a tour of the Campus led by Head of School Howard Haas, including frequent stops for photographs. He was invited over to multiple families' Shabbat dinners and he even signed the Senior Lounge wall in the Upper School. During a stop in the eighth-grade history class taught by Dr. Edna Levy, Schwartz revealed his love of history and admitted he is fascinated by the Civil War. Schwartz said he plans to marry in March and raise his children Jewish.
"My fiancée and I talked about that and we're going to make it happen."
Schwartz attended Hebrew school throughout his childhood and plans on a Jewish education for his children. "It sets your values of who you are," Schwartz said. "And I think it's just growing up Jewish that made me the person I am today."
Some of the Lower School students, smiling and in awe of Schwartz' imposing 6-foot-6-inch frame, had an opportunity to take a class picture with him.
"I've always wanted to see someone who was famous," said first-grader Sadie Gershon.
"We are fortunate to have Geoff Schwartz, a man of great character and a true mensch, in our greater Kansas City Jewish community," Haas said.
Alex Sher is a senior at HBHA.