Two theaters collaborate to produce 'Hairspray'
Published: Thursday, 11 July 2013 12:00
Written by Barbara Bayer, Editor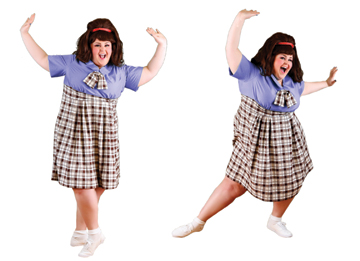 It's being billed as one great show — two fabulous theaters!
The one great show is "Hairspray" and it is being co-produced by the White Theatre and Theatre in the Park in the first collaboration between the two entities. It opens Saturday night, July 13, at the White Theatre and moves to Theatre in the Park Aug. 2.
Tim Bair, TTIP's producing artistic director, first had the idea to produce this show together when he discovered the White Theatre had been awarded the rights for the show. He knew both theaters wanted to produce the show and thought it would be silly if they both did it at roughly the same time. He also really didn't want to compete with the White Theatre with this particular show. So he talked with the show's director Mark Swezey and Krista Blackwood, the JCC's director of cultural arts, and suggested they use the same cast and split all the production costs.
"You guys have a great audience at the White Theatre, you could probably fill the place," he said. "Our cast can get to do it for twice as long as they ever would have at the individual theaters and we can cross promote."
The cast was a big reason to collaborate because Bair and Blackwood both knew this show would attract the best in the area.
"We knew that they would all like to do it because it's a brand-new show and something really fun that they've never had the opportunity to do before," Bair continued.
Blackwood said Bair's assessment was correct.
"It caused people to come out of the woodwork. The cast has been fantastic and we've got people in the cast that we haven't seen in a long time. It's been a great thing for them and a great thing for us at the same time," she said.
Cast members started rehearsals June 3 and committed about eight weeks to this show, about double the time commitment usually required for community theater productions. Blackwood admits that initially worried her.
"I was a little concerned that the time commitment would actually cause people to stay away … but it was not detrimental at all. People were actually quite excited to be able to do this show in both places," Blackwood said.
The length of the show, Bair believes, actually attracted people to the cast.
"A lot of them are so excited to be able to do the show and to be able to do it for so long. It's a five-week run for people who generally commit to a two- or three-weekend run," Bair said.
From an actor's perspective, Bair said it's a very cool thing to get to know a cast, and a show, that well.
"It's also really exciting for them to get to perform for as many people as they are going to get to perform for. That's one of the unique things about this collaboration," he said.
"Hairspray" takes place in 1960s Baltimore, where teen Tracy Turnblad, a plus-size girl with big hair and a kind heart, has only one passion — to dance. When she wins a spot on the local TV dance program she finds herself transformed from outsider to teen celebrity. She must use her newfound power to dethrone the reigning teen queen, win the affections of heartthrob Link Larkin and integrate a TV network.
The show was originally produced on Broadway in 2002 and won eight Tony awards in 2003, including Best Musical. Blackwood said this show doesn't have a specific Jewish message, "It's just a really great, fun musical and we always try to do a really great, fun big-cast musical in the summertime."
While the message isn't specifically Jewish, it does tell a tale of the fight for equal rights.
"The tie-in we've made this year is the Jewish connection to the Civil Rights movement," she explained.
Even though the White Theatre's 2013-14 season does not include another collaboration with Theatre in the Park, Blackwood said it could happen again in the future.
"It is my hope, and I think Tim's hope, that because we have worked so well together that as things come up we will be able to reach out and figure out better ways to collaborate," she said.
Both organizations benefitted by saving costs from this collaboration, but Blackwood said even in this economic climate that's not the most important thing to come from the partnership.
"Sharing costs is great but it's really not the best way to collaborate. I'm hoping that we can create a deeper relationship where we can share our facilities and share our people and really do something that is more of a partnership than this is, which is really sharing expenses and sharing a cast," she concluded.
Bair agreed.
"I think we've just stepped into the shallow end of the pool with this. We just said let's see how nicely we all play together in the same pool and it's been lovely and very easy. Like Krista said, I think there are a lot of things down the road that we can look at from a broader perspective in terms of collaboration," Bair said.
Blackwood said it's a great cast and people should come see it.
"I would encourage people to buy their tickets in advance for both our production and for Theatre in the Park," she said.
Bair said tickets can be purchased online for Theatre in the Park and they can be used anytime during the season.
"We have some reserved seats, but we're a park and it's really hard to reserve grass," he said. "Maybe you buy tickets and something happens on the night you wanted to go. That's OK. Just use your ticket any night we have a performance and tickets are for any performance of any production."
'Hairspray' performance dates
"Hairspray" opens at the White Theatre on Saturday night, July 13. All Thursday and Saturday night performances begin at 7:30 p.m. Those dates are July 13, 18, 20, 25 and 27. Sunday afternoon performances on July 14, 21 and 28, begin at 2 p.m. Tickets are available by calling 913-327-8054 or visiting the website at jcckc.org.
The Tony Award-winning musical continues at Theatre in the Park Aug. 2-4 and Aug. 8-10. For more information and to purchase tickets, visit www.theatreinthepark.org.