Trailblazing Israeli Reform rabbi to visit next
Published: Thursday, 18 October 2012 12:00
Written by Ellen R. Portnoy, Contributing Writer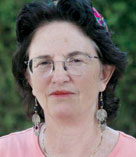 This summer we learned that a seven-year struggle with the government of Israel and the Orthodox community ended in a limited victory for Israeli Reform Rabbi Miri Gold. Rabbi Gold will be here at The Temple, Congregation B'nai Jehudah, to discuss this and other issues important to Reform Jews at erev Shabbat services Friday, Oct. 26. Worship begins at 6 p.m. She will be in Kansas City through Oct. 29.
In a case that went to the Israeli Supreme Court, Rabbi Gold has become the first woman and Reform rabbi to receive the right to a government-paid salary. In Israel the rabbis of each community are paid for their work, but until now that privilege had been reserved only for Orthodox rabbis. Israel's attorney general ruled on May 29 that Rabbi Gold would indeed be granted a salary as the rabbi of Kahilat Birkat Shalom, a reform congregation based at Kibbutz Gezer that serves the region.
While Rabbi Gold has been granted the right to receive a salary now, she hasn't seen a penny of it yet. So realistically her life hasn't changed much, just symbolically.
"There is no difference yet because the salary is not being released," said Rabbi Gold. "There is resistance by the Minister of Culture and Sport, which is supposed to provide the funds."
That's one way Rabbi Gold is being treated differently than Orthodox rabbis. They are paid by the Religious Affairs Ministry while Rabbi Gold's salary is to be paid for by the Minister of Culture and Sport. However, she's comfortable with payment not coming from the Religious Affairs Ministry.
"I think it avoids problems," she said. "The Religious Affairs Ministry is run by ultra-Orthodox, and they would resist fiercely. Judaism is cultural in many ways, so it is appropriate."
Rabbi Gold's court victory does not just help her; it is also seen as a win for all non-Orthodox rabbis in the Jewish state. According to Rabbi Gold, "There are supposed to be 15 Reform and Conservative rabbis of rural communities eligible to receive salaries. Hopefully, this paves the way for neighborhood rabbis to get money also."
But even with the government-approved salaries, these rabbis will still not be able to officiate at lifecycle events. For instance if a non-Orthodox rabbi officiates at a wedding, the ceremony or the marriage is still not considered legal by the Israeli government. Yet Rabbi Gold is optimistic about the role of non-Orthodox rabbis in the future.
"It will take time, but we will continue to work for change," she said.
Many in Israel are unhappy with this decision, and are continuing to call the non-Orthodox rabbis community leaders instead of rabbi. Rabbi Gold said this is incorrect and they should indeed be called rabbis. The attorney general's decision specifically uses the term rabbi, stating that "rabbis of non-Orthodox communities will receive salaries."
Rabbi Gold, who made aliyah in 1977 and became a rabbi in 1999, explained the path to gaining this recognition was not easy. She was assisted by many groups including the Israel Religious Action Center (IRAC) and ARZA, the Reform Israel Fund, which raises money for IRAC. One of the reasons Rabbi Gold is coming to the United States is to highlight the contribution of IRAC, which has been her legal representative. She also wants to "get people to support ARZA, the Reform Israel Fund." She is coming to the United States under the auspices of ARZA.
Even though she's still having difficulty actually getting a paycheck from the government, all those involved still see this ruling as a victory. In a news release posted May 29 in an ARZA blog, the president of the Union for Reform Judaism, Rabbi Rick Jacobs, said, "This is a watershed moment for the Reform Movement and for religious pluralism in Israel."
All this legal wrangling has definitely impacted Rabbi Gold's life.
"It meant seven years of not earning the salary I deserve," she said. "Seven years that the Israeli Reform Movement was burdened with helping to pay salaries, using monies that could have been spent elsewhere to strengthen the movement."
Rabbi Gold's focus now is to build a new synagogue building for Birkat Shalom in Gezer. The Region Council of Gezer, which works with the Ministry of Religious Affairs, is helping Birkat Shalom purchase a pre-fab structure for synagogue use. She is hoping to raise money for the new synagogue building while in the United States, where she will be visiting cities in Pennsylvania, New Jersey, Georgia, Minnesota, Illinois, Kansas and Washington, D.C.