| | | | |
| --- | --- | --- | --- |
| Ed Asner to be inducted in Kansas Hall of Fame | | | |
Thursday, April 19 2012 11:00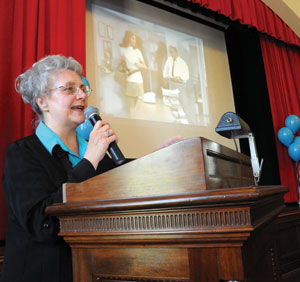 Kansas City, Kan., native Ed Asner will be inducted into the Kansas Hall of Fame on June 15 in a ceremony at the Great Overland Station in Topeka. Wichita native Jim Lehrer, executive editor of the PBS Newshour, will serve as master of ceremonies.
That same weekend Asner will also perform his one-man show "FDR" at 7 p.m. Sunday, June 17, at the White Theatre on the Jewish Community Campus in a benefit for Friends of Sheffield.
Others being inducted as laureates in the Kansas Hall of Fame this year include George Washington Carver; Nancy Kassebaum Baker; Cyrus K. Holliday; William Allen White; The Atchison, Topeka and Santa Fe Railway; and Alfred "Alf" Mossman Landon.
Asner became a beloved addition to millions of households through his character, Lou Grant. First on the "Mary Tyler Moore Show" and then as the star of the spinoff "Lou Grant Show," Asner's cantankerous newsman possessed courage and integrity. He is the only actor to have won an Emmy in both drama and comedy for the same character. He has, in fact, earned six Emmys — more than any other actor — and five Golden Globes. Today's generation will recognize him as the voice of Carl Frederickson in the 2009 Disney Pixar animation UP, which was the first animated and 3D film to open the famed Cannes Film Festival 2009, and won a Golden Globe and an Oscar for Best Animated Feature in 2010.  A graduate of Wyandotte High School, Ed, now 82, maintains close ties to his Kansas roots. He has served as president of the Screen Actors Guild and is an outspoken advocate for many causes, often championing the disenfranchised.
Beth Fager, Hall of Fame coordinator, said the Kansas Hall of Fame was started as a way to honor great Kansans and to share their achievements and values with people across the nation.
The gala event features a cocktail reception, dinner, program and entertainment. For ticket information, call the Great Overland Station at 785-232-5533.