From sadness to happiness in Israel: Yom HaZikaron and Yom HaAtzmaut
Published: Thursday, 20 April 2017 10:44
Written by Shiran Cohen, Guest Columnist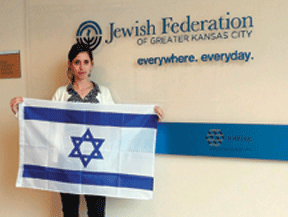 Yom HaZikaron is the national Remembrance Day observed in Israel for those who have fallen in defense of the country since 1860. As of May 2016, that number was 23,447.
National memorial services are held in the presence of Israel's top leadership and military personnel. The day opens with a siren the preceding evening: It is heard all over the country and lasts for one minute, during which Israelis stop everything including driving and stand in silence, commemorating the fallen and showing respect. Many religious Jews say prayers for the souls of the fallen soldiers at this time.
A two-minute siren is sounded at 11 a.m. the following morning, which marks the opening of the official memorial ceremonies and private remembrance gatherings at each cemetery where soldiers are buried. Many Israelis visit the resting places of loved ones throughout the day. The day officially draws to a close at sundown. At this time, a ceremony at the national military cemetery on Mount Herzl takes place, marking the start of  Israel Independence Day when the flag of Israel is returned to full staff. IDF soldiers participate in a memorial ceremony on the Israeli national Memorial Day, in honor of fallen soldiers and the victims of terror attacks. Each soldier stands before the grave of a fallen serviceman.
Scheduling Yom Hazikaron right before Yom HaAtzmaut is intended to remind people of the price paid for independence and of what was achieved with the soldiers' sacrifice. This transition shows the importance of this day among Israelis, most of whom have served in the armed forces or have a connection with people who were killed during their military service.
Though I was born and raised in Israel, it took me many years to understand this transition. One eye shed a tear of sadness for the young lives cut short, and the other shed a tear of joy for the miracle of revival — the rebirth of the flourishing State of Israel, a wonder among the nations. How can we ask people who lost their loved ones to celebrate, sing and dance after crying and mourning the entire day before? I guess that the answer is hope. We are sad but, in the same breath we have deep within us a real hope for a change. We pray every Shabbat for peace in Israel and we know we must be strong facing every future challenge. I'm so proud of my homeland, celebrating its 69th anniversary this year. 
Israel is a state of amazing successes. It is a global epicenter of innovation, of ingenuity — a leader in water technology, in agriculture, in medicine, in science, in internet and digital technology. Israel has one of the best armies in the world, great people with great ideas that influence people all around the world. And we couldn't do that without the support of our allies: Jews and non-Jews around the world who support us. I'm grateful for the unshakeable alliance between Israel and America — an alliance I believe will only get stronger.
This year, I invite you all to join us for Yom HaZikaron, Israel Memorial Day ceremony, at 7:30 p.m. May 1 at the White Theatre at Jewish Community Campus. The next day we will celebrate Yom HaAtzmaut in a big Israeli festival that includes Israeli food, an Israeli shuk (market), arts and crafts, face painting and much more to celebrate this nation that ties all Jewish people together. Yom HaAtzmaut takes place at 5:30 p.m. May 2 at the Jewish Community Campus. I hope to see you at both events!
For more information, please contact me at 913-832-7224, or This email address is being protected from spambots. You need JavaScript enabled to view it.. You can also register for each event at jewishkansascity.org.
Shiran Cohen is the Jewish Federation of Greater Kansas City's Israeli emissary. She hails from Kiryat Yam.