KU Hillel's Birthright solidifies student's Judaism
Published: Thursday, 04 February 2016 10:00
Written by Ariel Silverman, Guest Columnist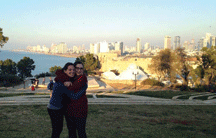 To decide on a single way to describe my Birthright experience would be nearly impossible. Was it exciting? Yes. Eventful? Yes! Impactful and life-changing? Most definitely. Before my trip to Israel with KU Hillel, I had been once before when I was 12 years old. The difference between going on a family trip and going on a college trip is incredible, and I am grateful for the opportunities to have been both times. It's difficult to say what my most favorite part of Birthright was, but there were a couple of instances that truly stood out.
On our first day, we visited the city of Tzfat and met with a kabbalistic artist in his gallery. While explaining his work, he said to us that the mere fact that we were all sitting in that room at the same time was a miracle. How so? Well, he reminded us that over the course of the last 2,000 years, it was possible that each one of us was the first person in our family, generations and generations before, to set foot on the land of Israel. That was mind-blowing to me. While my parents and siblings and I had all been there before, I had to think of all of my grandparents and their grandparents and so forth who had probably never had the chance to be where I was. This shaped my thinking for the rest of the trip, because I then wanted to take advantage of all that I could to have the best time imaginable.
Shabbat services in Jerusalem are unique and extraordinary. Along with a couple of other students, I organized and lead Shabbat services and provided some insight about the prayers we chose to include in our davening. One of the beauties about the people who were chosen to be a part of this trip was the vastly different Jewish backgrounds and perspectives each of us brought with us. While some had attended Jewish day school, others had never heard more than a few Hebrew words in their lives. Included in this mixed group of people were our seven Israeli soldiers — five men and two women who joined us in the middle of our trip. I cannot speak highly enough about this amazing group of Israelis. We continue to talk with them all the time since we returned to the U.S. They teach us about modern Israeli life as much as we teach them about our own American lives. At the end of the service everyone stood up for Aleinu, and to hear the unifying voice of so many individual voices singing a single prayer gave me the chills. The spirit that was in that room was palpable, and to be in one of the holiest cities in the world sharing that moment was something I will always remember.
Another moment in my trip that I continue to think about is our visit to Mount Herzl, Israel's national cemetery. The Israeli soldiers who came with us were all our same age, ranging from 18 to 23. I had never felt such a strong of connection to Israeli's Defense Forces as I did when we were told personal stories of friends and family members who were affected by Israel's constant existential threat. It made the defense of our Jewish state that much more real and necessary and personal to me, because I now had close friends who would eventually need to return to their posts in the army. I call them my real-life superheroes. In a comic book, the superhero is someone who protects those around them at any cost. The soldiers I have met and the ones I was able to hear stories about do just that: protect and honor Israel as a safe homeland.
One cannot talk about a trip to Israel and not mention the food. Trust me when I say that if I could somehow transport an Israeli breakfast to my apartment in Lawrence every morning, I would do it in a heartbeat. Everything was so fresh, and as Rabbi Neal Schuster advised us before we left the airport from New York that "the flavors in Israel are more vibrant than any of those in Kansas." My personal favorite choice was authentic falafel. I can't get that anywhere else but in Israel! Walking on the street holding a stuffed-full pita in my hands was by far something that I recommend to anyone considering a visit. 
My Birthright experience solidified my own Judaism further than I thought possible. Traveling from place to place, be it by bus or walking or skipping and holding hands on the beautiful stone roads, I reflected on how proud I am to be a Jew. Not a day goes by that I don't think about Israel. Not a day goes by that I am not reminded of my place among a community who will accept me no matter what. Being Jewish means you sometimes have to work hard to balance your culture and your religion. For me, Israel plays one of the largest roles in both.
Ariel Silverman is a sophomore at the University of Kansas from Overland Park. For more information about KU Hillel's Birthright trip or KU Hillel programs, contact Amy Sandler at This email address is being protected from spambots. You need JavaScript enabled to view it. or 785-749-5397.