Listening Post
Published: Thursday, 28 December 2017 12:00
Written by Barbara Bayer, Editor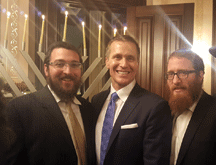 WHO WILL BE THE FIRST JEWISH BABY OF 2018— Every year for who knows how many years Jewish Chronicle advertisers have awarded prizes to the family of the first Jewish baby and the tradition continues in 2018. Complete contest rules can be found on page 13. Here's what you do if you think you have the first Jewish baby of 2018:
Contact Chronicle Editor Barbara Bayer at 913-951-8425 or This email address is being protected from spambots. You need JavaScript enabled to view it.. The office is officially closed on Jan. 1, but email and voicemail still work! Be prepared to offer the following information about the baby and his/her family: Is one or both parents Jewish and will the child be raised Jewish? What date and time was the baby born? Do the parent/s understand that he/she/they will be interviewed, and the baby photographed for publication in the newspaper? A winner may not be declared immediately and could take as long as 24 hours after the initial conversation with The Chronicle. We can't wait to meet 2018's first Jewish baby!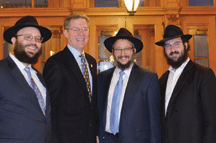 MAN BEHIND NATIONAL BOMB THREATS SENTENCED (JNS) — Juan Thompson, the St. Louis-based former news reporter arrested in connection with eight bomb threats against Jewish institutions, was sentenced to five years in prison by a federal court in Manhattan on Dec. 20.
U.S. District Court Judge Kevin Castel sentenced Thompson after hearing a statement from his ex-girlfriend Francesca Rossi, who said she feared for her life due to Thompson. Castel called her statement "perhaps one of the most eloquent presentations I've heard in this courtroom."
"He painted me as an anti-Semite, a racist, a drunk, a slut, a drug dealer, a child pornographer and a gun runner," Rossi said.
Thompson, a former reporter for The Intercept, was arrested in early March.
According to the FBI, Thompson threatened JCCs in San Diego and New York City, Jewish schools in New York and Michigan, a New York City Jewish history museum, and the Anti-Defamation League. Thompson reportedly made several of the threats in the name of Rossi and also in his own name.
In late March, an Israeli-American teenager living in Israel was arrested in connection to a majority of the more than 100 bomb threats made against JCCs and other Jewish institutions earlier this year.