Listening Post
Published: Thursday, 09 November 2017 12:00
Written by Barbara Bayer, Editor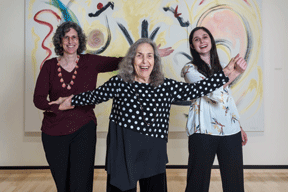 IRWIN BLITT FELLOWSHIP AWARD — A fellowship at Washburn University has been established in memory of Irwin Blitt, who passed away Oct. 24. The announcement was made during the ribbon cutting ceremony preceding the opening of the Rita Blitt Gallery and Sculpture Garden last week. 
Named in honor of Rita Blitt's husband Irwin Blitt (1928-2017), who was a constant source of unconditional support to Rita and her creative spirit, the fellowship will be awarded to a Washburn University student who will work with the Rita Blitt Collection during an academic year to research and develop a curatorial project under the guidance of museum curatorial staff and a faculty mentor. Curatorial projects will culminate in an exhibition or an interactive multi-media project with interpretive content, the presentation of a choreographed dance performance or musical composition, or the completion of a research paper or catalogue. Curating an exhibition or performance project requires idea development and refinement of an exhibition storyline, selection and research of artwork material based on the Blitt collection and history, and the management of project and budget management regarding supplies and materials. Final projects will be archived as a part of the Rita Blitt Collection at the Mulvane Art Museum. Students may receive college credit for the fellowship project with cooperation from their academic department and faculty advisor. Total fellowship award of $5,000 will be presented for the 2018-2019 academic year with a start date of September 2018. An additional $1,000 is available for reimbursement for supplies, materials, and fees for presentation of the final project. A $500 stipend is provided for the faculty mentor. 
To make a donation, send a check payable to: Mulvane Art Museum (1700 SW Jewell Ave., Topeka, KS  66621), with an accompanying letter specifying the use of the donation for the Irwin Blitt Fellowship.
KCPT JEWISH FILM SHOWCASE — KCPT is presenting "Jewish Film Showcase" beginning Saturday, Nov. 12. Curated by The National Center for Jewish Film, the showcase presents three award-winning documentaries, each exploring a dynamic story rich in history, art and culture. The documentaries will all be shown at 1 p.m.
The three films are: 
"Raise the Roof" — Nov. 12 — Artists Rick and Laura Brown, inspired by the mural-covered wooden synagogues of 18th century Poland — the last of which were destroyed by the Nazis — build a show-stopping replica now installed at the Museum of Polish Jews in Warsaw.
"Carvalho's Journey" — Nov. 19 — Charleston-born Sephardic Solomon Nunes Carvalho became one of the first to photograph the Far West while traveling as part of John Fremont's 1853 Westward Expedition.
"Ahead of Time" — Dec. 17 — Trailblazing photojournalist Ruth Gruber didn't just report the news, she made it, reporting from the Soviet Arctic, escorting Holocaust refugees on a secret war-time mission, and changing the world with her dispatches from the Palestine-bound ship Exodus in 1947.