A 15-year legacy: Jay Lewis leaves his mark of excellence at KU Hillel; now shares his wisdom with other campus Hillels
Published: Thursday, 19 October 2017 10:00
Written by Barbara Bayer, Editor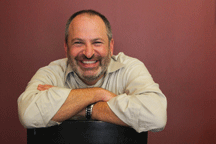 Hazak hazak, v'nithazek. Be strong, be strong and let us strengthen one another.
As executive director of KU Hillel for 15 years, Jay Lewis took a "small youth group on campus," and turned it into one of the premier Hillels in the country. He did it, in part, by showing everyone involved how to be strong and strengthen one another. In July, he left KU Hillel to become one of three campus support directors for Hillel International. 
"One of my goals was always to make KU Hillel sustainable beyond me and it didn't completely depend on me," Lewis said. "I accomplished that by training great staff, engaging terrific board members, making it financially viable and building a student leadership structure."
KU Hillel plans to honor Lewis for his success at KU Hillel on Nov. 3 at Rock Chalk Shabbat. KU Hillel has also established the Lewis Leadership Fund to help fund programs that support students as they learn to be good leaders and, at the same time, strengthen one another.
Sheryl Kaplan, president of KU Hillel's board of directors, said they are thrilled to be honoring Lewis.
"Jay built KU Hillel to where it is today. We are honoring him with this fund and the funds raised will go toward programs that are near and dear to his heart," she said. Those programs include student internships, the leadership award dinner, European Leadership Mission, Israel Leadership Mission and a new leadership initiative.
Hillel International
The new gig at Hillel International, as Lewis explained, was too good of an opportunity for him to pass up.
"The opportunity to do this kind of work and be based out of Kansas City was exactly what I wanted to do next. I really believe in the impact that Hillels have and so to be able to continue to work on that mission and not have to leave Kansas City was just great."
He added that it wasn't an easy decision for him to make because he has so much invested in KU Hillel.
"It's been my professional identity for the last 15 years. It also meant that I wouldn't be able to work on a daily basis with the incredible people that I worked with and had formed special relationships with, so certainly it was not a decision that I took lightly."
Lewis and two others are participating in a pilot program at Hillel International. In this new position, he is responsible for 15 campus Hillels located mostly in the center of the country. His region stretches as far north as Minnesota and as far south as Texas, encompassing most of the Hillels in between including Kansas. The University of Oregon in Portland and George Washington University in Washington, D.C., are also in Lewis' portfolio.
So far, the program serves 45 of the almost 200 Hillels in the United States who have at least one paid staff person.
"It's intended that this will become the new operating system for Hillel International. It will provide every campus with a senior-level veteran who can provide support in every area but also help them raise their level of excellence," Lewis said in a recent interview.
His new job requires a lot of travel — different than the commute from Overland Park to Lawrence that he did for 15 years — and said things are "fantastic so far." He's enjoying getting to learn the specifics about each Hillel he is working with and the communities they are in.
"Every Hillel is uniquely different as to its needs, opportunities and challenges," he explained. "It's a really good challenge. Before I can support them, I have to get to know them really well so I've been trying to do a crash course on each of these 15 campuses, meeting all the people involved … staffs, students, board members, Federations and university officials."
He likes his new job.
"It is giving me amazing new challenges and stretching me in ways that I certainly haven't been stretched in a number of years. This job is all about two things I do really well — relationship building and problem solving." 
Lewis is also enjoying his continued association with KU Hillel. He has mentored Suzy Sostrin, the new executive director, for about seven years, beginning when she was an assistant director of the University of Oregon Hillel. At the time he was charged with training assistant directors to be executive directors.
"It's great, mostly because Suzy and I have a great relationship."
KU Hillel
Lewis grew up in the Kansas City Jewish community, the son of Stuart Lewis and the late Hilary Lewis. He took on leadership roles on the local and regional level while in high school and earned his undergraduate degree at KU. While he was a KU student, the Hillel program did not appeal to many students, and Lewis did not participate in its programs.
But after a summer as assistant program director at Barney Goodman Camp, Lewis decided to become a Jewish professional. He earned a master's degree in Jewish communal services at Brandeis University and headed out to California to work for the Orange County Bureau of Jewish Education. In the ensuring years he married Kim Davidow, whom he met when they were camp counselors. The couple has two children, Mckenna and Keaton.
When he took the KU Hillel job in 2002, he never thought he would still be with the Hillel organization 15 years later. 
"In all honesty, the Hillel job was a short-term opportunity to help us get back to Kansas City," he said.
But he quickly saw the potential for great things at KU Hillel as did what he described as "some really amazing lay leaders and donors." 
"So, I never had to leave KU Hillel to grow professionally because each plateau we reached, the executive director position became a new job with new challenges and that was phenomenal for 15 years."
He is extremely proud of what KU Hillel has become over the past decade and a half. 
"We took it from being a small youth group on campus to being one of the top Jewish campus organizations in North America. We made KU a destination school for the best and brightest Jewish students and we impacted the lives of thousands of young Jewish adults."
Lewis reports that KU Hillel sees over 600 students at least once a year, but has what he calls a significant impact on the lives of more than 250 students each year.
"Those students have leadership roles, they go on an Israel trip with us or an Eastern European mission. The numbers are just exponentially different than from 15 years ago," he said.
His biggest accomplishment at KU Hillel? He believes it's making Lawrence, Kansas, and the University of Kansas that destination for Jewish students from all over the country.
"That's something that would have been unfathomable 15 years ago. Another big success is the disproportionate number of Jewish leaders and Jewish professionals that emerged from our program and are now leading Jewish communities all over North America from Hillels to foundations to BBYO to JCCs to synagogues. I feel very proud of the ripple effect it has had not just on the Kansas City Jewish community but on the whole Jewish community."
As Lewis referenced, helping KU Hillel grow and expand also gave him the opportunity to impact the Kansas City Jewish community. Many who came to KU from other cities enjoyed the area and stayed here after graduation, bringing more young Jewish adults to Kansas City. He also helped bring Moshe House to Kansas City and create Tribe KC.
The fund
Having a fund in your name, Lewis said, is "cool and very humbling."
"It's also a little awkward because I've tried very hard to make KU Hillel and especially Rock Chalk Shabbat never about me. So to have a major part of Rock Chalk Shabbat now specifically about me is just a little odd. But, I wasn't going to talk them out of it because it's going to be amazing. I've always taught my students and staff that I've worked with that when people say thank you, give them the opportunity to say thank you. So I'm happy to be able to do that." 
One of the reasons the fund is amazing, according to Lewis, is because in the world of Hillel, within a couple of years none of the students participating in KU Hillel programs will have any idea who Jay Lewis is. 
"New freshmen come in every year and the older students graduate, so to have a fund that is going to continue to impact student leaders in my name in perpetuity is really awesome."
He said KU Hillel's future continues to look bright.
"If I have done my job well over the first 15 years and now if I continue to do my job well as a campus support director for KU Hillel, we'll go from strength to strength. The new leadership is going to take everything that we built over these past 15 years and take it to a new plateau. What that plateau is, I'm happy to be a partner in it but I'm just as  happy I can take what I learned as executive director of KU Hillel and help Minnesota and Colorado and Oklahoma and Iowa and Texas. But as a proud KU alum, my favorite part is that all these Hillels all over the country look to the University of Kansas as the model of what they want to build." 
For more information about Rock Chalk Shabbat, visit the KU Hillel website at kuhillel.org.