Greenberg segues record-holding college basketball career to Jewish Olympics
Published: Thursday, 24 August 2017 12:54
Written by Jerry LaMartina, Contributing Writer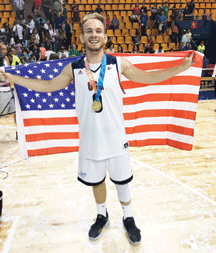 Grant Greenberg's first trip to Israel was golden.
Greenberg played on Team USA's men's basketball team in the 20th Maccabiah Games (often called the Jewish Olympics) from July 4 through July 18 in Israel. Team USA won the event's gold medal.
Greenberg is a graduate of the University of Saint Mary in Leavenworth, where he lives. He holds the record for points scored in collegiate men's basketball in the state of Kansas — 3,330.
The records he broke and the accolades he received along the way were the highlights of his college basketball career, he said.
"I'll remember that forever," he said. "I was there for four years, got to play with lots of different people and made a lot of friends. Danny Manning signed a poster for me, so it was really cool," he said. 
Manning is a former KU men's basketball player and a former record holder for collegiate points scored in the state, at 2,951.
Greenberg is a point guard and shooting guard in basketball. He's 6 feet 2 inches tall and weighs 190 pounds. 
He is 23 and was born in North Carolina. His father was in the military, and his family moved around a lot while he was a child. He has lived in Leavenworth most of his life. He does not belong to a congregation.
Having been chosen for Team USA in the Maccabiah Games "was definitely an honor," Greenberg said, because it recognized him as one of the "best Jewish players in America."
His trip to Israel for the Maccabiah Games left lasting impressions beyond his team's gold medal.
"It was my first time going there, so it was great to see the culture and everything," he said. "I wasn't brought up in a Jewish background, so the games were an eye-opening thing for me. I now know more about where my family came from and my background."
And the Israeli food?
"A lot of hummus, which I like," he said. "They have a lot of foods you don't get in the U.S." 
Prior to the games, Greenberg attended a two-day training camp with his teammates in Connecticut in late June. In the week before the Maccabiah Games started, the team practiced in the mornings and toured Israel in the late afternoons.
The 2017 Maccabiah Games comprised 45 athletic events and drew about 7,000 Jewish athletes from 80 countries, in addition to 2,500 Israeli athletes. The Olympics-style competition is held every four years and is the world's third-largest sporting event, according to the Maccabiah Games' website, maccabiah.com/2017. This year's event coincided with the 50th anniversary of Jerusalem's reunification. 
The Maccabiah Games were conceived by 15-year-old Joseph Yekutieli during the 1912 World Olympics in Stockholm, according to the website. 
These days, Greenberg is trying to get a contract to play basketball professionally in Israel, Spain or elsewhere in Europe next season, which usually starts in September for most leagues.
"I would love to play basketball there," he said. "They have very competitive leagues, and they love their basketball there. Everyone wants to play in the NBA, but with me coming out of a smaller school, my path is going to be different. First I have to go overseas and prove myself. We'll see what happens."