Teenage CEO: Year as BBG international president incredible experience for Beth Shalom member
Published: Thursday, 27 July 2017 10:00
Written by Courtney Bierman, Contributing Writer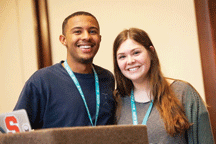 While Ellie Bodker's friends were going off to college, she was traveling the world and exploring her Jewish identity. Bodker, an Overland Park resident and member of Congregation Beth Shalom, deferred a year of college to serve as the B'nai Brith Girls international n'siah (president). Starting in June of 2016, Bodker traveled to dozens of cities in 13 countries across four continents in an effort to foster a sense of pride and community in Jewish teens all over the world.
For a year, Bodker traveled from one BBYO chapter to another, usually alone. She generally visited about one city every week. When it was time to move on, after several days of training chapter leaders and meeting with donors, she was responsible for making the travel plans to get to her next destination.  
"I was treated basically like a teenage CEO, and it was a really cool experience," Bodker said. "I obviously went into it with a lot of preparation and expectation for what I was getting myself into, but the sense of independence and professionalism was incredible."
Domestic travel was done by herself. Bodker only had someone to travel with while she was abroad. Her co-president Aaron Cooper, the 2016 Aleph Zadik Aleph international president, traveled with Bodker to visit Jewish communities across Europe and Israel. Cooper said he'd never spent so much time with one other person before in his life. They were "attached at the hip" for the seven weeks spent overseas, which Cooper said doesn't always happen with co-presidents. They don't usually get along as well as he and Bodker did.
"We kind of had to become friends because it was either that or hate each other," he said.
The two presidents had inside jokes, like speaking to each other in Spanish when they were in non-English speaking countries. After seeing a bar sign in Europe that offered 10 shots of liquor for a surprisingly small amount of money, they used it to gauge their level of stress. A "10-shot moment" would have been especially stressful.
Cooper said that his and Bodker's personalities and work ethics complement each other perfectly. Where she's organized, he is less so. Where she's analytical, he's observational. While on a train in Denmark, they took the Myers Briggs Personality Test together, which gives test takers a result made up of four initials describing various aspects of their personality. Cooper and Bodker's results were the exact opposite.
"Ellie and I both had areas we were clearly stronger than the other in, and we both had places we were clearly not as strong as the other," Cooper said. "It seemed as though anything I wasn't good at, she was good at, and anything she was not good at, I was good at."
Belgrade, Serbia, was an especially rewarding place to visit, Bodker said. Many of the places she visited already had thriving Jewish communities, so she usually spent her time trying to make BBYO chapters even stronger. But Belgrade's chapter is tiny. Only about a dozen kids are in the program, and some of them bussed in from a nearby city. Bodker and Cooper were tasked with convincing a small, skittish Jewish community that BBYO had a lot to offer their teenagers.
It wasn't easy. Bodker and Cooper worked hard on a presentation meant to convince the parents and elders of Belgrade's Jewish community that BBYO was a valuable, meaningful experience for their children. They spent their last night in Serbia at a big celebration with the Jewish community.
"Our impact was so significant and so obvious, that BBYO is what is maintaining Jewish involvement for these young people in an entire country," Bodker said. "That was just mind-blowing to me."
Bodker, now 19 and preparing to attend Syracuse University in New York, joined a Kansas City chapter of BBYO as an eighth-grader. She said that her time in the youth group was some of the most formative in terms of her Jewish identity. Growing up surrounded by peers who were equally enthusiastic about their Judaism, Bodker knew she wanted that same experience in a college environment. She said BBYO gave her the skills to find it or, if it doesn't already exist, create it.
"BBYO has provided me the skill set that I — in the past four years — have been able to create my own Jewish experiences, and I'm excited to continue to do so," she said. "I don't have to rely on an institution to give me that experience — I'm now self-sufficient to create that for myself and the people around me."
Bodker also credits Kansas City with her success as BBG international president, as well as helping her stay connected to Judaism. She said the size and intimacy of the Jewish community makes her feel at home.
"I really appreciate how special it is that when my family walks into the JCC or into any restaurant, my parents know someone everywhere we go because our Jewish community is so tight-knit."
Fellow Beth Shalom member Julia Paul has known Bodker for years. Paul's older sister is friends with Bodker, and Paul said she considers Bodker a mentor. 
Paul is the BBG international s'ganit (vice president), a position Bodker held before she was president. Paul agrees that there's something about Kansas City that allows its Jewish teens to thrive.
"I definitely think that the Kansas City Jewish community fosters teens that are ready to take on leadership positions. We have a really tight community here, and I'm so grateful that they're able to take advantage of what they offer."
During their last week of travel, Bodker and Cooper met for brunch at a New York City restaurant. Bodker gushed that the past year had helped her figure out her career aspriations.
"She was saying 'Yeah, I think I know that the perfect job for me is.' And she wants to work at the United Nations now," Cooper said. "If anything, I guess watch out, United Nations."