Beth Torah welcomes a new director of lifelong learning
Published: Thursday, 20 July 2017 10:00
Written by KCJC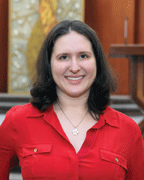 Rabbi Monica Kleinman, MAHL, M. Ed, RJE, has joined the staff of Congregation Beth Torah as director of lifelong learning. A Midwesterner, born and raised in southeastern Wisconsin, Rabbi Kleinman earned her Bachelor of Arts degree from the University of Wisconsin-Madison, where she double majored in Modern Hebrew and history. She was ordained at the Hebrew Union College-Jewish Institute of Religion in Cincinnati in 2014. At that same time, she earned a Master's in Education Administration with a concentration in Jewish Studies from Xavier University.
Rabbi Kleinman moved here from Mount Laurel, New Jersey, where she served as rabbi-educator at Adath Emanu-El. She was in charge of all aspects of the Religious School and performed a variety of rabbinic functions including leading worship services, facilitating life cycle events, and providing pastoral care to congregants of all ages.
At Beth Torah Rabbi Kleinman will be running the ARJE accredited Weiner Religious School. Not only will she be involved in the day to day running of the school, but she will also be enriching the school's faculty and curriculum.   
Rabbi Kleinman will also be planning and programming Beth Torah's adult education and social justice events.  
She will be installed on Erev Shabbat, Aug. 11, at the 6:30 p.m. worship service and will be teaching an adult ed session on the new Reform machzor, "Mishkan HaNefesh" immediately after services that night.  
Rabbi Kleinman and her husband, Rabbi Jon Kleinman, met while in rabbinical school at HUC-JIR. He is currently working as community liaison/chaplain with VITAS Healthcare. Rabbi Jon Kleinman is very excited to build relationships and be a VITAS representative to the community.
Beth Torah Senior Rabbi Javier Cattapan adds, "We are blessed that she has chosen to accept our job offer and will bring her expertise and creative spirit to our RJE-accredited Weiner Religious School. Under the leadership of Rabbi Kleinman, I am certain that our school will blossom even more and will continue to be our pride and joy."
Rabbi Kleinman has been with Beth Torah since July 1. Her passion is facilitating positive Jewish experiences for people of all ages and backgrounds — she seeks to find what brings each person to the synagogue and help them build a long-lasting and meaningful relationship with Judaism.
"I am delighted to join the Beth Torah family and help to continue the congregation's great work in all areas. It is clear that this community likes to be together and work toward the greater good in whatever endeavor is at hand. I look forward to helping make our members' dreams and goals come to life and make positive change in our synagogue and Greater Kansas City communities."