Making Judaism relevant to others is retiring exec's lifetime achievement
Published: Thursday, 29 June 2017 10:00
Written by Barbara Bayer, Editor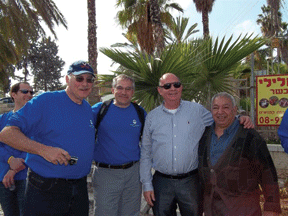 To those who know him well, it's not a secret that Alan Edelman, who is retiring June 30 after 35 years with the Jewish Federation of Greater Kansas City and who spent almost 50 years working in Jewish education in one way or another in this city, was kicked out of Hebrew school more times than he could count.
Like many of his peers, he didn't like religious school. In fact, during his career he has made strides to change the way Jewish education is presented to kids as well as adults. That's just one of many things he has accomplished over the years in a career that began as a volunteer teaching Parshat Hashavuah (Torah portion of the week) to members of Congregation Beth Shalom's Junior Congregation in 1968, when he was just 16 years old.
Learning to love Judaism and Israel
How did he go from a kid who didn't love religious school to an adult whose primary goal was to get people excited about Judaism? It all started because he was required to attend summer camp at Beth Shalom due to his misbehavior during the school year.
"They ran this fabulous camp with the coolest counselors," he said.
It was during that time that he realized Judaism could be fun and that he could really learn about Judaism.
"I also became sensitive to people who wanted to connect Jewishly but couldn't because the experiences they were having were less than positive. And I think that's what shaped my career," Edelman said.
He really caught the Jewish education bug while serving as regional president of USY, when he was planning conventions, camps and other programs. He refers to that as informal education, and firmly believes it's one of the best ways to continue living Jewishly into the adult years.
He was also influenced by Chabad's Rabbi Sholom Wineberg, who arrived in town while Edelman was in high school.
"Beth Shalom had 1,800 families and the rabbis didn't have a lot of time for the kids. … For the first time, I had the opportunity to interact on a very personal level with a rabbi," he explained.
Beth Shalom's rabbi at the time, Rabbi Morris Margolies, ignited his love of social justice with his "unbelievably powerful sermons about civil rights and the war in Vietnam." Around the same time, the Six-Day War awakened a love for Israel.
By then, Edelman said he was getting excited about being Jewish and wanted to help others get excited as well.
"I was thinking about what I could do to make Judaism more palatable to friends who were less than positive about being Jewish. I thought about those Parshat Hashavuah Junior Congregation classes where I listened to students' questions and, hopefully, explained Torah in a way that connected them with their Judaism."
'Rabbi' Edelman?
His father, Dr. William Edelman, was a doctor in the urban core and an inspiration to his son. He thought he would follow in his father's footsteps and become a physician. His first stop was the University of Kansas, then a hotbed of political activity. What wasn't in Lawrence was Jewish life activities because Hillel was not very active.
"Once again I got thrown into the 'how do I make Judaism interesting and relevant to my Jewish contemporaries?' "
During this time people were telling Edelman he'd make a good rabbi. As he researched that possibility, he was told KU would be a liability because it didn't have enough Judaic studies classes. He didn't want to transfer, so it was suggested he spend a year studying at Hebrew University in Israel.
Edelman had never been to Israel, so he and the Jewish dean of the School of Liberal Arts and Sciences created a special major for him called pre-rabbinic studies. When he returned to KU for his senior year, he took a variety of education and child development courses that would help him as a rabbi. During that time, he continued to conceptualize his ideal Jewish educational experiential learning theories.
"The truth is formal Jewish education is often wasted on children," he said.
Based on his experiences, informal education — Jewish camping, youth group, the Israel experience — is incredibly powerful. With that in mind, at that point of his career, his goal was to "transform the Hebrew school and Sunday school system and create a program where kids would have fun and fall in love with Judaism. Then, when they were older, take advantage of adult learning at college, during their parenting years and become life-long learners."
"Judaism is a religion that is based on behaviors," he said. "You can't learn to pray sitting in a classroom and reading the Ashrei. You learn to pray by going to shul. So, it's more effective to have students come to synagogue on Shabbat morning and have a fun experience by living their Judaism. You don't learn about Shabbat and the holidays by studying them, you learn by experiencing them. In addition, parents would have the opportunity to celebrate Judaism with their children."
Even as he prepares to retire, he's still working on that concept.
"Research indicates that today's Jewish parents are seeking alternatives to institutional Judaism," he continued. "They know they can access information about Judaism online, through PJ Library and programming. Through social media they can get together and do Shabbat and the holidays with family and friends, which they enjoy. They want their kids to love Judaism and they are seeking informal experiences such as Jewish summer camps and youth group."
After entering the rabbinic program at Jewish Theological Seminary, he decided against becoming a rabbi. So, he switched course and concentrated on Jewish education. He completed a master's degree program in Jewish education and had the "great fortune of landing the position of educational director of Beth Shalom," where he might be able to fulfill his dream of shaking up congregational education and working with some of the same teachers that kicked him out of class.
Life in Jewish communal service
He spent three years at Beth Shalom. He and his wife, Debbie Sosland-Edelman, decided to get married during that time. Just this month the couple celebrated their 37th anniversary.
As regional director of the Central States/Provinces Region of the United Synagogue of America (Conservative) he traveled the region, which included Canada, for 10 days a month, overseeing USY, the youth group he once served as regional president, and helping Conservative congregations meet the needs of their congregants.
After two years, it was time to start a family and Edelman wanted to stop traveling. The timing was right for the Jewish Education Council, a committee of the Jewish Federation, to hire Edelman as its new director in 1982. The agency oversaw a variety of educational needs in the community including the Community High School and the Israel Pilgrimage program. One of his biggest accomplishments during this time was building up scholarships and other financial programs for children and teens who wanted to go to camp and Israel.
"We wanted to encourage more kids to take advantage of informal educational experiences and to be in a position to say that no child would be denied the camp or Israel experience for financial reasons," he said. "Partnering with Bill and Lon Lowenstein as well as others passionate about informal learning, we were able to establish a First Time Campers incentive grant program and the Learning for Life initiative, which gave birth to our college summer internship program and the PJ Library initiative."
During this time, with Sandy and Steve Passer, he helped create Sasone, a program that provides services to children with special needs, enabling them to attend Jewish preschools and religious schools, the Hyman Brand Hebrew Academy and Jewish summer camp programs.
"We identified approximately 200 children who were not able to attend preschools, synagogue schools and the Academy because the schools didn't have the resources to accommodate them. We also discovered that on the preschool level many of these kids were in church preschools because churches had volunteers that would support the children," Edelman explained.
He is proud of his involvement in Sasone, and how the community and funders, especially the Menorah Heritage Foundation, rallied around the program because "the thought of not providing a Jewish education for every Jewish child who wants a Jewish education is really painful."
The 1990 Jewish Population Study shaped the next phase of his career. That's when the Jewish world recognized that intermarriage was continuing to rise as affiliation with synagogues and Jewish organizations was decreasing. That necessitated the creation of the Commission on Continuity, Identity and Affiliation, in which Edelman was an active participant.
In 1994, because of his involvement with this communitywide process, then Federation Executive Director Bob Gast hired Edelman to become Associate Executive Director of the Jewish Federation, with a focus on Jewish engagement and leadership development based on the community strategic plan developed under the leadership of Merilyn Berenbom.
Twenty-three years later, Gast is still impressed with Edelman's abilities to sustain and enhance Jewish life at home and around the world.
"Alan is a unique and exceptional real difference maker for countless individuals, families and synagogues throughout the Jewish world! His professionalism, enthusiasm and personal commitment to Jewish values leads the way in creating a powerful chain reaction for Jewish continuity, renewal and education."
Current Federation President and CEO Dr. Helene Lottman said Edelman's most noticeable contributions to the world include his extremely kind and generous spirit.
"He has a unique ability to turn any conversation into a learning moment," Lottman said. "He also has a sincere desire to listen to others and build bridges between individuals and communities. It is easy to see how he has helped shape our community over the years. Thank you, Alan, for all you have given the Jewish Federation, the Jewish community, and to each one of us who is lucky enough to know you."
Over the years Edelman has helped the KC Jewish community connect with national initiatives and has overseen programs such as PJ Library, adult education including bringing Melton to town, outreach to interfaith couples, informal education initiatives and leadership initiatives, including the Helzberg Leadership Fellows and the current Community Leadership Institute.
"Over 600 people have taken Melton courses and 137 graduated from the Helzberg Leadership Fellows program. It is most gratifying to see many of these individuals assuming major leadership roles in our agencies and congregations." 
Connecting people with Israel
Since his first visit to Israel as a college student, he's been there a total of 36 times, including five as a leader of high school pilgrimages and many community and family missions to Israel.
"Federations traditionally offered missions with a focus on fundraising. We started doing missions to help connect people with Israel. And guess what? They gave more money to Federation because Federation facilitated their meaningful Israel experience."
As part of bringing communities together, he was influential in creating both communal and Federation partnerships with Ramle, the sister city of Kansas City, Missouri, and the Gezer Region, which has a sister-city relationship with Leawood.
"The work that we have done in Israel to impact those communities reflects our values of religious pluralism, inclusion and diversity, particularly as relates to the Arab population," Edelman said. "Over the years I think many Jewish people in Kansas City have a different view of Arabs, and particularly Arab-Israelis, because of that partnership."
Through the years he has enjoyed the people he has worked with, the professionals as well as the volunteers.
"The relationship between volunteer and professional can sometimes be challenging and I have tried to model a career where professionals respect volunteers and vice versa. It is important to build a culture of shared leadership between professionals and volunteers," he said. "I've partnered with some extraordinary people, including Barnett and Shirley Helzberg, Irv Robinson and Ellen Miller, who share that model and generously support our initiatives in a collaborative way. I value those relationships."
He's retiring now because he always said 65 is the time to begin a new chapter in his life and "it's time for the next generation to step in and take the Jewish community to the next level."
Don't worry, Edelman won't be idle during retirement. He plans to continue working on a religious literacy initiative through the University of Missouri-Kansas City he's been involved with for the past five years.
This ties in with the volunteering he already does and would like to increase, such as spending more time as a JET Express driver and working at the JFS Food Pantry.
"I want to do the kind of volunteering that helps me interface with the general community as well as the Jewish community."