Diabetes researcher Kahn elected to National Academy of Sciences
Published: Thursday, 22 June 2017 11:28
Written by Jerry LaMartina, Contributing Writer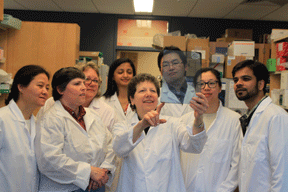 Kansas City native and renowned diabetes researcher Barbara Kahn, M.D., has been elected to the National Academy of Sciences (NAS).
Dr. Kahn is the George R. Minot Professor of Medicine at Harvard Medical School, vice chair for research strategy in the Department of Medicine at Beth Israel Deaconess Medical Center (BIDMC) and a senior associate member of the Broad Institute of the Massachusetts Institute of Technology and Harvard University. 
She is one of 84 new members and 21 new foreign associates elected on May 2 to the NAS "in recognition of their distinguished and continuing achievements in original research," the organization said in a news release. The honorees will be officially inducted into the NAS at its annual meeting next year, NAS spokeswoman Molly Galvin said. Honorees are elected to the NAS for their lifetimes.
Dr. Kahn said she was honored by the recognition of the research she and her team of researchers have conducted during the past 30 years to understand the basic pathophysiology of diabetes.
"This award recognizes not only me but the whole team of people who have worked with me on this research," she said.
A majority of the scientists elected to membership in the NAS work in disciplines such as physics, mathematics, astronomy and astrophysics, and a very small percentage are biomedical researchers, she said.
There is diabetes in Dr. Kahn's family, and this is one of the factors that prompted her to focus on the disease in her work.
"I went to medical school to understand how the human body works," she said. "I was very interested in learning how to help people live with chronic conditions. I thought we could make inroads in helping people adjust to diabetes. There was a lot we didn't know about why it occurred and how insulin works."
Type 2 diabetes is linked to obesity and a sedentary lifestyle, but not everyone who gets the disease is overweight and not every overweight person develops diabetes, she said. 
"It's not a (personal) failure, because there is a strong genetic component to it," she said. "Within that genetic predisposition, the risk for type 2 diabetes can be modified by diet and exercise. And aging is another risk factor."
Dr. Kahn was born in Kansas City, Missouri, and grew up in Fairway, Kansas. She left Kansas to attend college at Stanford University in Palo Alto, California, and has lived on the West Coast or East Coast since 1968. Her mother, Sybil Kahn, and brothers, Norman Jr. and Fred and their families, live in the Kansas City area while her brother, Ted, lives in Colorado. One of her nieces, Kara Kahn, is active in Hillel at the University of Kansas.
Dr. Kahn received a medical degree from Stanford and Master's in Health Sciences from the University of California, Berkeley. She did a general medicine fellowship at the University of California, Davis, and an endocrine fellowship at the National Institutes of Health. She was chief of the Diabetes Unit at BIDMC from 1990 to 2000 and chief of BIDMC's Division of Endocrinology, Diabetes and Metabolism from 2000 to 2011.
She has received numerous awards, including the Banting Medal for Scientific Achievement in 2016, the highest science award bestowed by the American Diabetes Association. She was elected to the National Academy of Medicine in 2005.
"I find scientific discovery to be extremely stimulating and fulfilling because we can learn more about basic biology and physiology and hopefully develop that knowledge into new treatment and prevention strategies for human diseases," she said.
She stressed the importance of science for medical developments.
"It's worrisome if federal funding for scientific research were to get cut even more," she said. "That would be very detrimental to society and to our general health. Many advances have taken place in our lifetimes from basic scientific discovery." 
The NAS now has 2,290 active members and 475 foreign associates, who are nonvoting members. The private, nonprofit institution was established through a congressional charter signed in 1863 by President Abraham Lincoln. Its elected members provide independent, science-based policy advice to the federal government and other organizations. Members are elected by their peers.