Kansas City couple depart Israel four days before Six-Day War
Published: Thursday, 01 June 2017 10:00
Written by Marcia Horn Montgomery, Contributing Writer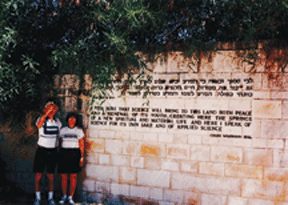 When Stan and Karen Greenfield left Israel on June 1, 1967, it was just four days prior to when the Six-Day War broke out.
The Greenfields had lived in Rehovot, Israel, for two years. Stan Greenfield was starting his Ph.D. in chemistry in the United States when his research adviser became chairman of the chemistry department at the Weizmann Institute of Science in Rehovot, so Greenfield followed him there.
Greenfield, who was 24 years old at the time, said things were pretty quiet the first year and a half he and his wife lived there.
"Occasionally there were infiltrators coming across the border, but it was not a big deal," he said. "Our lives were certainly not affected at all; we had no worries about going anyplace or doing anything there at that time."
But things changed in May 1967. Gamal Abdel Nasser, the Soviet-backed Egyptian leader, expelled the United Nations from the Sinai Peninsula and blocked the international shipping routes through the Red Sea to Eilat, Israel. Greenfield said it became apparent at that point that something was going to happen.
The Israeli army mobilized around this time and Greenfield said only foreign males could be seen walking the streets. All Israeli men joined the army, which amassed all of the ground transportation, so there were no buses, no cabs; even foreigners had to agree to let the government take their automobiles, the now 76-year-old Greenfield said.
"At the Weizmann Institute there were a lot of high glass-paned windows and those were all taped up," he said. "It was obvious there was going to be a war. We had telegrams from our parents saying we should immediately come home and we were told by the American Embassy we ought to leave the country."
But Greenfield was waiting to hear about his Ph.D. thesis. He had submitted it the first part of 1967 and once it was submitted it was sent to three external referees who had six months to review it and quiz you on it. He and Karen still worked at the institute; she was the English-speaking secretary in the bio-chemistry department.
Prior to talk of war, the Greenfields had made plans to spend six to eight weeks traveling in Europe. They had made their entire hotel and flight reservations and planned to leave June 1. But they decided to stay, "even though it was a pretty scary time."
Constantly on the Arabic radio station they heard, "We're going to kill you all," "We're going to drive you all into the sea." Greenfield said the Israelis were very apprehensive at that point in time because they knew if they had to fight a three-front war, it would need to be a very quick war or else they could lose.
"But we were young and naïve and we figured if something happens, the Sixth Fleet will come in and rescue us because that's what happened during the Suez crisis," he said. "We were very nervous and it was emotionally trying because the Israelis didn't have a choice as to whether they were going to leave — they had to stay and fight, whereas we had a choice of leaving or staying behind and we felt both sides of the argument very severely."
They eventually decided to leave on June 1 as originally planned, regardless of what happened. They made arrangements with about five different people to take them to the airport and on June 1 they left as anticipated. On June 5, Israel launched a pre-emptive air strike, destroying Egyptian Air Force bases and later that day conducted air strikes in Jordan and attacked Syrian Air Force bases.
"We happened to be in Zurich that day and we just accidentally had a Jewish tour guide," Greenfield said. "He was telling us what was going on. We would go down to the center of Zurich where they had news flashing across a big building and we were able to read it. It was in French and German — I knew German and my wife knew French, so we kept up on the war all the time we were in Europe."
The Greenfields had some Canadian friends who stayed behind in Israel and went to work on one of the kibbutzim during the two-week period of strife.
"They were fine because Israel made that pre-emptive strike and that won the war, no question about it," he said. "After that strike, nobody else other than Israel had an air force; they just wiped everyone off the ground and that made the obvious difference."
By war's end, Israel controlled the Gaza Strip, the West Bank, the Golan Heights and the Sinai, and a reunited Jerusalem.
"Israel was able to succeed in doing that because the Egyptians didn't have any air force and the Egyptian tank brigade wasn't able to hold up to the Israeli tank brigade," Greenfield said. "I don't think Syria really cared too much about Golan and I don't think Egypt themselves were too upset about losing the Gaza Strip. They did lose the whole of the Negev Desert in the south, but that was then given back to Egypt when Egypt made its separate peace with Israel (in 1978)."
Greenfield and his wife returned to Israel for a visit in 1992 with their three children.
"It was an interesting experience for the kids to see Israel; my wife wouldn't mind going back, but I have no desire to go back," he said. "My wife had cousins who lived there and their kibbutz was right on the Lebanese border. At the time we were there as students, you could walk up to the border and have no concern at all about your safety. When we went back in '92, my wife's cousins had their own bomb shelters because things had changed so dramatically in those 30 years.
"I think it can best be summarized by saying we wouldn't want to live there, but we're happy to send our money there."
The Greenfields live in Leawood and are members of The Temple, Congregation B'nai Jehudah.