Cantor Kohn leaving B'nai Jehudah
Published: Thursday, 04 May 2017 10:46
Written by Barbara Bayer, Editor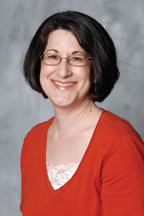 Cantor Sharon Kohn, who for the past three years has served as chesed/pastoral care director, will leave B'nai Jehudah when her contract expires June 30. She came to B'nai Jehudah 14 years ago in July of 2003 as the Reform congregation's cantor. There is no longer funding in the B'nai Jehudah budget for the chesed position, so it is being eliminated.
Cantor Kohn will become an interim cantor with Baltimore Hebrew Congregation.
"These past years have been ones of growth for me," Cantor Kohn said in an email to B'nai Jehudah members on Tuesday. "I am grateful for all I have learned from each member of the congregation with whom I have prayed, studied and connected. I will take with me your caring and the memory of many moments shared. The skills I have acquired from clinical pastoral education have influenced all of my work here at B'nai Jehudah. They will continue to shape my work going forward as I become an intentional interim cantor with Baltimore Hebrew Congregation."
The email to B'nai Jehudah members announcing this change was signed by congregation President Donna Thalblum and Senior Rabbi Arthur Nemitoff. It said for 14 years Cantor Kohn has touched the lives of congregants with her voice and her heart.
"She has been our partner in tefillah (prayer) change. She discovered Coleen Dieker, our new music director. She brought Noah Aronson to our congregation and has nurtured many of our volunteer musicians. She has coordinated our B'nai Mitzvah program. And over the past three years, she has enriched our care of and for one another in her role as chesed/pastoral care director."
According to the email, the position of chesed/pastoral care director was an experiment. 
"We remain committed to serving the needs of our community. Details pertaining to chesed concerns and B'nai Mitzvah administration will be shared with you in the coming weeks," Thalblum and Rabbi Nemitoff wrote in the email.
Cantor Kohn is a graduate of the Hebrew Union College-Jewish Institute of Music, with a master's degree in sacred music and investiture as a cantor. She served congregations in Texas, Louisiana and Ohio prior to coming to Kansas City. She has been married to Rick Simon since 1989.
B'nai Jehudah's leaders wrote they are sad to see Cantor Kohn leave their community.
"We know that Baltimore Hebrew Congregation is blessed to have her as their interim cantor. Baltimore Hebrew was founded in 1830 and is the premiere Reform congregation in the Baltimore area. Cantor Kohn is following in the footsteps of extraordinary cantors. In her 'intentional interim' role, she will use all her pastoral care and cantorial training to help the congregation as they move forward in their journey. We are excited for her new opportunity."
The congregation will say goodbye to Cantor Kohn and honor her during Erev Shabbat Services on June 9.
"We are immensely grateful for the years she has dedicated to us. At that time, we will formally say thank you to her for her devotion to our congregation, to our congregants, and to our community. Most importantly, we wish her a life filled with blessings as she has blessed us."