Director puts the spotlight on new artists with new works program
Published: Thursday, 20 April 2017 10:10
Written by Kris Baker, Community Editor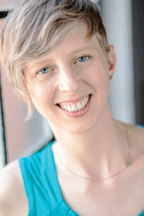 For those that are tired of the same old things on television, or fed up of the sequels and remakes at the local Cineplex, Kansas City Repertory Theatre is offering an alternative with the OriginKC: New Works Festival, part of the Rep's new works program. OriginKC: New Works Festival will feature two world premiere productions in rotating repertory from April 28 to May 28 at the Copaken Stage, including "What Would Crazy Horse Do?" by Larissa FastHorse, and "Man in Love" by Christina Anderson.
An additional workshop production presented by UMKC Theatre of Christopher Chen's translation and adaptation of "Anthony & Cleopatra," will be presented at the Spencer Theatre for a limited run.
The festival is the creation of Marissa Wolf, who started with KC Rep in January 2015 and launched (with the support of Artistic Director Eric Rosen), OriginKC as a program that supports the creation, development, and production of new work from a diverse body of major national playwrights. She believes that putting original productions in front of local audiences is vital to the health of a community's theater scene. 
"New works is about presenting totally new points of view and giving a stage for urgent new voices to be heard," Wolf said. "We are so lucky to have the talented teams of artists at KC Rep to bring these productions to life. The plays we are presenting offer a myriad of experiences  — from Indigenous twins who are the last of their tribe, to a 1930s black serial killer — I think  Kansas City audiences will be moved and excited to engage with these powerful plays. While it's important to produce classic plays (and I've loved directing 'Anne Frank"'and co-directing 'A Raisin in the Sun'), it's the generating of new works in a theater community that creates major national waves."
Wolf said she sees herself as an indie director, she grew up in Connecticut and has staged original productions around the country. She previously served as the artistic director of Crowded Fire Theater in San Francisco for six seasons where she developed and produced work by a vanguard of top emerging playwrights including Christina Anderson, a Kansas City born and raised playwright. Wolf was brought to KC Rep by Rosen, who had long wanted someone to oversee the development of original plays.
"Eric said we are making producing new plays a top priority," Wolf said. "He wanted to present some totally new points of view, and that was exciting for me."
Wolf did some research and liked what she learned about Kansas City.
"Kansas City has a really strong theater life and we are happy to be a part of that," Wolf said. After talking with friends in the national theater community, she said she only heard good things about Rosen and the KC Rep. Since working here, Wolf agrees those words are true. "KCRep is fantastic.  I love bringing new local and national playwrights to this theater because I know they'll be blown away by the level of work we're able to do in supporting their vision of the play."
After she and her husband moved to Kansas City, she said the first thing they did was a little synagogue shopping. They decided on The Temple, Congregation B'nai Jehudah.
"I love B'nai Jehudah," Wolf said. "There are so many family-friendly programs." 
Wolf says her Jewish background reflects her work as an artist in that it is an inherent part of who she is and how she sees the world. 
"My sense of identity is deeply tied to my heritage," Wolf said. "I think I ask some of the questions I do because of my Jewish background. Judaism gives me sense of belonging.  I think it gives me a lens through which to question, to wrestle with hard questions around identity, family, and social justice." 
Wolf's first directing job at KC Rep was a new take on The Diary of Anne Frank, which incorporated material from the updated versions of the memoir. Though the Holocaust was not discussed much in her home as a child, Wolf's grandparents were refugees that had fled from Russia and Poland. 
"I think (the Holocaust) was very present for my grandparents and thereby for all of us. It was present and silent. You recognize, even as a child, what those silences are," Wolf said. "My grandmother had actually moved from Minsk, Russia, and her family made it to Mexico. Her first languages were Yiddish and Spanish. And then they moved up to Laredo, Texas. But that was something she never really spoke about, fleeing."
There is one other important lesson Wolf said she received from her Jewish upbringing.
"It gave a sense of joy as well, even in the face of all the hardships," she said.
In addition to the two world premieres and one workshop production, OriginKC: New Works Festival offers a festival weekend, May 12-13, featuring free reading of new plays by Kara Lee Corthron and KC Rep playwright in residence Nathan Louis Jackson, as well as arts panels and parties. Wolf said this is an opportunity to really delve into the material and explore with an audience. This is some of the work Wolf is most excited about.
"With OriginKC, we are looking for plays that reflect who we are, and how we define ourselves no matter our faith or background. It's about holding a mirror up to the audience," she said. "We want people to see themselves on stage. We want to champion new stories that have gone untold. When theater is at its best, it expands the heart muscle." 
For more information on OriginKC: New Works Festival or to order tickets visit kcrep.org or call 816-235-2700.