Tom's Town conjures spirits of Pendergast, craft distilleries
Published: Thursday, 31 March 2016 12:00
Written by Jerry LaMartina, contributing writer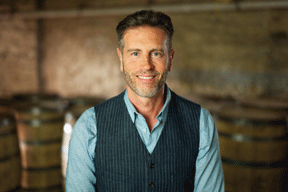 David Epstein wants everybody to know what Tom Pendergast meant and still means to Kansas City, and he also wants them to know the role Jews played in the spirits industry in the United States.
Epstein and his business partner, Steve Revare, co-founded and are co-owners of Tom's Town Distilling Co., which started production in November and opened for business on Jan. 6 at 1701 Main St. in Kansas City, Missouri. 
Tom's Town is a craft distillery that produces vodka, gin and bourbon. Its owners call it Kansas City's first legal distillery since Prohibition, which ran from 1920 to 1933. It offers a full bar and appetizers, event space for as many as 250 people and tours of its operation. 
Craft distilleries aren't defined by the federal government, and different states define them differently, Epstein said, but they're generally defined as those that produce less than 5,000 barrels of spirits a year. 
"We would argue that craft distilleries also use the finest ingredients, locally focused, and have a full-time distiller on board," he said. "Our distiller, Rob Vossmeyer, is an employee here and a Kansas City resident. This is what he does for a living."
Tom's Town is named after Pendergast, an old-style, Democratic political boss who controlled Kansas City in the 1920s and 1930s. Pendergast shepherded Harry S. Truman through his local political career, his advance to the U.S. Senate and his eventual occupancy of the White House.
Tom's Town also curates — buys and resells — several whiskeys sold under Pendergast's original trademark, "Royal Gold." Tom's Town's first curated batch is a 10-year-old bourbon "with a delicate nose of vanilla and cherry," according to company's marketing materials.
 "We'll be doing a port wine-finished bourbon," Epstein said. "We put the bourbon into barrels that held port wine, and it takes on some of the wine's flavor. We'll do our own rye, vodka and gin. Our vodka just won the gold medal from the American Craft Spirits Association in Chicago."
Epstein has awards on the wall, and spirits in his blood. 
"My grandfather was a bootlegger in Kansas City," he said. "His product was Rickenbacker Malt, and I've always heard the family lore about Herman Epstein when I was growing up. Steve's great-uncle was Mo (Maurice) Milligan. He was the district attorney who put Pendergast in prison (in 1939)."
Epstein and Revare had owned Blair Lake New Media, an all-digital advertising and design firm they founded, which they sold to Detroit-based Compuware in 2000.
"We worked for them for a year," Epstein said. "I then went to NBC in New York, and Steve started working on Web projects. After 18 years, I felt like I wasn't done with this entrepreneurial side of my life. Steve and I thought, 'Let's give it one more try with this distilling company.' 
"Tom's Town and the Pendergast story itself is really a fascinating story," he said. "He was no angel, but he kept this city apart from many other cities in America regarding culture, like jazz and speakeasies. He's a very complex figure and a very important part of the Kansas City and American storybook. With our two histories, it became kind of our destiny to go back to our roots, and it so happens that our roots are in an amazing period of America, so we felt (starting the distillery) was irresistible." 
Epstein is 50 years old. He doesn't belong to a congregation, though he attended The New Reform Temple as a child and was confirmed there. He's partnering with the Jewish Federation of Greater Kansas City's YourKC young adults' organization for "The History of Jews and Booze," an event scheduled for April 14 at Tom's Town at which he'll give an informal presentation on the history of the Jewish influence on the spirits industry. (See box for more information.)
"I don't think people realize the depth and level of Jewish participation in the spirits industry, and that's largely due to anti-Semitism," he said. "Jews were relegated to the distillery side of spirits instead of breweries. Breweries were considered clean and medicinal and good for the soul, whereas whiskey and other hard spirits were considered in some ways unpopular and for the lower classes and slightly dirty. Jews were allowed to own and operate distilleries. Kentucky and Tennessee had sizable Jewish populations, and many distilleries were owned by Jews but named after the distiller himself." 
Epstein and Revare went to Moonshine University in Louisville, Kentucky, for a course on distilling, and he studied the industry's history in preparation for launching Tom's Town.
"We wanted to bring back to Kansas City the finest and best spirits we could make, because that's what Tom Pendergast drank," Epstein said. "This event helps get that information out. Everybody thinks that all American Jews were in New York City living in the tenements there, but they were elsewhere, too."
Epstein is a fourth-generation Kansas Citian, and most Kansas Citians have some story about Pendergast, he said.
"Many have been embarrassed to tell the story," he said. "The Pendergast legend is about to be lost. A lot of millennials don't know about him. Kansas City should take pride in what it has brought to this country: jazz and barbecue, and if there'd been no Kansas City, there'd probably be no baseball. Pendergast had a lot to do with it."
For more information on Tom's Town, visit http://www.toms-town.com.