KC SuperStar announces winner; Liberty Fruit makes challenge grant
Published: Thursday, 28 August 2014 10:00
Written by KCJC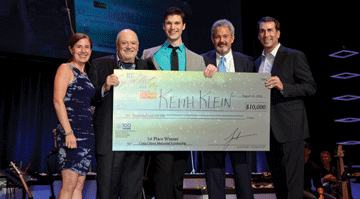 The audience chose Keith Klein, a graduate of Blue Valley Northwest High School now attending Eastman School of Music in New York as the 2014 KC SuperStar on Sunday night, Aug. 24. The American Idol-type singing competition is the
Jewish Community Center's largest fundraiser. Klein wins the $10,000 Craig Citron Memorial scholarship.
Second place honors went to Justus Johnson, graduate of Olathe East, attending Thorn Conservatory; Blue Valley West sophomore Kate Cosentino took third place and fourth place went to Wyatt McCall, a graduate of Olathe Northwest who is attending Webster University in St. Louis. These young people received scholarship money as well.
During the evening the official announcement was made of The Reat Griffin Underwood Rising Stars Fund in memory of the 15-year-old who, with his grandfather William Corporon, was shot outside the Jewish Community Campus on his way to KC SuperStar auditions last April. The fund will provide assistance to KC SuperStar contestants as well as JCC education, theatre and training programs for youth 21 and younger allowing them to explore their dreams and goals in the performing arts. Reat's mother Mindy Corporon, her husband, son and mother attended the event.
Arnie Cavier, owner of Liberty Fruit Company, made a challenge grant from the stage stating that for every dollar raised for the fund between now and Sept. 15, he and his family will match it dollar for dollar up to $20,000. KC SuperStar Emcee Rob Riggle publically made a donation of $2,000 for the fund.
Upon hearing and seeing the 10 finalists perform, Riggle commented, "These kids are incredible. This town has so much talent. I love it."
The founding families of the Jewish Community Campus were also honored during the evening and a video paid tribute to their donation of the land the Campus sites on as well as the planning and building the facility itself.
JCC President and CEO Jacob Schreiber told the capacity crowd the events of April 13 were difficult but the entire KC community pulled together in support driving home the purpose of the JCC to "bridge communities and inspire youth".
Proceeds from the event underwrite more than $400,000 in scholarships and programs annually at the JCC, so children and families can participate in early childhood, camping, education arts and wellness programs. With more than 8,000 members, the JCC is open to people of all faiths and backgrounds.