Event to teach women about mitzvah of baking challah
Published: Thursday, 21 August 2014 10:00
Written by Barbara Bayer, Editor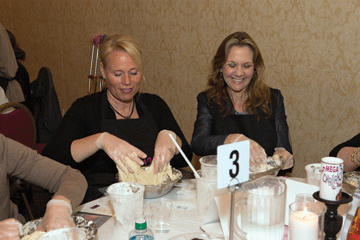 "The warm, delicious smell of Challah brings something peaceful into the atmosphere of the home."
Chana Itkin wants to help every Jewish woman in town learn how to bake challah and thinks the perfect time to do it is before the High Holidays. So the rebbitzens (rabbi's wives) of the local Chabad Houses — Blumah Wineberg and her daughter-in-law Devory Wineberg from the Chabad House Center of Kansas City, Nechama Tiechtel from KU Chabad in Lawrence and Itkin, who serves Chabad on the Plaza — are coordinating the city's first Mega Challah Bake. The event takes place at 6:45 p.m. Tuesday, Sept. 2, in the Social Hall of the Jewish Community Campus.
The event is sponsored by Chabad and endorsed by the Jewish Community Center and the Jewish Federation of Greater Kansas City.
Itkin said Mega Challah Bakes have been held all over the country as well as in cities in Europe. These events have proven to be very popular.
"We're so excited that this is going to take place in Kansas City," she said.
She said these events have attracted hundreds of women of all ages and from all movements in the cities they have been held in. For instance more than 1,000 women attended the Mega Challah Bake in Toronto and more than 1,500 people attended a similar event in Chicago. 
"We are bringing it to Kansas City because we feel that the Jewish community here will enjoy creating challah and coming together in prayer and in unity," Itkin said.
They hope to attract at least 100 women to the first Mega Challah Bake in Kansas City. Women and girls over the age of 12 can attend. It's a modest goal, for now.
"I feel like in the future it can grow to 500. This is a first-time event and we wanted to have a realistic goal but we also think it's something that can really grow in the future," she said, noting that women in other cities have enjoyed it so much they have asked for additional sessions.
Table hostesses are recruiting family and friends to attend the event. Each hostess will demonstrate how to make challah dough and how to braid it. The program also includes information about the mitzvah of challah baking.  
Baking challah is really a simple thing, but Itkin said the event is about more than just the bread itself.
"It really unites everybody. Everybody loves baking, everybody loves sharing and just coming together socially for a fun Jewish event."
"It's not going to be an intense class where you feel like you can participate only if you have prior knowledge. Those who love baking will enjoy this because it's always great to learn new techniques and to back with a lot of people on a global level," she said.
"Those who have never baked challah before should also find this program very intriguing."
Specifically, Itkin said women will: 
Learn the secret to creating great-tasting challah
Discover the beauty of this tradition, which is unique to women
Create their own challah
Share the gift of Shabbat, its warmth and great taste with others 
"We will also pray that the power in numbers will inspire the answer to each one's prayers," she said.
By the time the event concludes around 9 or 9:30 p.m., participants will have one or two loaves of bread to take home and bake. 
"They will also make another small challah for Goldie's Gift, which is an organization that will distribute these challahs to seniors in the Kansas City Jewish Community."
"Not only will we be doing this for ourselves, for our homes and for our families, we will be thinking of others and spread the kindness and the warmth that challah really brings," she continued.
The cost for the Mega Challah Bake is $18 if prepaid, $20 at the door. In addition to the challah, participants will go home with a "beautiful apron."
Itkin stressed that this event is for all women in the community.
"We want to bring everyone together and get that feeling of warmth and community. We all belong, we're all together, we're all Jewish people. We want to all feel this pride together."
Call 816-645-6610 for more information or to RSVP. Registration is also available by credit card on the Mega Challah Bake website, kcmegachallah.com. Checks may be mailed to Chabad, 6201 Indian Creek Drive, Overland Park, KS 66207.