Jewish woman heads local group standing up against gun violence
Published: Thursday, 12 June 2014 10:00
Written by Kelli White, Contributing Writer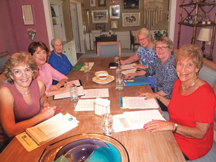 After the Sandy Hook Elementary School shooting in December 2012, one Cape Cod area grandmother decided to start an organization called Grandmothers Against Gun Violence (GAG) hoping to prevent other devastating tragedies. 
In September 2013, a local Jewish grandmother, Judy Sherry, followed suit and, along with her co-chair, Susan Blaney, started a Kansas City chapter of GAG. Sherry said the group is not against guns, but wants to educate to prevent gun violence.
"There is no point being against guns because there are 320 million of them in the United States," Sherry said. "There are responsible gun owners. But guns should be much harder to get and people with serious mental health issues and felons should not be able to get guns."
Not exclusive to grandmothers, GAG now has chapters in Chicago and Tucson. Chapters in other cities are also springing up and group membership is growing rapidly. Sherry said the Kansas City chapter has 215 members on its distribution list and so far news about GAG has spread almost solely by word of mouth. The group meets monthly in various locations around the metro and has three committees that focus on programming tasks, letter writing and legislative research. 
"We are a 501(c)(3) organization," Sherry explained. "We urge our members to write to their representatives, not on behalf of GAG, but as gun control supporters. Our legislators don't realize how many gun control supporters are out there. Any time a bill is introduced to regulate guns, they see statistics of one in support and 100 against. We need to show that more people want gun regulation," she said.
The organization is in the process of building a coalition of like-minded groups and plans to host an educational conference called "Gun Violence — Finding Common Ground. Taking Action" in October where "national speakers will educate the community on gun violence, irresponsible ownership, and safe gun storage," Sherry said. 
"More than 1,800 people now represent our local coalition. We hope that number grows after the summit so when we write to legislators, we can put the same pressure on them as the NRA does," Sherry said. "We need to make our voices heard and be actively engaged."
Interested potential members can email This email address is being protected from spambots. You need JavaScript enabled to view it. or join the organization's Facebook page at Missouri & Kansas Grandmothers Against Gun Violence. 
"We are up to 165 likes on Facebook," Sherry said. "What we've done in such a short time is pretty good for a group of volunteers. It's already surpassed anything I dreamed of."
For more information on GAG, visit moksgag.org.
Mission Statement of Grandmothers Against Gun Violence
"We will influence public policy to create an America free from gun violence, where our children and grandchildren are safe at home,
at school and in our communities."