Birthright alumni get together on Shabbat for food and fellowship
Parent Category: News
Category: Latest News
Published: Thursday, 08 May 2014 11:00
Written by Barbara Bayer, Editor
Hits: 2600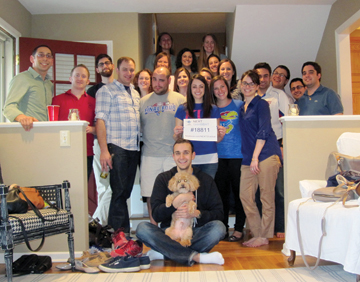 Those who have traveled to Israel as part of a Taglit-Birthright trip often say it's an experience they will never forget. Statistics show that those who have a Birthright experience will most likely be more immersed in Jewish Life. Liz Levy and a group of her friends are a perfect example of that.
Levy, who went to Israel on Birthright in 2005 when she was a freshman at the University of Kansas, thought it would be fun to organize a Shabbat dinner during Sukkot for a group of her friends about a year and a half ago. The group of about 30 people have been getting together monthly on Shabbat or a Jewish holiday ever since.
Levy got the idea from her husband's family, who live in Dallas. 
"They do monthly Shabbats with a group of friends and have been doing this for over 20 years. We just thought it was really nice … their kids grew up together and they kind of grew up together," said Levy, who met her husband, Steven Levy, through Hillel. They both were on the same Birthright trip and were married in 2011.
"We thought that would be a fun idea to do with our friends. Most of us have been on Birthright and so from that Sukkot dinner we started having dinners once a month," said Levy, a nurse who earned two degrees from KU. 
As the idea came together, a friend informed Levy that Birthright NEXT will help cover the tab and provide other resources for celebrating Shabbat and holidays. Officially known as NEXT: A Division of Birthright Israel Foundation, it connects Birthright Israel trip alumni and their peers with meaningful Jewish living and learning opportunities nationally, locally and in Israel. According to its website, "By investing in and convening those who work with young Jewish adults, as well as offering resources and thought-leadership, we catalyze growth and stimulate opportunities for engagement."
The concept is simple. Once a month one couple plans dinner for the others. That couple applies for grant money from Birthright NEXT to help pay for the meal. Sometimes, Levy said, others will contribute wine or dessert. The smallest dinner was for 16 people and the largest was for almost 30. 
Of the group of couples in this group, at least one if not both went on a Birthright trip, making everyone eligible to apply for a Birthright NEXT grant.
The amount of grant money differs as to whether the meal is for Shabbat or a holiday. It also depends on how many meals the person has organized. 
"I believe it's about $14 per person and that's up to 16 people," she said. "We get reimbursed for about half of what we spend."
She said the menus vary from the traditional — such as brisket and chicken — to Mexican, Italian and even Chinese.
"We try to switch it up a little bit, but occasionally we're back to roast chicken and vegetables. We did an Israeli Shabbat one time," Levy said.
Besides the money, Levy said a Birthright NEXT representative also visited with them "about possibly doing some other Birthright alumni events in the area. I think there are some things in development but so far we haven't really done much else."
Birthright might not have been the main inspiration for Levy putting the Shabbat dinner group together, but it did inspire her to learn more about what it's like to be a Jewish adult.
"Through high school and even in college your parents are the ones who are influencing your decisions and what you celebrate and what traditions you keep. After college you have to figure that out on your own and I think Birthright started me thinking about what traditions I wanted to carry on for my family and what things I wanted to include in my house and … what I felt was really important in my Jewish identity," Levy said.
Levy said everyone in this group of friends is between the ages of 26 and 30. Only two have children so far, and they usually bring them to dinner and leave early.
"We're excited that we're all to the age where we are going to start having kids and have our kids grow up together and have such great traditions around them and grow up in the Jewish tradition and learn what it's like to live in a really strong Jewish community," Levy said.
Another member of the group, Carly Stein, agrees with Levy.
"I truly enjoy being able to get together once a month for Shabbat dinner with my friends. All of us have crazy schedules so it is really nice that each month a different couple volunteers to host Shabbat and invites the whole group. Whoever can come does, it is a great way to start the weekend," said Stein, who is director of development at KU Hillel and has actually staffed some Birthright trips.
"I hope that no matter where our lives take us, we are able to find one Friday night each month to get together. Being from Chicago, this group has become like a second family to me. I look forward to one day when we all have little kids running around continuing this tradition," Stein continued.
Jennifer Schlozman considers the members of this group her family as well.
"I moved here from Chicago and they have been my comfort and support through many events," Schlozman said.
"This group is important because it offers us a chance to connect on our Jewish heritage and tie it into our daily lives. We blend all of our ways of reflecting and celebrating our Judaism and are able to express ourselves independently without question. Our group is changing, growing — marriages and babies, and we get to be a part of that with one another. It truly is an amazing bond," she added.
Organizer Levy really enjoys the Friday night gatherings.
"I think we're all so busy during the week that this is such a great opportunity to sit down and talk with everyone and catch up with what's going on in everyone's lives. We have such a great group of close friends, it's like an extension of our family," she said.
Levy said their group is about as large as it can get, so she doesn't see it expanding. However she said she is willing to lend a hand if others want to start such a group. She can be reached at This email address is being protected from spambots. You need JavaScript enabled to view it. .