Bayles, Marcia
Published: Thursday, 11 January 2018 12:00
Written by KCJC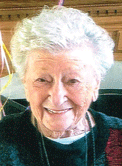 Marcia Bayles passed away on Jan. 2, 2018, at St. Luke's Hospice House in Kansas City, Missouri. She had just recently celebrated her 90th birthday.
Marcia was born on Dec. 23, 1927, in Chicago to Bess and Peter Blyveis. Her family moved to Albion, Michigan, in 1933 and she remained there until she moved to Kansas City in 1952.
Marcia's talents were limitless. She excelled at drawing, painting, knitting, flower arranging, crocheting and interior design.
Marcia is survived by her devoted and beloved daughters: Rebecca Bohannon and Billie Bayles and husband Bill; grandchildren: Matthew Bohannon and wife Alissa, and Abigail Bohannon; and great-grandchildren: Gavin Bohannon and Alexandra Krivena. Marcia was preceded in death by her parents, sister Ruth Hull, and very special friend Julius Binder. 
A memorial service was held for Marcia Sunday, Jan. 7, 2018, at The Louis Memorial Chapel. In lieu of flowers, memorial contributions may be made to Children's Mercy Hospital.
Mom, it is hard to imagine life without you. We were blessed and grateful to have had you in our lives for as long as we did. Our love for you is and always will be endless. Rest in peace — Becki and Billie.
Online condolences may be left for the family at www.louismemorialchapel.com.
Arrangements by The Louis Memorial Chapel, 816-361-5211.