Loeb, Anita
Published: Thursday, 23 March 2017 10:00
Written by KCJC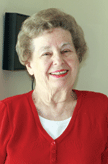 Anita Loeb, age 88, died on March 17, 2017. She was born in Kansas City, Missouri, on Jan. 28, 1929, at the beginning of the Great Depression, to Leah and Abe Boresow. Her childhood years during the depression led to a lifelong joy to keep her basement and pantries overflowing with non-perishables so that her family would never experience hunger.
Anita attended Bancroft Elementary School, Westport Junior High and graduated from Westport High School in 1945 at the age of 16. During her high school years, along with her sister Bertha and several friends, she became part of a self-formed sorority, the Kappa Taus. These women became lifelong friends and shared each other's lives throughout the next 70 years. Anita met Walter Loeb on a triple-date and they were married on Oct. 26, 1949. They would share 50 years together until his death in 1999. 
In 1961, she began her career by creating the library at Congregation Beth Shalom. She became a member of the National Association of Jewish Libraries and published the Loeb Relative Index to the Wiene Classification System, which is still in use in Jewish libraries today. Anita began her official work career outside the home in 1966, when she became employed at the Jewish Education Council. In 1967, she led a group of 16-year-olds to Israel as the leader of the Kansas City Pilgrimage. Her career then led her to the Hyman Brand Hebrew Academy. One of her proudest accomplishments during those years was the Annual Civic Service Award Dinners, to which she dedicated her many talents and efforts for the next 18 years. 
After her retirement from HBHA, she embarked on the next chapter of her life, which involved her love of genealogy. She spent 12 years researching Jewish burials in Kansas City and published her efforts in 2001. Her book, "Gone But Not Forgotten: A History of the Burials in the Jewish Cemeteries in Kansas City 1866 – 1999," established Anita as a resource for the international Jewish community. 
Anita was many things to many people, but the underlying fabric throughout her life was her family. She participated in school activities as her daughters grew up, from being a Girl Scout troop leader to her involvement with PTA organizations over their school years. 
She was preceded in death by her parents, Leah and Abe Boresow, her sisters Bertha Pener and Judy Friedlander, and her husband, Walter Loeb. She will be lovingly remembered by her brother and sister-in-law, Don and Harriet Boresow, and her daughters and sons-in-law: Fran and Roger Cunningham, Nancy and Roger Klein, Linda Beebe, and Margie and Jim Stark, in addition to her 12 grandchildren, seven grandchildren-by-marriage and 16 great-grandchildren.  
The countless games of Yahtzee for money, the love of mahjong and a lifetime of meals around the table for holidays, birthdays and just "because" will be the memories she leaves behind. Her sense of humor, her intelligence and her love of family will be her legacy to her family.   
Services were held at The Louis Memorial Chapel on March 19, 2017; burial followed at Mount Carmel Cemetery. The family requests that contributions in lieu of flowers be made to the Anita and Walter Loeb Fund at Congregation Beth Shalom, the Jewish War Veterans of Kansas City or Kansas City Hospice.
Online condolences may be left for the family at www.louismemorialchapel.com.
Arrangements by The Louis Memorial Chapel, 816-361-5211.