Moses, Louis
Published: Thursday, 26 January 2017 11:25
Written by KCJC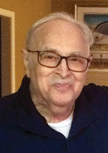 Louis Moses, 94, was born Feb. 17, 1922, to Max and Minha Moses in New York. Lou passed away peacefully on Jan. 19, 2017, at The Atriums in Overland Park, Kansas. Funeral services were held on Jan. 22 at The Louis Memorial Chapel; burial followed at Mt. Moriah Cemetery, Beth Torah section.
Donations may be made to Horizon Academy, 4901 Reinhardt Drive, Roeland Park, KS 66205.  
Lou served as a radio operator in World War II. He met the love of his life, Betty Jean Schleifstein, while attending radio operator school in Kansas City. They married on June 23, 1946, and their love spanned 65 years and beyond. Lou and Betty worked together in her family's business, Leo's Pharmacy, for many years. They went on to own pharmacies and several gift shops in the Kansas City area. After selling their businesses and retiring for only three days, both decided to work for their daughter and son-in-law, Janet and Robert, at d'Bronx Deli. Lou quickly became the face of d'Bronx and made an impression on everyone he met. Every life he touched was made better for knowing him. 
Lou lived his life with great love and respect for everyone, but his greatest love was his wife and family. Lou adored watching his family grow and thrive. He and Betty would often say, "look at what we started."
Lou's adoration (obsession) for baseball was well known and respected. This created a constant dialogue that he shared with his wife, children, grandchildren and great-grandchildren. Finding Lou watching a game on TV, while also listening to two different games on his radio was a common sight. Just this week, his family was able to tell him that Danny Duffy was staying with his beloved Kansas City Royals.
Lou was a member of Congregation Beth Torah. He leaves behind his three daughters and sons-in-law, Janet and Robert Bloom, Judy and Ron Dubrov and Julie and Ron Altman; grandchildren Barbara and Doug Mead, Stacy Foxworthy, Erin Bloom, Andrew and Li-Or Dubrov, Allyson Dubrov, Jordan Altman, Doug Altman, and Scott Altman; great-grandchildren Alex Mead, Lauren Mead, Nathan Foxworthy and Lexie Foxworthy.  
He will be missed by all who loved and adored him.
Online condolences may be left for the family at www.louismemorialchapel.com.
Arrangements by The Louis Memorial Chapel, 816-361-5211.