Choikhit, Elaine
Published: Thursday, 29 December 2016 10:00
Written by KCJC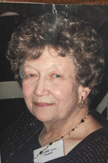 Our loving Mom, Elaine "Lainie" Choikhit, spent one final day with her adoring family on Dec. 21, 2016. Never was there a doubt that she felt revered and loved, not only by family but by the friends she would have the pleasure of meeting along the way. She would joke and carry on in her down-to-earth style that came to define her.
Services were held in the Yukon Chapel at Mount Carmel Cemetery on Dec. 23; burial followed at Mount Carmel Cemetery. Donations may be made to Kansas City Hospice.
Elaine's outlook on life was one of greatfulness. Her marriage to Jacques was 46 years strong and produced a family whose love and devotion she would always feel. 
She is survived by her children and grandchildren, Caron and her husband Mark, and their children Mason and Heather Kramsky; Steve and Sharon Choikhit and their children Gabrielle Choikhit and Micah Margolies, and Alycia Choikhit; and Kenny Choikhit and Cheryl Choikhit and their children, Ashley and Daniel Held and Brittany and Max Margolies. Elaine is also survived by her lifelong, special family, Larry and Beverly Mallin.
The family thanks the owners and every member of the caregiving staff at The Atriums, Lamar Court and Stratford Commons who loved Elaine and cared for her comfort, as well as the nursing staff at Kansas City Hospice. It was in peace that Elaine Choikhit's life came to rest, and may we all find comfort in knowing that her spirit will live on.
Online condolences may be left for the family at www.louismemorialchapel.com.
Arrangements by The Louis Memorial Chapel, 816-361-5211.