Silverberg Bar Mitzvah
Published: Thursday, 10 November 2016 11:15
Written by KCJC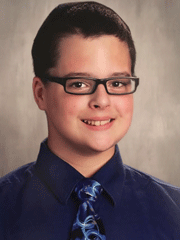 Shawn Silverberg and Jennifer Conoley announce the Bar Mitzvah of their son, Avi Silverberg, at 9:30 a.m. Saturday, Nov. 19, at Congregation Beth Shalom.
Avi is the grandson of Taena and Morty Rock, Bruce and Shamshinur Silverberg of Joplin, Missouri, and Tom and Jackie Conoley. Great-grandparents are Gloria Schram of Chesterfield, Missouri; Raymond and Delores Silverberg of Chesterfield; Clarence and Sue Conoley; and Perry Marks.
Relatives and friends are invited to worship with the family and attend the Kiddush following the service.