Levinson Bat Mitzvah
Published: Thursday, 27 October 2016 10:00
Written by KCJC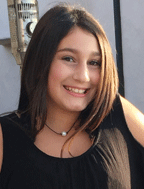 Jennifer Levinson of Leawood and Scott Levinson of Overland Park announce the Bat Mitzvah of their daughter, Kate Madeline Levinson, at 10:30 a.m. Saturday, Nov. 5, at Congregation Beth Torah.
She is the granddaughter of Libby and David Savner of Chicago, Illinois, and Joan and Larry Levinson of Overland Park.
Relatives and friends are invited to services with the family and to enjoy sweets at the Kiddush following the service.