Goodman Wedding
Published: Thursday, 27 October 2016 10:00
Written by KCJC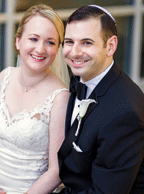 Brandy Marie Derry and Jeffrey Michael Goodman were married Sunday, May 29, at The Temple, Congregation B'nai Jehudah by Rabbi Arthur Nemitoff.
The bride is the daughter of Blanche and Michael Helms Sr. She is the granddaughter of Dorine Youngblood and the late Norman Youngblood, and the late Jim O'neal and the late Hazel O'neal.
The groom is the son of Elissa and Robert Goodman. He is grandson of Myron Goodman and the late Harriette Goodman, and the late Esther and Joseph Kanter.
The maid of honor was Jennifer Thomson of Van, Texas. Bridal attendants were Jessica Goodman of Overland Park and Jenifer Wilson of Kansas City, Missouri.
The best man was Robb Cortes of Hollywood, Florida. Groomsmen were James Lowman of Independence, Missouri, and Brad Fowler of Lee's Summit, Missouri.
Lana Gordon of Topeka, Kansas, and Janice Pinson of Leawood escorted the groom's grandfather down the aisle. Ushers included Larry Goodman of Overland Park and Max Pinson of Leawood. Hannah Pinson of Leawood served as the greeter.
The couple took a honeymoon trip to Punta Cana in the Dominican Republic. They live in South Kansas City, Missouri.