Komaiko Wedding
Published: Thursday, 18 August 2016 10:00
Written by KCJC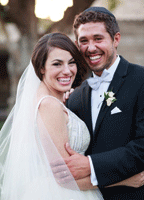 Marcie Ann Cooperman and Richard Andrew Komaiko were married Sunday, May 29, at the Arizona Biltmore in Phoenix, Arizona.
The bride is the daughter of Harryette and Ron Cooperman of Scottsdale, Arizona, formerly of Leawood, Kansas. She is the granddaughter of Joan and Edward Switow of Scottsdale.
The groom is the son of Sandra Lee-Komaiko and William Komaiko of Chicago, Illinois. He is the grandson of Josephine Ardizyme, also of Chicago.
The maid of honor was Amy Cooperman of Chicago. Bridesmaids were Kristen Komaiko of Sikeston, Missouri; Tamara Dugard of London, England; Leah Goldberg of Syracuse, New York; Maureen Burns of Chicago; Dara Jacobs of Chicago; and Amanda Philhour of Kansas City, Missouri.
Groomsmen were Rene Hertsberg of Chicago; Nick Epstein of Chicago; Adam Kendrick of Coupeville, Washington; and Daniel Tavori of Israel.
The couple traveled to Morocco for their honeymoon and are residing in California.