White Bar Mitzvah
Published: Thursday, 02 June 2016 10:00
Written by KCJC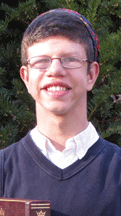 Chaim and Katie White announce the Bar Mitzvah of their son, Matan Fierst White, at 9 a.m. Saturday, June 11, at Congregation Beth Israel Abraham & Voliner.
Matan is the grandson of Harvey and Roberta Berwin of Overland Park, Kansas, formerly of St. Paul, Minnesota, and Dr. Bernard and Joan White of Dallas, Texas. He is the great-grandson of Caroline Fierst of Silver Spring, Maryland.
Relatives and friends are invited to worship with the family and to attend the Kiddush luncheon following the service.