Puterbaugh Robinson Engagement
Published: Thursday, 17 March 2016 10:00
Written by KCJC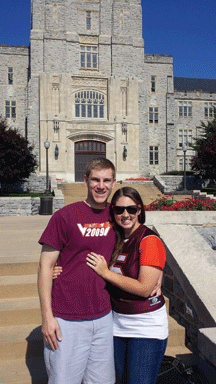 Renee (Feldman) Puterbaugh and Thomas Puterbaugh of Lorton, Virginia, formerly from Kansas City, Missouri, announce the engagement of their son, Michael Ryan Puterbaugh, to Christina Brianne Robinson. Christina is the daughter of Robbe and Gail (Cecchini) Robinson of Glen Allen, Virginia, formerly from Michigan.
The future groom's grandparents are Eugene and June Puterbaugh of Omaha, Nebraska, and the late Sylvia (Eveloff) Feldman of Overland Park, Kansas. He received a Master of Science degree in accounting and is a licensed CPA. He works for a company in Reston, Virginia.
The bride-to-be's grandparents are Walter and Joan Cecchini of Ocala, Florida, and Roger and Mary Hansen of Crossville, Tennessee. She is also the granddaughter of the late Wayne Robinson. She recently received her Master of Science degree in psychology and is pursuing a career in marriage and family therapy.
The couple met while attending Virginia Polytechnic Institute and State University (Virginia Tech) in Blacksburg, Virginia. An August 20, 2016, wedding is planned in Virginia.