'BIG SONIA': Film tells survivor's story and more
Published: Thursday, 23 March 2017 10:00
Written by Jerry LaMartina, Contributing Writer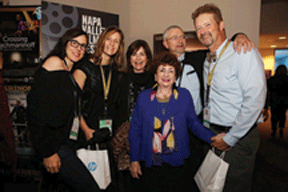 Leah Warshawski set out to tell the story of her grandmother, Sonia Warshawski, who is now 91 and one of the Kansas City area's last Holocaust survivors who speaks publicly about her wartime experience.
Leah did tell Sonia's story, through a documentary film titled "BIG SONIA." But it turns out the film also tells the broader story of how Sonia's trauma affected her family, and it explores several other universal ideas, as well.
"Her trauma has affected everyone in the family in different ways, and everyone deals with it in different ways," Leah said. "What's come out in the film is that the film is not just about Sonia. She's the main character, but it has other themes." 
Intergenerational trauma is one of the film's universal themes that people relate to most, she said.
"It's also about families, trauma, how you decide to live your life, aging with purpose and what kind of human you want to be in the world," she said. "You don't have to be Jewish. You don't have to know about the Holocaust. It's a film for everyone."
Leah produced and directed the film. Her husband, Todd Soliday, was its co-director, director of photography and editor. They spent six years with Sonia making the film. Leah said she and Sonia gained greater respect for each other through the process.
The film will make its Kansas City debut to a sold-out audience on April 5 at Cinemark Palace on the Plaza.
Leah and Soliday raised $350,000 through grants and individual donations to make the film. Now they're trying to raise another $150,000 to pay for a theatrical release in the fall, and for marketing and distribution. A company called Film Sprout will help them book and manage community screenings and help with audience engagement and education, she said.
Anyone interested in hosting a private screening of the film or making a donation to help pay for its theatrical release can contact Leah and Soliday at www.bigsonia.com.

The film follows Sonia and her tailor shop — John's Tailoring (formerly at Metcalf South Mall) — and seeks to inspire audiences to find meaning in their own lives and live each day to the fullest. 
Sonia stands 4 feet 8 inches but has a towering personality. When she was 15, she watched her mother disappear behind gas chamber doors in the Majdanek death camp, according to the Midwest Center for Holocaust Education. Sonia was sent to Auschwitz-Birkenau and then to Bergen-Belsen, where British soldiers liberated her. On liberation day, she was accidentally shot through her chest, yet she survived.
She met her husband, the late John Warshawski, at Bergen-Belsen's displaced persons camp. The couple came to Kansas City in 1948.
The film uses first-person stories told by family members and friends about Sonia's past and present. They also tell of Sonia's life lessons —"Soniaisms."
The film was one of 18 projects from around the world that were accepted into the HotDocs Pitch Forum in Toronto and that were part of the IFP Filmmaker conference in New York in 2015. In January 2015, the film won "IndieWire Project of the Month," and other media outlets have featured the project, including The Huffington Post, Closer Weekly and The Jewish Sound.
Leah said it felt "really good" to bring the film to Sonia's adopted hometown, "and I think it's going to feel good for her to be a star in her hometown."
"We're really proud of the movie," Leah said. "We have a lot of work to do to get the film seen. A lot of people think when you make a film you're done, but you're really just getting started." 
Most people who have watched the film said it's unlike any other Holocaust film they'd seen, Leah said.
"We never set out to make a typical film or Jewish film," she said. "One of the unique things is that we use animation to illustrate some of the gruesome details (while) you're hearing Sonia speak."
Regina Kort, Morrie Warshawski (Leah's father) and Debbie Warshawski are Sonia's children and grew up in Kansas City. Kort said that what surprised her about the film was how the stories she and her siblings told affected viewers. 
"What makes the documentary so special is that there are lots of documentaries out there about what happened (in the Holocaust), Kort said. "(The film is) about Mom's trauma and how it affected us growing up. It's about how one person can make a difference. It's more than just about a Holocaust story."
One "serendipity" is that the film brought Sonia's children and other family members closer together, Kort said.
"My relationship with Leah and her husband has come to fruition," she said. "Prior to the making of the movie, I hardly saw them."
The film is special to Kort because her family can pass it on to future generations, she said.
"Hopefully, it will encourage people to sit down and talk with grandparents about their experiences. Certainly my mother retelling her story so people will remember or be educated about what happened in the Holocaust will be important to people who see it, and it relates to bigotry. The movie is so timely because it's about immigrants and about being tolerant."
Kort also finds the film interesting because it shows how her parents came to the United States "after a horrific experience."
"You read about (the Holocaust) and hear about it," she said. "They had to go into counseling after the war. Somehow, they were able to go forward with their lives, have a family and become successful. That's always something I've admired."
The film has already been shown at more than a dozen film festivals all over the country and received high acclaim. While Sonia takes no credit for the film or its awards, she's very proud of it.
"This was really a labor of love for my granddaughter Leah and Todd," she said. "My gratitude is to them and they deserve the credit."
Sonia hopes the film carries a message of love and peace.
"I hope it also lets us all remember that propaganda and hate could brainwash people," she said. "This can be very dangerous when they can brainwash people and do such terrible atrocities.
"My message is that it is very important to all of us to never, never forget."