Hadassah Magazine features Brit Braja, rabbi's outreach program in Latin America
Published: Thursday, 19 June 2014 10:00
Written by Barbara Bayer, Editor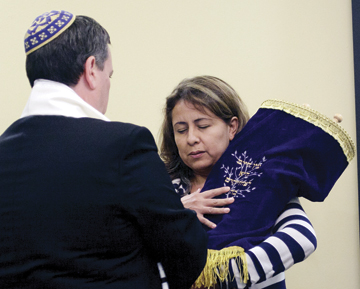 Local fans of Hadassah Magazine will see a familiar face when they thumb through the current issue. Rabbi Jacques Cukierkorn and his Brit Braja Worldwide Jewish Outreach are featured in the summer edition of the international magazine.
According to its website, Brit Braja is the first virtual synagogue to conduct services in Spanish and Portuguese in the world. Also known as BBWJO, it is dedicated to solving "one of the greatest problems of modern Judaism: We are disappearing!"
Brit Braja, Rabbi Cukierkorn explained, means covenant of blessing. He formed it in 2012 and the IRS granted it 501(c)3 status retroactive to 2013. That means donations made to the organization in 2013 or later are tax deductible. 
Rabbi Cukierkorn said Brit Braja continues the work that he has been doing for the last 20 years, which is spreading Judaism around the world. He specializes in providing long-distance learning for Jews in Latin American. For instance he conducts two Shabbat services every Friday via a webcast he produces from his home — one in Spanish and one in Portuguese. He's been producing the webcasts for about three years.
People watch the Spanish webcast in cities all over Mexico, Colombia and Spain. The webcast in Portuguese is watched in Brazil, Japan, Europe, Canada and the United States. Rabbi Cukierkorn said the webcasts are watched by hundreds of people who log onto their computers and watch either as part of a group or as individuals. There is no charge to participate in Brit Braja; however, people are asked to make a contribution if they are able.
The rabbi doesn't know exactly how many people tune in each week, but he believes it's a substantial amount.
"In America if I did this and I had 100 computers logged in I would assume I would have 100 people watching. In these cities, if one computer is logged on you could have 20 people watching it." 
The service is Reform, like the rabbi, who is celebrating his 20th year in the rabbinate this year. It is similar to the service conducted at Temple Israel, which celebrated its third anniversary this spring, and is led by Rabbi Cukierkorn.
Brit Braja also offers seven or eight classes every week on a myriad of topics ranging from Talmud to Hebrew to Bible. Brit Braja also sponsors symposiums, similar to a television program, where several speakers discuss various topics of interest.
One such program is a Tikkun Leyl Shavuot, similar to one sponsored by the Rabbinical Association of Greater Kansas City, produced in Portuguese by Rabbi Cukierkorn. 
"We had different rabbis from Brazil speaking until 3 or 4 in the morning teaching," he said. "We did this last year for the first time, and it was the first time it was ever done in Brazil." This is the only program he has done in Brazil but not Mexico.
Many educational opportunities are also available on a YouTube channel Rabbi Cukierkorn has created where he has placed videos in three languages — English, Portuguese and Spanish. The channel is Rabbi94 and subscribers receive automatic updates. He uploads a video each week about the Torah portion.
"We teach classes on the Internet by necessity because I am here and these people are spread out all over the world and this is the way I can reach them," Rabbi Cukierkorn explains.
Getting the word out
Rabbi Cukierkorn is thrilled about the exposure Brit Braja is getting in Hadassah magazine, as well as the publicity it has received from National Public Radio, the Washington Post, the Huffington Post and other news outlets. He said he's not seeking publicity for himself, but for the organization.
"This is about people who are searching, who want what we have and don't have access to it. We try to provide it," Rabbi Cukierkorn said.
On the website he notes that "there are hundreds, if not thousands, of people around the world that desperately want to be Jewish or return to Judaism but are denied that opportunity."
In fact, the Brit Braja website states that in Latin America there are as many as 30 million people that are descendants of those who were forced to convert to Christianity in the Iberian Peninsula in the 15th century, "yet they have retained some Jewish practices or memories."
Brit Braja actually has two websites. Britbraja.org can be viewed in English and Spanish. Britbracha.org is available in Portuguese. The organization also has two Facebook groups, one in Spanish and one in Portuguese.
"Both of them are the largest Facebook pages about Judaism in those languages," the rabbi said.
A native of Sao Paulo, Brazil, he generally visits each of these communities once a year for about 10 days, depending on his schedule. At that time he will conduct lifecycle events, counsel people and teach.
Rabbi Cukierkorn tries to limit the time he is away from Temple Israel.
"I spend more than 90 percent of my time in Kansas City," he said. "Temple Israel, and Kansas City, is my main focus. My work here mirrors the work I do abroad, serving people who are seekers, most of whom would not find a spiritual home anywhere else. Exactly because our members understand and value that idea, they are happy to 'share' me with the rest of the world. Temple Israel is a small but close-knit community created around the idea of openness and acceptance."
Brit Braja's future
Rabbi Cukierkorn said Brit Braja has just started an initiative aimed at educating children.
"We're creating a virtual religious school," he said. "There is no model for that. It doesn't exist here in the United States to the best of my knowledge."
As with most non-profit organizations, Brit Braja relies on donations it receives from supporters, both individuals and organizations. In 2013 $18,000 was raised.
Mike Herman and his family support Brit Braja because they believe in religious freedom.
"The work Rabbi Jacques is doing is amazing. There are many Spanish people who believe they are descendants from those exiled out from Spain. His work to give them a chance to practice Judaism is the proper thing to do," said Herman.
"We are proud to be financial supporters and wish others would do so as well," he continued.
Donations for Brit Braja may be made through the website, www.britbraja.org or by contacting the rabbi at This email address is being protected from spambots. You need JavaScript enabled to view it..