News
Written by Barbara Bayer, Editor
Thursday, May 16 2013 11:00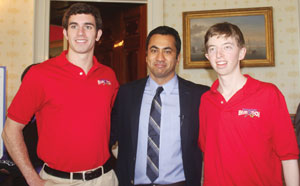 ENVIROTHON CHAMPIONS — Jeffrey Rubel, a senior at Pembroke Hill and a member of Congregation Beth Shalom, visited the White House on April 22 to participate in the White House Science Fair hosted by President Barack Obama. Jeffrey and his classmates were invited as representatives of the 2012 North American Envirothon championship team from Missouri. The Pembroke Hill team went on to become the North American champions! The White House Science Fair celebrates the student winners of a broad range of science, technology, engineering and math (STEM) competitions from across the country. The president hosted the first-ever White House Science Fair in late 2010 as part of his Educate To Innovate campaign to inspire students to excel in math and science.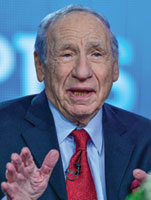 MEL BROOKS DOCUMENTARY PREMIERS ON PBS — After 60 years in show business, Mel Brooks has earned more major awards than any other living entertainer; he is one of 14 EGOT (Emmy, Grammy, Oscar and Tony) winners. Yet, the comedy giant has energetically avoided a documentary profile being made, even issuing an informal gag order on his friends ... until now. Brooks agreed to throw himself into a new documentary about his storied career, giving American Masters exclusive interviews and complete access to his film and photo archives. Premiering nationwide Monday, May 20, at 8 p.m. on KCPT, "American Masters Mel Brooks: Make a Noise" features new interviews with Brooks, his friends and colleagues, including Matthew Broderick, Nathan Lane, Cloris Leachman, Joan Rivers, Tracey Ullman, and his close friend, with whom he created "The 2000 Year Old Man" more than 50 years ago, Carl Reiner. A DVD with bonus material will be available Tuesday, May 21 from Shout Factory.
"When they called me to say I had been chosen as the next 'American Master,' I thought they said I was chosen to be the next Dutch Master. So I figured what the hell, at least I'll get a box of cigars. When I realized my mistake I was both elated and a little disappointed at losing the cigars," cracked Brooks, who will receive the 41st AFI Life Achievement Award this June.
FREE CONCERT — Violinist Elena Urioste and pianist Gabriela Martinez will perform a free Discovery Concert at 7 p.m. Friday, June 7, at the Folly Theater (300 W. 12th St.), in downtown Kansas City, Mo. The planned program includes works by Beethoven, Debussy and Janacek. The performance will be the 25th free Discovery Concert presented by the Harriman-Jewell Series since 2004. One of the pieces they are expected to play is "Hebrew Melody" by Joseph Achron as one of their short pieces. Tickets for the Urioste and Martinez duo recital are free to the public. "Print at home" tickets are available online at hjseries.org or by phone at 816-415-5025. The David Woods Kemper Foundation sponsors this performance. The National Endowment for the Arts has partially underwritten the 2013 Discovery Concerts.
| | | | |
| --- | --- | --- | --- |
| K.I. rabbi leaves after nine months | | | |

Written by Barbara Bayer, Editor

Thursday, May 09 2013 11:00

Rumors have been swirling about the rabbinic situation at Kehilath Israel Synagogue since the last week in April. Senior Rabbi Shmuly Yanklowitz, who joined the congregation in August 2012, did not lead religious services on either April 27 or May 4 and has not been seen in the metro area for a couple of weeks.

The congregation's president, Steve Osman, has little to say about the situation at this time.

"We've agreed that he's taking some vacation time. We're in conversations involving his relationship with the synagogue," Osman said on Monday afternoon.

Those involved in these conversations have signed confidentiality agreements according to Osman, "to allow conversations between the parties to be maintained in confidence."

Osman said Rav Hazzan Jeffrey Shron has "very graciously agreed to meet the rabbinical needs of the congregation" in the interim.

 

Last Updated on Wednesday, May 08 2013 10:14

| | | | |
| --- | --- | --- | --- |
| Local woman wins BIN 27 Port & Cookie Rumble | | | |

Thursday, May 09 2013 11:00

The renowned Port House of Fonseca announces the winner of its first "BIN 27 Port & Cookie Rumble." Dr. Maureen Dudgeon of Kansas City, Mo., wins the grand prize for her Portofignos cookie creation.

Cookie lovers nationwide were invited to submit their favorite, original cookie recipe that pairs best with BIN 27 Port, for a chance to win two prizes. All recipes were judged by famed chocolatier Jacques Torres and award-winning cookbook author Dorie Greenspan.

Dr. Dudgeon's recipe was selected from nearly 150 recipes, submitted via BIN 27's Facebook page. Dr. Dudgeon won the grand prize of a trip to New York City where she received private cooking lessons with Torres and Greenspan. In addition KitchenAid, a contest partner, awared her with a Dual Fuel Double Oven Range and a professional 600 Series 6 Quart Bowl-Lift Stand Mixer.

Judge Greenspan said it was great to see so many home bakers enter the contest.

"Every recipe submitted was a labor of love. Jacques and I baked and tested, tasted, sipped BIN 27, then tasted some more to find winners whose cookies were good on their own and even better with Port. The finalists hit all the flavors we love with BIN 27.

"But it was Maureen's Portofignos — chocolate cookies speckled with Port-soaked figs and toasted walnuts — that hit them best. Congratulations to Maureen and thank you to everyone who participated — you made our job tough, but delicious," Greenspan said.

Judge Jacques Torres adds, "Why should kids have all the fun? Fonseca BIN 27 turns the cookie into something sexy and decadent for adults. The pair becomes like Angelina and Brad — each one makes the other even sexier! Judging this contest was anything but tough — pass the port and cookies, please!"

Dr. Dudgeon said she had never entered a cooking contest before this one. She entered because she was interested in the cooking lessons provided by the famous professionals. She likes to bake often and finds it relaxing.

"It is a good way to show love, regard and affection for people," she said.

Part of Dr. Dudgeon's work as a physician is teaching medical students and residents. She enjoys having cooking for her students to mark milestones.

"Some of the women have come over to learn how to bake things," she also explained. "In fact, a bunch of us even made the wedding cake for one of them."

Fonseca BIN 27, which is not certified kosher, was created over a century ago. Reserved for the winemaker's family consumption, BIN 27 was released commercially in 1972 and quickly became one of the top ports consumed in the United States. Produced primarily from wines from Fonseca's own quintas in the Cima Corgo and showing exceptional quality and consistency from year to year, BIN 27 is blended from reserve wines selected for their superb fruit character and depth of color. Its well-knit structure; rich, velvety full body; and luscious blackcurrant and cherry bouquet and flavors finish on an intense, lingering note.

Dr. Dudgeon's Portofignos cookies are described as a not-too-sweet, chocolate sablé filled with salty walnuts and port-soaked figs echoing and enhancing the flavors of Fonseca BIN 27 Porto.

MAUREEN DUDGEON'S PORTOFIGNOS

Ingredients:

4 ounces dried figs, diced to 1/8 inch pieces

¼ cup Fonseca BIN 27 Porto

4 ounces walnuts, chopped to ¼ inch pieces

½ teaspoon sea salt

1 7/8 cups all purpose flour

½ cup unsweetened, dry cocoa

¾ teaspoon baking soda

¼ teaspoon salt

1 cup (2 sticks) butter, softened

3/8 cup white sugar

1 cup brown sugar

1½ teaspoons vanilla extract

 

Directions:

Place diced figs and Fonseca BIN 27 Porto in a small saucepan and bring to a gentle boil. Turn off the heat and set aside until cool, then drain reserving the liquid for another use.

(Pro tip from Jacques Torres:  When I marinate fruit, I like to do so cold, rather than warm. It's best if the fruit marinates for a few days to absorb a great deal of flavor. The alcohol will still cook out when the cookies are baked.)

Place the chopped walnuts on a baking sheet and toast at 325 degrees F until light brown. Remove from oven and toss with the ½ teaspoon sea salt and set aside.

Sift the flour, cocoa, baking soda and ¼ teaspoon salt together into a bowl.

Using a stand or hand held electric mixer, whip the softened butter until soft and creamy. Mix in the sugars until smooth. Mix in the vanilla extract.

Carefully mix the dry ingredients into the butter mixture until nearly incorporated. Continuing with the mixer, add the toasted, salted walnuts and the Port-soaked figs mixing only until incorporated.

Cut two sheets of waxed paper about 18 inches long, divide the dough into two portions and place on the waxed paper. Using the waxed paper as an aid, form the dough into two logs, 2 inches in diameter, wrap tightly and refrigerate for several hours.

At this point the dough may be kept in the refrigerator for two to three days or frozen.

When ready to bake, line a sheet pan or heavy cookie sheet with parchment paper.

Preheat the oven to 325 degrees.

Slice the chilled or frozen cookie dough into 1-inch slices and place 2 inches apart on the prepared sheet.

(Pro tip from Jacques Torres: Refrigerate the dough for more than just "several hours" – 24 hours is ideal. Pro tip from Dorie Greenspan: Cut the cookies ½-inch thick and bake just one sheet at a time as the cookies will bake more evenly.)

Bake 10-12 minutes turning the sheet one time until the cookies are just set and barely brown on the bottoms. Cool on wire racks. (Pro tip from Dorie Greenspan: Because the cookies are still very soft when you remove the baking sheet from the oven, allow the cookies to remain on the sheet for a couple of minutes, just until they're firm enough to handle, before transferring them to a rack to cool completely.)

Enjoy cookies with a glass of Fonseca BIN 27 Porto. The baked cookies may be stored in a tightly closed container or bag. Makes more than four dozen cookies.

(Pro tip from Dorie Greenspan: the yield is approximately 18 cookies if you cut the dough 1-inch thick; approximately 36 cookies if you cut the dough ½-inch thick.

| | | | |
| --- | --- | --- | --- |
| New Campus exec brings years of experience to position | | | |

Written by Ruth Baum Bigus, Special to The Chronicle

Thursday, May 09 2013 11:00

After 25 years as the Jewish community's central address, the Jewish Community Campus has a new leader at the helm.

He's Dan Cullinan, who started on the job May 1. Cullinan takes over the formidable task of overseeing the operations of the 267,080-square-foot mixed-use building that is home to numerous Jewish agencies that incorporate social services, schools, fitness facilities and pools, a state-of-the-art theater, classrooms, meeting and conference rooms.

Cullinan takes over for the retiring Alan Bram, who's been executive director at the Campus since 1987 — a year prior to the building's opening. Bram will be available to help during this transition period.

Cullinan, 52, was chosen for the position by a search committee from the Campus board of directors led by Greg Wolf. The board approved the hiring.

Cullinan has more than 25 years of experience in the property management business, most recently with Executive Hills Management, Inc. During his latest association with Executive Hills, owned by Larry Bridges, Cullinan served as property manager/tenant relations manager for One Kansas City Place, Twelve Wyandotte Plaza and One Petticoat Lane.

"This opportunity is a once in a lifetime," said Cullinan of the new position at the Campus. "To be able to come in after what Alan has done and follow in his footsteps in the class A fashion he operated is just great. I'm very excited, and I'll hit the ground running," he added.

After graduating from the University of Kansas with a political science degree, Cullinan jumped into the property management industry. He first joined Executive Hills in 1987 managing a variety of properties and learning from Bridges firsthand. Cullinan also spent time as facilities manager with Harrah's Entertainment in both Topeka and North Kansas City. Later, he spent a year with Stoltz Management Company working as the maintenance manager for the Corporate Woods Office Park before rejoining Executive Hills.

Cullinan gives credit to Bridges for bringing him to where he is today.

"He's made this possible for me," said Cullinan of Bridges. "He's been a mentor to me — almost like a surrogate father. I give kudos to Larry for training me in this industry. Without his mentorship, I don't think this would have been possible."

John Rubenstein, president of the Campus, said Cullinan becoming executive director is good for the Campus. Rubenstein said Cullinan's boss Larry Bridges was associated with Frank Morgan and Sherman Dreiseszun, patriarchs of two of the four founding families that provided the land for the facility in southern Johnson County.

"Dan is perfect for this job, we are fortunate to have him," Rubenstein said.

Outside of the work world, Cullinan is the father of three grown children and will be a grandfather this fall. He lives in Olathe, enjoys golf, baseball and NASCAR. At one time, Cullinan worked for the Richard Petty Driving School as a member of the pit crew.

"That was a blast," he said.

These days, Cullinan is using his high-speed experience to settle into his new position as the Campus' chief executive.

"This is the next step up for me," Cullinan said. "I'm going to be very visible with my agency contacts, and I am looking forward to working with Alan's team."

Written by Barbara Bayer, Editor

Thursday, May 09 2013 11:00

HBHA ON TV — Last week 41 Action News (KSHB-TV) covered HBHA's Destination Imagination, Inc. team as the students prepared to attend the DI Global Finals at the University of Tennessee beginning May 22. During the week-long competition, these teams will present their regional project and compete in open-ended challenges. These challenges require the team to solve a problem using a holistic approach of science, technology, engineering and math (STEM) knowledge, improvisation, theater arts, writing, project management, communication innovation, teamwork and community service, in one of seven challenge categories. Here's the link to the complete story: http://www.youtube.com/watch?v=B5uT2q_rIc4&feature=youtu.be.

BRGR BURGER BATTLE — Our own David Small's burger creation is one of six chosen to compete in BRGR's Burger Battle. The burgers will be on the BRGR menu through the month of May. The burger ordered most often during that time will be added to the restaurant's menu and its creator will receive one free burger a week for the rest of the year! Small's burger is called the KC Butcher Burger and features a BRGR patty, hanger steak (cooked medium), Boursin horseradish cream cheese, caramelized onions, roasted garlic, sourdough and an onion ring.

MOTHER'S DAY IS SUNDAY — We all know mothers are the true heart of a Jewish family and If you didn't get an appropriate card or gift for your mother yet, there's still time to send her a Jewish Women International Mother's Day e-card. Each $25 contribution allows JWI to send a Mother's Day card to the woman of the sender's choosing as well as for JWI to send bouquets of flowers and baskets of OPI beauty products to domestic violence shelters. SAFEHOME in Overland Park is one of the beneficiaries this year. Cards can be ordered at jwi.org/fp or by phone at 800-343-2823. Established in 1999 and officially known as the Flower Project, each year an average of 6,500 women and children who live in domestic violence shelters across the country have been positively impacted. Over this 15-year period an estimated 100,000 women and children have been touched, encouraged and inspired by the project.

LIBRARY FEATURES PAUL RUDD — In recent years the Kansas City native, featured in the Chanukah Jewish Life magazine, has become a comedy icon, thanks to his regular gig on TV's "Friends" (he played Phoebe Buffay's boyfriend, Mike) and high-profile roles in big-screen hits from the likes of Judd Apatow ("Knocked Up," "Anchorman: The Legend of Ron Burgundy," "This Is 40"). This summer the Kansas City Public Library will celebrate Rudd's career with "Paul Rudd: Home Town Hero," the "Off-the-Wall" series shown on the third Friday of the month at the Central Library on the Rooftop Terrace, 14 W. 10th Street in Kansas City, Mo. All the movies are free and the first is set for Friday, May 17. Most titles are recommended for adult audiences only. For more information visit kclibrary.org or call 816-701-3407.
<< Start < Prev 1

2

3 Next > End >>


Page 2 of 3