News
| | | | |
| --- | --- | --- | --- |
| Mitzvah Garden keeps growing | | | |
Written by Barbara Bayer, Editor
Thursday, May 02 2013 11:00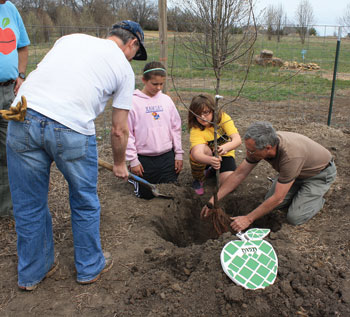 I wear my overalls
I feel incredible
I'm plantin' vegetables
For the hungry in the world
You may not know the tune to "Thrift Shop," a Macklemore song that goes with these lyrics penned by Mitzvah Garden volunteer Gabriella Sonnenschein. But one doesn't have to know the tune to understand that the lyrics express in simple words just how volunteers feel when they work in the garden.
This is the fourth year the Mitzvah Garden has used a parcel of land owned by The Temple, Congregation B'nai Jehudah to grow food to feed the hungry in our community. The garden now covers nearly half of an acre, having expanded from 10,000 square feet to 15,000 square feet since its inception. In the past three years it has yielded more than 15,000 pounds of food that have been donated to a variety of pantries including the JFS Food Pantry, Yachad-The Kosher Food Pantry, Grandview Assistance Program and the Blue Valley Multi-Service Center.
It's estimated between 400 and 500 people volunteered in the garden last year alone. These volunteers are shepherded by Andrew Kaplan, Larry Lehman and Ken Sonnenschein. The three co-chairs work together hand in hand, with Kaplan managing the garden's administration and finances, Lehman overseeing the gardening and Sonnenschein providing the Jewish education. Almost every time a group visits the garden to volunteer, a mini-Torah lesson relating to the season or the activity itself is provided.
The garden has been such a success, according to its co-chairs, because it's one of the rare communal activities that is multi-generational. Volunteers range from children to seniors and come from every synagogue in the community, summer camps, organizations, the Jewish Society for Service and most youth groups.
There are two other reasons why the garden is a success according to its co-chairs.
"People can actually see the fruits of their labor and everyone loves to get their hands dirty!" Lehman said.
Volunteers are there every Sunday starting in early March by 9 a.m.
"By the time the August heat hits, we're here by 7 a.m.," Lehman said.
Regular volunteers will notice several new things this year at the garden. The first is the new path leading from the parking lot to the garden built by Tommy Poskin as part of his Eagle Scout project. He is a fourth-generation member of B'nai Jehudah who will be confirmed later this month and has served as a madrich at the congregation.
"Without this path, it was difficult to actually get to the garden from the parking lot," Kaplan pointed out.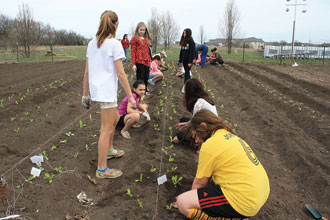 The garden has three planting seasons and produces such crops as lettuce, beets, Swiss chard, onions, potatoes, spinach, peppers and tomatoes. In a year or two it will produce apples and pears as well. Eight semi-dwarf apple and pear trees were planted in April. They are expected to bear fruit over a span of 25 to 30 years and yield about 12,000 pounds of fruit. Kaplan said it should take a year or two before they bear fruit and will be good producers by years four and five. "We hope, someday, to have an entire orchard," Kaplan said.
True to his duty as garden educator, Sonnenschein led the group in the Shehechiyanu prayer as the trees were being planted.
"Blessed are You who has kept us, sustained us and brought us to this special moment," Sonnenschein said.
Last summer's drought was tough for the garden and some of the crops didn't survive. The crops that did survive yielded much less useable produce than normal. Even the bees didn't produce any honey.
Bees were brought to the garden a couple of years ago to help pollinate the plants. The bees make up a total of three colonies, which Kaplan said is all that the city of Overland Park allows. The hives will be maintained by Aaron Pfefer this year.
The drought meant the crops needed to be watered a lot. So B'nai Jehudah donated a considerable amount of water to help the garden. For that reason the congregation received the garden's Golden Trowel award earlier this year.
"B'nai Jehudah is extremely generous when it comes to watering the garden and last year it was expensive," Sonnenschein said.
This year a drip irrigation system is being added to help lower watering costs. This water capture system required the construction of a 30-feet by 40-feet open air structure. Plastic totes hold 4,000 gallons of rain water that can be distributed through a solar powered pumping system through several thousand feet of drip irrigation hoses that will provide approximately 25 percent of watering needs for the garden.
Kaplan said that $23,000 was raised from the community to build and install this system, which was developed by an Israeli company formerly run by Kibbutz Na'an in Israel and now owned by NanDanJain, a company in India. It took volunteers a year and a half to take this from an idea to reality. It was paid for by grants from BBYO, J-Lead, Flo Harris Foundation, B'nai Jehudah's Brotherhood and Sisterhood and individual donors.
Funds for the garden itself have come from a variety of sources including Menorah Legacy Foundation, the Herman Levikow Foundation and the B'nai Tzedek Shuk.
Among other things, that money has paid to fence, plow, organically fertilize, seed, weed, and mulch the crops in the garden. During that time the "farmers," as Kaplan refers to the volunteers, have also developed a leaf compost process to naturally incorporate much needed nutrients back into the soil. As a testament to its success, the garden was named Johnson County's best community garden by 435 South magazine.
Kaplan attributes a lot of the garden's success to Ben Sharda of the Kansas City Community Gardens.
"We needed help and he was that guy who taught us how to garden. He has a wealth of knowledge that helped us get to the next level," Kaplan said.
The original Mitzvah Garden, a 640-square-foot plot of land located on the North side of Village Shalom, is also still active. Established 13 years ago, Sonnenschein said this year squash, gourds and herbs will be planted in it to be used for a sukkah project being organized in conjunction with the Kansas City Jewish Museum of Contemporary Art.
Mitzvah Garden campfire
Saturday night, May 4, is the garden's annual campfire. Folks will gather at 9 p.m. and the program begins with Havdallah at 9:30 p.m. Campers will then gather around the campfire at 10 p.m. to sing, tell stories and eat s'mores and snacks. Those who wish can spend the night in the garden, using their own camping equipment. Activities resume at 8:30 Sunday morning with breakfast. Early-bird volunteers will begin work at 9 a.m. to get ready for the arrival of B'nai Jehudah Mitzvah Day volunteers. Mitzvah Day activities include fun in the sun, tilling, planting as well as building and repairing structures for the garden.
| | | | |
| --- | --- | --- | --- |
| Israeli activist to tell story in K.C. | | | |

Written by Ellen R. Portnoy, Contributing Writer

Thursday, May 02 2013 11:00

The battle for women's rights in Israel has been making so much news recently it's hard to keep track of the very latest. The woman who's been at the forefront of this battle for many years now, Anat Hoffman, will be in Kansas City to talk about this and other issues on May 17, 18 and 19. (For details, see below.)

One of these battles, that of women being allowed to pray at the Western Wall, has intensified over recent months resulting in arrests when women prayed there. Last week, the Jerusalem District Court ruled that women in prayer shawls do not disturb the public order and should not have been arrested.

Hoffman, who is the executive director of the Israel Religious Action Center and an active member of the group known as Women at the Wall, said in a statement published by JTA, "Today Women of the Wall liberated the Western Wall for all Jewish people. We did it for the 8-year-old girl who can now dream of having her Bat Mitzvah at the Wall, and for the grandmother who cannot climb on a chair in order to see her grandson's Bar Mitzvah. We did it for the great diversity of Jews in the world, all of whom deserve to pray according to their belief and custom at the Western Wall."

Hoffman has not been fighting the battle for religious pluralism in Israel alone. One of the reasons she said she is coming to Kansas City is because of the efforts many members of this community have made to support the cause.

"The Kansas City Jewish community has made sure that Kansas City puts to shame all other cities in the United States for their support of rights in Israel," Hoffman said.

There are four people in Kansas City that she calls a "nuclear blend" in helping promote these rights. She praises Rabbi Alan Londy for inviting her to Kansas City as The New Reform Temple's Krasne scholar in resident.

"The Kansas City Jewish Community has the right to say what they think should be done in the Jewish state," Hoffman said. "They have a duty. Zionism is not a spectator sport."

She notes that Rabbi Arthur Nemitoff is a staunch supporter of a legal aid center for new olim fighting for conversion rights. Then there's Rabbi Mark Levin, who fervently believes Jews in Israel should be able to have freedom of choice when it comes to marriage.

Last but not least there's Bill Lowenstein, who champions the rights of women.

"He is giant fighting for women," Hoffman said.

The crusade begins

Hoffman's life and the issue of religious pluralism in Israel changed forever in 1988, when she was attending a conference with a group of women who simply wanted to pray at the Wall.

"I was just there because I own a folding table, and the hotel would not rent one to them," she said, "that is how an historic moment occurs."

Soon after, a group of women who eventually were called Women at the Wall gathered monthly at the Kotel for Rosh Hodesh services. Their desire to pray together, wearing tallit, caused the ultra Orthodox to attack them and try to keep them from praying. Nothing — court battles, arrests, media attention — kept the women away from the Wall.

Recently the balance changed. Just before the April 11 Rosh Hodesh service the Women of the Wall received a letter from Yossi Pariente, the chief of police of Jerusalem, telling them the attorney general said women cannot wear tallit, cannot read Torah and cannot say Kaddish at the Wall. It went on to say that police would enforce the law, Regulation 13, the Holy Places Law of 1924, which is punishable with six months in jail. They were told they could appeal that decision to the Supreme Court.

"We raised hell immediately," said Hoffman in a recent phone interview. "How can it be that we cannot say Kaddish! What was amazing is that from around the world, not just in the English-speaking world, but all over, we got letters and protests. And the most amazing is that the chair of the Knesset Committee on Women also called the Rabbi of the Wall. And the rabbi backed down!"

From there things happened rapidly. Natan Sharansky, the chairman of the Jewish Agency, has introduced a plan to make the Kotel accessible to men, women and mixed groups. Then there was the arrest at the Wall on April 11 of five women, who were part of a group of 300 women, for praying while wearing tallit. Most recently came the court's ruling that they should not have been arrested.

While Hoffman may be best known in the United States for her work with Women of the Wall, her efforts supporting women's issues and religious pluralism goes beyond the Kotel. She runs the IRAC, the legal and political arm of the Reform Movement in Israel. Included in the organization's five major goals are the recognition of Reform and Conservative conversion in Israel; freedom of choice in marriage; fighting against racism in Israel based on religion and race; and fighting for the equality of women.

In her role with IRAC Hoffman has led the way against women's segregation on public busses. Their actions, along with the support of many Orthodox women, led to Supreme Court victories against such discrimination. Where once there were 2,500 segregated buses, there are now 500.

The IRAC has worked hard to get Reform and Conservative rabbis paid just as Orthodox rabbis are in Israel, taking the case all the way to the Israeli Supreme Court. The face of this fight so far has been Rabbi Miri Gold. Although the Supreme Court ruled that Rabbi Gold should be paid a salary, this has not yet happened. Hoffman, however, is confident she will eventually get paid.

"I think the state will soon be paying for 2013 and will also be paying damages," she said. "Now we are arguing over 2012."

Rabbi Gold is a strong supporter of Hoffman and her work.

"Anat has highlighted the fact that there is religious coercion in many sectors of Israeli society, and much of it sanctioned by the government," said Rabbi Gold. "Often these issues are very connected to women's issues, so it puts a spotlight on them and demands attention and solutions."

"Whether it is Women of the Wall, segregated buses, young girls being harassed on their way to school, she, through the IRAC, puts these issues squarely on the table and she demands justice," added Rabbi Gold. "She knows how to do these things cleverly, and she gets things done."

"While my court case is not gender-based," Rabbi Gold added, "it doesn't hurt that it's a woman in the spotlight demanding to be recognized as a rabbi by the government of Israel. No one in the government can offer solutions for men only in this case."

It is these issues of women's rights and the increased intolerance on the part of ultra Orthodox Jewish men that have raised many issues. Hoffman's theory on why there is this tremendous frantic outpouring against women is intriguing.

"I think it has to do with Israel's policy to exempt young men from the core curriculum. The (ultra Orthodox) man doesn't study any life skills, any real world topics. He only studies Torah. He doesn't know how to write checks and deal with the world. The wife is the one who knows because she is out in the world. She learned the core curriculum. She works. Because of this the status of women has risen in the ultra Orthodox community. So to keep women in check, came the idea of protected modesty."

"They are saying, 'You might think you are so smart, but your desires to wear red or your hair brings people to temptation.' The modesty whip is used to keep women in check. You cannot see women, we will not even put photos of women in the newspapers," she said. "The end result is that women are not feeling good about themselves anymore. They see their body as oozing sin. So it is a breaking down of confidence."

Hoffman believes that ultra Orthodox men should not serve in the army. Instead they should do national service in education and health. "I don't want people who are not educated to have a gun," she said. "They would not know what is an illegal order because they have never studied civics, history and information about the country and democracy." She is also concerned that it would change the role of women in the army.

Hoffman events at NRT, JCC open to the entire community

Anat Hoffman, executive director of the Israel Religious Action Center, will be in Kansas City the weekend of May 17-19 as the Krasne Scholar in Residence at New Reform Temple. The IRAC is the religious and political arm of Reform Judaism in Israel. Hoffman also has served as the chairman of Women at the Wall and previously served on the Jerusalem City Council for 14 years.

"There were several reasons why we invited Anat Hoffman as the Krasne Scholar. We wanted to do a program with something to do with Israel," said Rabbi Alan Londy of New Reform Temple. "We wanted something that is directly connected to the Reform movement. And the issue of her being with the Women of the Wall all contributed to us making our decision."

On Friday night, May 17, Hoffman will speak at 8 p.m. during services, on "From the Back of the Bus to the Top of the Agenda." After a light breakfast on Saturday morning she will lead a Torah study at 9:15 a.m. on "The Critical Civil Rights Issues Facing the State of Israel."

The community is invited to both events at New Reform Temple. Those wishing to attend the brunch on Saturday, need to make a reservation by calling 816-523-7809 by Monday, May 13.

"Anat Hoffman coming is a real important significance for New Reform Temple," said Rabbi Londy, "because our leadership is very concerned with the issue of religious pluralism in Israel. We have a strong commitment in our congregation to nurture Reform Judaism in Israel. Her talk is very important to our religious and social agenda."

In an effort to have her heard by as many people as possible, Rabbi Londy and New Reform Temple reached out to the community.

"We wanted to present to the community an opportunity for everyone to hear her," said Rabbi Londy. "So the support of the rabbis and agencies was very important. I asked my colleagues to support this, and they did."

With this successful effort, Hoffman will also be speaking at 7 p.m. Sunday, May 19, at the Jewish Community Center on "Religious Pluralism and the Future of the State of Israel."

The program on Sunday night is co-sponsored by New Reform Temple, The Jewish Community Center, Hyman Brand Hebrew Academy, The Jewish Federation, The Rabbinical Association, Congregation Beth Torah, Congregation B'nai Jehudah, Congregation Beth Shalom, Kol Ami and Kehilath Israel Synagogue.

| | | | |
| --- | --- | --- | --- |
| Community abuzz over accusations DJ involved in pornography | | | |

Written by Barbara Bayer, Editor

Thursday, May 02 2013 11:00

The Jewish community was buzzing last week when people learned that a popular DJ in the community who is a youth soccer coach in Lee's Summit was accused of making child pornography. Joel White was charged in U.S. District Court Tuesday, April 23, with producing child pornography by secretly videotaping members of his soccer team and was refused bond.

White owns Adida DJ Entertainment & Photography and by all accounts is one of the most popular DJs on the local Bar/Bat Mitzvah circuit. According to Facebook posts, White's arrest sent many families scrambling to find another DJ for upcoming events.

A look at his Facebook page indicates that since January 2012 White — or an associate employed by his company — has entertained teens at more than 50 mitzvah celebrations. The last post is dated Feb. 27. The company also worked at several teen/family events held at Oakwood Country Club and entertained at a party for AZA 2's chapter.

The Chronicle has also learned that several Jewish teenage girls worked for White or Adida DJ Entertainment & Photography as a dance girl or party pic photographer. None of the girls' parents contacted by the The Chronicle wished to comment on the situation.

No one contacted by The Chronicle who had hired White to entertain at their events in the past ever had any suspicions he was involved in illegal acts involving children. Many did not want to speak on the record, or engage in lashon harah (gossip) about activities they know nothing about.

Michelle Cole hired White to be the DJ at her daughter's Bat Mitzvah in 2010. She was pleased with his work and hired his company, which provided another DJ, to entertain at her son's Bar Mitzvah earlier this year.

"I never would have thought of him like this. I never saw him acting inappropriately with any of the kids," Cole said.

Another family who wishes to remain anonymous used White's DJ service twice for Bar Mitzvah parties, in 2010 and 2012.

"Our family also saw him at many other Bar/Bat Mitzvah parties. He was always professional and appeared to have the kids' best interests at heart. That is why this story is so disturbing. It is a reminder to have open dialogue with your children about child predators. Let them know that they can always come to you if they are ever put in an uncomfortable position," said the mother.

Kevin Blayney, a Chronicle photographer who often photographs Bar and Bat Mitzvah celebrations in the community, has worked with White many times over the past five years. He most recently worked at an event with White on April 20, just days before White's arrest.

"I always got along with him well," Blayney said. "During the times I worked with him I felt he acted professionally. I have never seen Joel White ever act inappropriately with any guests while I was covering the same mitzvah celebration as he."

He heard the news from a former client.

"I saw the TV story regarding his past history and still could not believe it. I thought I knew him, but apparently I only knew what he projected to others," Blayney said.

"All everyone can do now is pray justice is served and the truth will come out," he continued.

| | | | |
| --- | --- | --- | --- |
| Orthodox gay rabbi seeks inclusion for all | | | |

Written by Barbara Bayer, Editor

Thursday, May 02 2013 11:00

According to Chabad.org, every year on the holiday of Shavuot we renew our acceptance of G‑d's gift and G‑d "re-gives" the Torah to us.

As the significance of Shavuot is discussed at the annual Tikkun Leyl Shavuot program May 14 at Kehilath Israel Synagogue (see box for details), Rabbi Steve Greenberg, the keynote speaker at this year's celebration, would like nothing more than to see the Orthodox community become more accepting to the Jewish gay community. Rabbi Greenberg is the author of the groundbreaking book "Wrestling with God & Men: Homosexuality in the Jewish Tradition."

Rabbi Greenberg received his Bachelor of Arts degree in philosophy from Yeshiva University and his rabbinical ordination from Rabbi Isaac Elchanan Theological Seminary. He is a graduate of the Jerusalem Fellows program, a two-year fellowship for senior Jewish educators sponsored by the Mandel Institute. His book is the basis of his keynote topic, "Wrestling with God and Men: Four Rationales for the Biblical Prohibition."

The title of his speech alludes to Leviticus 18:22 that prohibits sex between men.

"There are various reasons that are given for the prohibition between sex and men," said the rabbi. "My aim will be to limit the conversation a little bit because of the way in which the verse is written and the context."

He said the title of his keynote may be understood better if it was "Wrestling with God and Men: Four rationales for addressing Leviticus 18:22."

"But when you put 18:22 in a title, people go 'huh?' "

A senior teaching fellow at CLAL-The National Jewish Center for Learning and Leadership, Rabbi Greenberg came out as openly gay in 1999. Last year he and his partner, also named Steven, were civilly married in New York. They have a 2-year-old daughter, Amalia.

His book has just been published in Hebrew for the first time and when he appears in Kansas City he will have just returned from a trip to Israel to promote it. In the new forward he writes that it's still very scary to be gay in the traditional world.

"Even just to admit to oneself that one is gay, can be frightening. I remember feeling at the age of 28 that were I to say the words, 'I am gay,' I would immediately be standing at the edge of a cliff with no idea how to take the next step. When all the good futures that one has ever imagined vanish, the despair can easily lead to self-destructive choices," Rabbi Greenberg wrote.

He knows it would be easier to live his life if he chose to be Reform or Conservative and it doesn't bother him if other people make that choice. But he grew up Orthodox and feels at home in an Orthodox community and that's why he would like the more conservative community to become more inclusive.

"If you're a kid growing up in an Orthodox community you're in trouble because gay people didn't stay and make room. There were only two options if you were gay. You were quiet and suffered in silence or you left. What that meant was if you were growing up in that community there was no one to talk to, and no means of understanding yourself. Lots of kids have basically harmed themselves, committed suicide, because they basically saw that there will be no life for them.

"My aim is to make sure that the tradition is responsible to everyone in the community. You wouldn't want a tradition only responsible to people with green eyes or people who are right-handed or people who are full bodied and have no disabilities. You want them to be responsible to everybody. That's what a religious tradition ought to do. So that's what I'm trying to do, making it responsible to the whole community," he said.

He believes the Orthodox community can become more accepting to gays.

"I see this as the contemporary challenge of new scientific and human understanding that pushes the system to respond in a new way to an issue," he said. "What happens is circumstances just shift and the meaning or understanding of human relations of various kinds shift and the law needs to address the new circumstance, otherwise it becomes either cruel or irrelevant to the people living in that moment."

At CLAL he is in charge of diversity programs and concentrates mostly on LGBT issues. In his bio for the organization, he is called a religious iconoclast — a non-conformist. He said non-conformism inside the Orthodox community is actually rather traditional.

"Non-conformism inside the community, inside the language of the tradition is an ordinary affair. In fact, there's a hesitation to be comfortable with conformism because it leads to a certain kind of deadness in regard to religious responsibility, which is always a more vital affair. So I see myself as somewhat of a non-conformist in some areas," he said.

On the other hand, he wonders if the desire to create a scenario in the government for same-sex marriage, is conformism or non-conformism.

"The fact that we want what ordinary, boring straight folks want, which is a committed life to somebody, is that conformism or is that iconoclastism? You can claim that single straight folks are much more challenging to the norm than are gay folks who want to get married.

"In other words I think the language is a little bit limited, meaning that I actually think that when the tradition comes to an impasse then sometimes the iconoclast is the person who shows the way to a richer engagement with the original religious values," he explained.

Tikkun Leyl Shavuot details

The community is invited to attend the annual communitywide all-night Tikkun Leyl Shavuot program on Tuesday, May 14, at Kehilath Israel Synagogue, 10501 Conser. The evening begins at 8:15 p.m. with two Mincha services, including a traditional service led by Rav Jeffrey Shron and a learner's service led by Rabbi Beryl Padorr. Study programs, which take place all night begin at 10 p.m. There is no charge for study programs.

Reservations are needed by Wednesday, May 8, for the catered dairy dinner. The cost is $15 per adult and $10 per student (age 21 and under). Send checks addressed and made payable to Rabbinical Association to 5801 W. 115th, Suite 113, Overland Park, KS 66211. Reservations received after May 8 are $18 per adult.

A sunrise service followed by breakfast will conclude this holiday celebration.

| | | | |
| --- | --- | --- | --- |
| Show celebrates the importance of motherhood | | | |

Written by Barbara Bayer, Editor

Thursday, May 02 2013 11:00

Mother's Day is Sunday, May 12. Erin Margolin and Laura Seymour would love it if you took your mother, and all your other friends and relatives, to see "Listen to Your Mother," the night before. The pair are co-producing and co-directing the one night only show 7 p.m. Saturday night, May 11, at Unity Temple on the Plaza.

"Listen to Your Mother" is a celebration of Mother's Day with readings by local writers. Ten percent of the ticket proceeds will go to help women being served by the Rose Brooks Center. Tickets are available by visiting the website www.listentoyourmothershow.com/kansascity/.

Margolin explained that "Listen to Your Mother" is a national movement that started in 2010 in Madison, Wisc., with one woman, Ann Imig, and a microphone Just three years later 24 different cities will produce their own unique shows featuring live readings by local women about motherhood.

Margolin, who describes herself as an active blogger and social media participant, "really, really, really wanted to bring it here" to Kansas City from the minute she heard about it.

"It's not a play," she said. "It's something really unique and I thought it would be cool to bring it to Kansas City and produce it. I never really thought in a million years that we would get chosen and we did. I'm really excited."

Neither she nor Seymour has actually seen a live performance of "Listen to Your Mother." All the past performances can be viewed online at the listentoyourmother.com main website.

Margolin is thrilled to present this unique show here.

"It's going viral across the country and it won't be long before everybody knows what it is. I think if you miss it, you'll be kicking yourself for not seeing it," she said.

Margolin said the shows are all different but follow guidelines prepared for by the parent company. Since they got the rights in November 2012 for this year only, Margolin, who has never produced or directed a show before, said things have been hectic. First on the agenda was accepting written submissions from would-be readers.

"We wanted to read the pieces first. Then from there we selected people to audition in front of the two of us, live, so we could make sure they have a good stage presence because they will be presenting this live," Margolin said.

The final list of readers includes both Margolin and Seymour as well as Rita Arens, Sarah Guthrie, Sarah Manley, Michelle Burdick, Julie Dunlap, Ashley Austrew, Dani Stone, Molly Shalz, Leslie Kohlmeyer, Lisa Allen, Greta Funk and Jenn Mann. The show is expected to last about an hour and 15 minutes.

All the readers in Kansas City are mothers, but that's not the case in all cities.

"You don't have to be a mom. You don't have to be a woman. You just have to be writing about motherhood," she said, adding that some shows even have a few male participants.

Besides choosing the readers, Margolin and Seymour had to handle all of the logistics, including finding a venue, choosing a photographer and videographer, publicizing the show and selling tickets. A little more than two weeks before the show, Margolin said advanced ticket sales had surpassed 100.

Unity Temple's sanctuary holds about 700 people, which Margolin admits is a little ambitious for this first "Listen to Your Mother" local production. The venture, she said, "isn't about making money" as evidenced by the fact they have pledged a portion of the proceeds to charity.

"It's OK if we have some empty seats," Margolin said.

"This is about giving Mother's Day a microphone and being able to give locals the chance to talk about why motherhood is important to them and shine a light on whatever their story is. It's not for financial gain, it's just a personal thing. I just really love this whole concept and idea and being able to bring this here," Margolin said.

The mother of three daughters, Margolin said she used to describe herself as "just a stay-at-home mom."

"Then so many people got on my case and said it's not just a mom. You don't say that. You are a mom and that's a very important thing," she said.

This production, she explained, is about showing how important motherhood is.

"It's not a job that I get paid to do, but it's very hard work and it's probably one of the toughest jobs there is. Anyone can be a mom but not everyone can be a good mom. I do lots of things. I'm a teacher. The kids come home with their homework and they need help. I'm their counselor … you have to wear many hats as a mom," she said.

Margolin is also working on "The Gay Dad Project," a documentary that is an effort to explore the unique family dynamic that results when one parent in a family comes out.

"I'm a dreamer. There are so many things I want to do. I want to make the documentary. I want to do this show. I'm always looking to get involved in fun, new exciting things. I'm not done yet. There's more for me to do down the line," she said.
<< Start < Prev 1

2

3 4 5 Next > End >>


Page 2 of 5