News
| | | | |
| --- | --- | --- | --- |
| JFS reinvigorating program aimed at helping older adults | | | |
Written by Barbara Bayer, Editor
Thursday, December 05 2013 12:00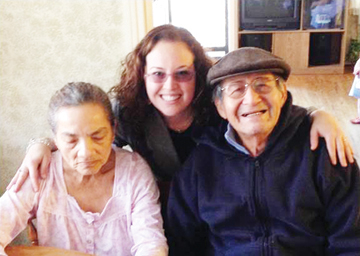 Over the past several years Jewish Family Services has established several programs to help older adults in the Jewish community maintain their independence. Now JFS is changing the scope, focus and name of the Jewish Senior Network — a program established by the Jewish Federation in 2001 which assists Jewish older adults and those with disabilities to live with dignity and autonomy in their own homes and communities — to better serve the needs of seniors in the community.
JSN, which has been run by JFS for the past several years and serves approximately 350 individuals, will now be called Care Management. Its main mission will continue to be to help older adults live in their own homes with as much independence as possible. Professional care managers, who will be social workers trained in working with senior adults, will help Care Management clients navigate the challenges of aging by providing connections to support and resources. Another goal of the revised program is to reduce admission to more acute levels of care including hospitals, assisted living facilities and skilled nursing facilities.
"Care Management will now be a core part of all those other services. In a lot of ways it's a thread to help connect you from one program to another," said Don Goldman, JFS executive director and CEO.
"Maybe you're in one program such as JET Express or Help@Home and you think you need another as well. Or you are in one of our other programs and you're having trouble thriving. Now we have a program to help you figure out if there is a program inside or outside JFS that you need to access."
"If it turns out home is not the right answer for them, we help them with the transition as well," Goldman continued.
As early as the end of this week, current JSN participants will receive a letter explaining the name change and alterations in services. Two of the most noticeable changes will be an increased number of care managers and a change in the way financial subsidies are doled out.
In January of this year, JFS piloted a new program by the same name. The pilot was led by Laura Gilman, who holds a master's degree in social work and worked in both hospice and hospital settings before joining JFS.
"The pilot program, funded by the Gould Charitable Foundation, was for older adults outside the Jewish community who were struggling to navigate the challenges of aging," Goldman said.
"The trial really was both to expand our services beyond the Jewish community in that area and also to investigate a modern, up-to-date outcome-based program because the JSN program was developed 13-14 years ago and needed some updating," Goldman continued.
Goldman said the two programs — the trial program for the general community and the program for the Jewish community — will be merged and use the same staff. However they continue to be funded separately. The Jewish program will be funded by Jewish Heritage Foundation, Jewish Federation of Greater Kansas City, Menorah Legacy Foundation and Jewish Community Foundation.
Beefing up the program
Richard Odiam, LCSW, LSCSW, JFS director of clinical services, said the old JSN was more of a crisis management service because it was so large relative to the amount of staff assigned to it. Since 2007 JSN grew from approximately 150 clients to more than 350 clients now.
While the number of participants grew, the staffing for the program did not. Clients were receiving assistance, but their care was not being efficiently managed. For example, Goldman explained that in most cases a care manager was not able to figure out if the money being spent by JSN on a client was being spent on things the client actually needed to live independently.
"So the type of support that Laura has been able to give to those in the pilot program is much more ongoing and effective. She's visiting them often, checking in with them, getting them resources and following up to make sure the resources are being taken advantage of. On the JSN side, we haven't had staffing to do that and that's what we want to do now," Goldman said.
Implementing the change
Odiam said the next year will be a transition year for Care Management. Right now there are only 1.5 full-time equivalent staff members assigned to the program, meaning the care manager to patient ratio is about 1 to 200.
"Our reach has been broad but not very deep. We are looking at changing that with a deeper and more strategic engagement with the clients that we work with," Odiam explained.
JFS plans to hire three additional care workers, two at the beginning of the year and one toward the end of 2014 or early 2015. That should make the case load more manageable with one care manager for every 50 clients.
"The intention is for care managers to be much more actively engaged with clients and be able to do more comprehensive assessments and develop more strategic plans to help them with the support and resources needed to live at home for as long as possible," Odiam said.
Throughout 2014, care managers will meet with every one of its JSN clients to better assess their situation and transition them into the new Care Management program.
"We're going to start with the most complex situations first," Odiam said.
"We think these people can really use the support we haven't been able to provide and we want to evaluate to see if they are in the right situation and how we can help," Goldman added
Odiam explained that a care worker will complete a psychosocial and financial assessment of the client, and then initiate a service plan based on the client's goals. He estimates services will be provided for three to six months to make sure supports are in place and goals planned together are achieved.
"Then we will taper off our services," he said.
The pilot program using this model has been well accepted. Odiam reports that clients have reported the care management services have helped them navigate the complicated Medicaid system, reduce worry over their health and increase their ability to manage healthcare needs.
Reduced reliance on subsidies
A big change in the program will be how JFS provides financial assistance to Care Management clients. Up until now clients have been reimbursed for a portion of eligible medical expenses.
"This has grown a lot and become very expensive. It's also a really passive system in the sense that it's not something that's planned together with a care manager around addressing specific needs," Odiam said.
"We will still have financial assistance available through the program but now we will be much more individualized and targeted to leverage a particular outcome for a client," he continued.
Explaining further, Odiam said that money can be given for something like shoe orthotics or a large ticket item such as a chair stair life that can help a client continue to live in a two-story home.
Care managers will also know where to find other subsidies, such as public entitlements or community resources, for clients.
"For example we will help someone get Medicaid services, which is not easy to navigate even for our care managers and just make sure they get all the forms and all the information they need and know what to do to re-up and stay active," he explained.
JFS is also planning to add a volunteer component to the program.
"The role of volunteers will be critical. One area in which they can be helpful is that it can be really difficult for case managers to back out of a client's life because often clients are really isolated and lonely. Having the option to have a friendly visitor engage with the client frees the case manager up to focus their efforts on another client," Odiam said.
Goldman added that a trained friendly visitor volunteer still provides JFS with someone who can keep an eye out on the client if other needs arise, at which time the care manager will step back in to re-assess the situation.
"It they are a Help@Home member or a JET Express member, we also have a link to them. We try to create multiple ways to reach out and have links to clients that don't need intensive support from our care managers," Goldman said.
Right now Care Management is a completely free program. Plans call for that to change down the road as well, most likely sometime in late 2014 or early 2015.
"There are people who have means and as we raise the level of service we will move this to the same model of our other services, which means the services will be provided on a sliding scale. That means the people who do have means will get the same great service and they will help support the program," Goldman said.
Goldman said the JSN program with 350 clients is larger than another program of its kind "that we know of" in the Kansas City community.
"It's an area where the Jewish community is ahead of the curve," Goldman said.
| | | | |
| --- | --- | --- | --- |
| Award-winning jazz pianist Ben Sidran to perform at White Theatre | | | |

Written by Marcia Montgomery, Community Editor

Thursday, December 05 2013 12:00

Award-winning pianist, producer, singer and composer Ben Sidran is having the time of his life and at age 70 has no plans to slow down. He says 70 is easily the new 60.

"I've been traveling and I continue to travel and I continue to perform and I'm enjoying all the different aspects of it," he said in a telephone interview from Madrid. "Being 70 at the moment doesn't appear to be any kind of obstacle to continuing."

Sidran will be performing at White Theatre at the Jewish Community Campus at 2 p.m. Sunday, Dec. 15. He will perform some of his best music and talk about his new book, "There Was a Fire: Jews, Music and the American Dream."

"I'm going to be presenting stories, themes and ideas from the book … (which is) a history of Jewish popular music in America and I'll be illustrating with songs from Irving Berlin, George Gershwin, Harold Arlen, Bob Dylan, whatever, so it will be a combination of stories, history and music," he said.

Sidran's book, "There Was a Fire," is selling very well, getting top reviews on Amazon.com. It is available in hardback, paperback and as an ebook. He wrote the book because when he was artist in residence at the University of Wisconsin, he put together a course tracing the influence of Jews on American popular music at the turn of the century, beginning with Irving Berlin, and on up to the 20th century with rap groups like the Beastie Boys.

He soon realized, however, that there was no one book he could use as a textbook for the course. Information was scattered in various places.

"So after I taught the course, I was aware that I really wanted to come up with a textbook that I wish I had had when I taught the course," he said. "And that's kind of what this is."

Although Sidran is considered a jazz musician, he says there are fine lines to his performances and songwriting.

"For example almost 20 years ago now, I made a recording called 'Life's a Lesson,' which is Hebrew liturgical music done by jazz musicians, but it also included Carole King and other people who are pop musicians. And the question is whether that was jazz or Jewish music. In my experience, it's hard to separate it out," he said.

Well known for his early session work with Boz Scaggs, Eric Clapton and the Rolling Stones, Sidran went on to gain recognition as a solo artist and a producer.

Sidran has produced recordings for Van Morrison, Diana Ross, Michael Franks, Rickie Lee Jones, Mose Allison and Steve Miller, his University of Wisconsin college buddy, with whom he co-wrote the hit song "Space Cowboy." He explained that "producing recordings" has various meanings.

"Record production can be any number of things and in each case it's different," he said. "For example, producing a record with Van Morrison, it must have been a decade or so ago, I did the arrangements, but I actually played the piano and helped with some of the gathering of materials and musicians. With the Diana Ross record, I organized all the musicians and all the music and supervised that in a recording studio. With the Steve Miller Band, I did all that, plus I wound up writing some of the songs. So it's a project by project basis — you wind up doing different things."

Sidran is also widely known as the host of the now defunct "Jazz Alive" series on National Public Radio, which received the Peabody Award. The show was cancelled due to lack of funding.

Perhaps many of his fans don't know that Sidran holds a Ph.D. in American studies from Sussex University in England. He says American studies is a catchall phrase.

"I studied it out of the country because at the time in the late '60s it was a very young field in this country, but in Europe they had been doing courses on America for years," he said.

"It's not American history so much as in my case it was sociology and literature, and my dissertation was written on studies of African-American music in the United States. So I was able to put together my love for the music with my industry and culture."

Sidran, who is Jewish, says he is not affiliated with any particular Jewish denomination, but he and his wife of 47 years have observed the Jewish holidays with a group of people in Madison, Wisc., for 35 years.

"We have kind of our own community that exists quite happily alongside Reform, Orthodox and Conservative synagogues in Madison."

He and his wife have a son in his mid-30s who is also a record producer in New York.

Sidran said his concerts are very close to his heart.

"I have a lot of fun doing it. There are a lot of interesting things people learn when they come that they don't expect, so I always enjoy talking to people after the event," he said. "I'm sure the people there will find something brand new when they come."

Sidran's latest book, "There Was a Fire," will be available for sale in the lobby and he will sign copies after the concert.

For more information and to purchase tickets, visit www.jcckc.org/bensidran or call 913-327-8054.

For more about Sidran visit his website, www.bensidran.com, where you can listen to his music, view photos, see videos of some of his performances and interviews, and much more.

Written by Barbara Bayer, Editor

Thursday, December 05 2013 12:00

WHO IS LEON WIESELTIER? — Leon Wieseltier will speak at the White Theatre on Sunday, Dec. 8, at Congregation Beth Shalom's inaugural Rabbi Morris Margolies Award for Excellence in Jewish Education event honoring Ed Rose. Beth Shalom's Rabbi David Glickman says Wieseltier could be the most important Jewish thinker you may never have heard of. Wieseltier is the longtime literary editor of The New Republic, the author of "Kaddish" (winner of the National Jewish Book Award), and is the 2013 recipient of the Dan David Prize from Tel Aviv University. This prestigious award is similar to the MacArthur Genius grants here in America. Rabbi Glickman heard Wieseltier speak in person at the AIPAC Rabbinic Forum last year and "loved it." He suggests learning more about Wieseltier by searching for his name on You Tube. Call the synagogue at 913-647-7249 for more information about the event or to purchase tickets.

PICTURES OF HOPE — In August, photojournalist Linda Solomon was in K.C. launching Pictures of Hope at Sheffield Place. Through Pictures of Hope, 14 children at Sheffield Place had the opportunity to express their dreams through the medium of photography. Each child and a mentor took photos that express the child's dreams for the future. These photographs have been made into beautiful greeting cards that Sheffield Place is selling to raise funds for the agency. With sponsorship funds from Chevrolet and Cable Dahmer Chevrolet, 100 percent of proceeds from the card sales benefit the agency. The cards are blank inside and make perfect holiday or greeting cards throughout the year. Cards may be ordered by visiting http://sheffieldplace.org/give-online/14643474.

| | | | |
| --- | --- | --- | --- |
| Bonnie and Matt Siegel to receive Mordechai Award at March 9 Purim Gala | | | |

Written by Carol Katzman, Special to The Chronicle

Thursday, December 05 2013 12:00

"We are thrilled to invite the community to Purim Gala 2014 on Sunday, March 9, as we recognize longtime Israel activists, community leaders and businesspeople Bonnie and Matt Siegel with the Mordechai Award," said Gala Co-chairman Howard Rosenthal. "Purim Gala has a history of recognizing individuals who have multi-dimensional commitments to the Jewish people, Israel and the greater Kansas City area." Howard and Brenda Rosenthal are co-chairing the Gala, along with Jerry and Lisa Bernard.

Arriving here in 1984, the Siegels quickly became immersed in the Jewish community — volunteering at area synagogues, the Jewish Federation, Hyman Brand Hebrew Academy, special projects for Operation Exodus, Hadassah and Young Judaea.

Advancing the local business community, Bonnie was recognized as a recipient of the KC Business Journal's Women Who Mean Business Top 25, State of Kansas: Women Owned Business of the Year, multi-time award winner for The Special Event Galas (an industry milestone), and numerous other business awards in her field. Matthew was vice-chair of the Kansas City Board of Trade and a liaison to the agricultural community in many positions. He also served as vice chairman of the KC Board Clearing Corp., and as a member of the KCBT board of directors and received the Jewish Federation's Reba Strauss Young Leadership Award.

More recently, the two built on their love of Israel, experiences at Camp Young Judaea (where they met as youngsters) and visits to the Jewish homeland to emerge as activists and leaders for AIPAC, the American Israel Public Affairs Committee. Bonnie chairs the local AIPAC Council and serves on the organization's National Advisory Council. She was recognized at its Washington Policy Conference in 2012 for her work in building support for AIPAC among lay people as well as members of Congress in both Missouri and Kansas.

"Purim is an inspirational time for all Jews and so we urge you to attend the Gala and experience for yourself a new sense of energy and excitement," said Joseph Megerman, president of Congregation Beth Israel Abraham & Voliner, which sponsors Purim Gala. "As in the past, the evening's focus will be on the lessons learned from Purim and its relevance to modern times, something that is especially meaningful given Iran's growing nuclear capability and its threats to Israel and the West," added Jerry Bernard.

For 16 years, the Gala has been the primary fundraising event for BIAV, a growing, inclusive modern Orthodox synagogue in Overland Park. Among the highlights this year will be the presentation of the Mordechai Award, which is presented to those who epitomize a devotion to the Jewish community or Israel as shown by Mordechai in the Scroll of Esther, which says that he "...sought the good of his people and was concerned for the welfare of all …"

"BIAV's spiritual leader Rabbi Daniel Rockoff is very involved in both ritual and educational matters that affect the greater community well beyond our synagogue membership. And so we're thrilled to serve our role in the diverse greater Kansas City Jewish community," explained Lisa Bernard, "by honoring a couple who continue to have a far reaching impact through their advocacy, support and commitment for Israel, as well as for the viability and health of our hometown."

"BIAV is one extension of the greater community; we are reliant on the community's reciprocal support of shared resources and best practices," Brenda Rosenthal added. "As Israel activists, generous supporters and committed volunteers, Bonnie and Matt exemplify the kind of leadership that draws people from across the religious and political spectrum in order to achieve what's best for the overall Kansas City community, U.S. and Israel."

The Siegels will join a distinguished group of community leaders who have been recognized with the Mordechai Award. Past recipients include: Rabbi Morey Schwartz, 1998; A. Robert Gast, 1999; Neil and Blanche Sosland, 2000; Merilyn Berenbom, 2001; Jerry and Lisa Bernard, 2002; Bernard H. Brown, 2003; Florence Melton, z"l, 2004; Cy Rudnick, z"l, and Esther Rudnick, 2006; G. Richard Hastings, 2007; Jim Badzin, 2008; The Helzberg Leadership Program, 2009; the Honorable Sam Brownback in 2010; Esther Levens and Vrem Levens, z"l, 2011; Todd Stettner in 2012; and BIAV's Youth in 2013.

Invitations to Purim Gala will be mailed after the first of the year and the community is invited to attend.

This year the event will be held at 28 Event Space, located at 1300 W. 28th Street, just off Southwest Blvd., in Kansas City, Mo. Tickets cost $180 each. Patron categories are available as well and include additional tickets to the Gala. An ad journal also is being produced; the deadline for submission of ads is Feb. 1. For more information, to place a congratulatory ad or to add your name to the invitation list, contact Barry Rubin at BIAV: 913-341-2444.

| | | | |
| --- | --- | --- | --- |
| Gobble tov! Thanksgivukkah menorah wins 17th annual Chanukah Art Contest | | | |

Written by Barbara Bayer, Editor

Wednesday, November 27 2013 12:00

For many it's a once-in-a-lifetime experience. For others, it's the novelty of blending two holidays that have freedom as its central theme. Whatever the reason, finding a way to depict Thanksgivukkah was the challenge many young artists undertook in this, the 17th annual Chanukah Art Contest, sponsored by the Chabad House Center and The Jewish Chronicle.

This year's grand prize winner of an iPad Mini is Mandy Unterhalter, a member of Congregation Beth Shalom and a fifth-grade student at Leawood Elementary School. Mandy's sister, Sarah Unterhalter, and Nina Kulikov are the first-prize winners. Sarah received a $50 gift card from Target and Nina will get a $50 gift card from Michaels.

"Several entries this year took into consideration the convergence of Chanukah and Thanksgiving, which was nice because America was founded as a place where people can turn away from religious persecution and pursue religious freedom," noted Chabad's Program Director Rabbi Mendy Wineberg. "Of course we all know Chanukah was about a fight for religious freedom."

Each of these three girls have been recognized in previous years for their artistic talents. Sarah was the grand-prize winner in 2010 and a first-place winner in 2012. Nina won the grand prize in 2011. Mandy was a first-place winner in 2010.

"It's nice we had entries from people who had entered before. It shows persistence and we can see the art projects keep getting better," Rabbi Wineberg said.

Eleven youngsters in grades kindergarten through eight entered the contest this year. Besides the winning Thanksgivukkah turkey, a pilgrim's hat was also turned into a Chanukiyah. Projects were made from paint, clay, recyclables, crayons, fabric, Legos and other building pieces.

The Unterhalter sisters are the daughters of Bryan and Janet Unterhalter. Mandy said it was "so cool" to win the contest.

"It's going to be exciting to have an iPad," Mandy said.

Because Thanksgivukkah is such a rare occurrence, when Mandy toought it was a good idea to "combine Thanksgiving and the wonderful holiday of Chanukah."

Mandy did that by crafting a light-up turkey menorah. The turkey's body is made from Styrofoam, and its feet are wooden dreidels. The turkey's feathers serve as candles and the flames are tiny lights.

Mandy said she loves to draw little turkeys and she's always doing little crafts, so the idea for the "Thanksgivukkah Menorah" simply came to her. She came up with the concept and design all by herself and was able to execute it, too, except for installing the lights.

"My mom had to do the drilling part when we had to go through wood, but that was it," Mandy explained.

The 11-year-old artist loves art.

"It's really fun for me and it relaxes me," Mandy said. "Thank you for choosing me to be the winner."

When Nina was declared the winner two years ago, she entered a ceramic menorah. This time the Trailwood Elementary sixth-grader painted a family celebrating the Festival of Lights using acrylic paints. She chose the project because she "really likes the idea of being around your family at Chanukah and other holidays. I just really enjoy that moment and I wanted to show that in my painting."

The 11-year-old daughter of Vicky and Andre Kulikov and a member of  Kehilath Israel Synagogue, Nina said the family in the painting, however, is not hers. She's only been painting about a year and thinks art is a great way to express her feelings and her talent.

"It's really the only thing I'm good at, so I aspire toward it. I like it. It lets me show my true colors," Nina said.

The oldest of this year's crop of winners, Sarah is a 13-year-old eighth-grader at Leawood Middle School. She became a Bat Mitzvah in August and chose to create a menorah using a technique called crayon art. She learned how to do it this past summer.

"I was looking at fun art projects and I found crayon art and I made a bunch of it. I decided maybe I could make a menorah out of it, so I did," Sarah said.

She explained to make the project she first taped the crayons in the pattern she wanted, then hot glued them to the canvas. Once that's done the canvas is flipped over and, by using a hair dryer, Sarah said you melt the crayon "downwards so it drips." She used a cardboard strip to keep the drippings in a straight line for each candle.

This is the last year Sarah can enter the contest. She said she chose to enter the contest so often, "because it's fun."

"I like doing art that has to do with holidays," Sarah said.

Last year when Mandy won an iTouch, she already had one. So her mother, Janet Unterhalter, said Mandy decided to donate her prize to Children's Mercy Hospital so that children in the hospital could use it.

"I thought it was a very nice thing for her to do with her prize last year," Janet Unterhalter said.

Janet thinks the contest is fabulous.

"Honestly they look forward to the contest every year. They look at the Jewish Chronicle and they say 'Oh Mom, it's time for the Chanukah Art Contest again.' It gets them in the spirit for Chanukah. During the year they actually think about what they are going to do this year."

Last Updated on Monday, December 02 2013 10:55
<<

Start

<

Prev

1

2 3 Next > End >>


Page 1 of 3