Garry announces plans to retire from KCJMCA
Published: Friday, 22 April 2011 11:30
Written by Marcus Cain, Special to The Chronicle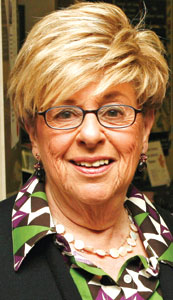 Eileen Garry, executive director of The Kansas City Jewish Museum of Contemporary Art (KCJMCA) since 2000, has announced plans to retire at the start of 2012. This year KCJMCA has been celebrating its 20th anniversary, and Garry has been involved since its inception in 1992. She began her association with KCJMCA as a Kansas City Jewish Museum Foundation founding member, then served as a volunteer assistant director before becoming its executive director.
"It all started when (KCJMCA founders) Sybil and Norman Kahn asked me to get involved to help run Museum Without Walls," said Garry, who will become executive director emeritus when she retires.
"For a number of years, we met in offices around town before Michael Klein suggested that we get involved with Village Shalom, which allowed us to move so close to the Epsten Gallery."
Garry said she is choosing to retire because she believes "very strongly that new blood is always needed in any organization to make progress."
"This will also give me more time to spend with my family and friends and plan the next chapter in my life," she said.
Regina Kort, president of the KCJMCA board of directors, praises Garry's service and dedication to the organization. She said it has prospered and grown in many ways during her tenure as executive director. She credits Garry's extensive experience as a fundraiser as well as her knowledge of the community for the success of KCJMCA, which managed to reach new fundraising goals in 2010 amidst a challenging economy.
Kort also expressed appreciation for Garry's announcement more than a half-year in advance, allowing the board time to engage in the process of identifying a successor.
"Eileen has been the heart and soul of KCJMCA from the beginning," said Kort. "Because of her dedication, enthusiasm and hard work our organization has evolved into one of the premier spaces in the Kansas City area that features up-and-coming regional and national artists. We have been fortunate to have an executive director of Eileen's caliber."
KCJMCA Past President Michael Klein agreed.
"Her drive and energy helped build KCJMCA into the major cultural institution it has become," Klein said. "Cutting-edge exhibits that would scare off more conservative people became one of the museum's hallmarks. Eileen never stopped learning and expanding her limits. We all owe her a debt for what she has done."
Klein noted that the board worked closely with Garry over the years to stabilize the organization through the creation of an endowment, two additional staff positions, the successful completion of a five-year strategic plan and a solid foundation of private, individual donor support. He said over the past 20 years Garry has remained a constant presence at KCJMCA, having worked under the founder and former executive director Sybil Kahn, five KCJMCA presidents, three assistant directors, two curators and one administrative assistant.
"Eileen is proof that age is what you make of it. When she took over as director, most of her contemporaries were long retired. She shows the talent and energy that lets one continue leading a productive life well into their 'senior' years. She shows that age can often be a mental thing and what a person makes of it. Eileen is youthful in spirit, drive and energy and serves as a role model for the baby boomers coming up that their productive years are just beginning," Klein said.
Reflecting on her time at KCJMCA Garry said one of her most memorable times was at the very beginning of both Museum Without Walls and Epsten Gallery.
"There was so much excitement and we really had no idea how far each would go," she said.
One of the highlights, she said, was bringing Toby Kahn to Kansas City for a show at Epsten Gallery.
"But really all the shows have been highlights. How could I pick out just one?
"I want to thank everyone who has made the growth and excitement of building this into a major art center — the Epsten family, Michael Klein, Donna Gould Cohen, the Polskys — all the board members and donors who without their support this would never have happened," she continued. "I would also like to thank members of the community such as Alice Thorson and Bruce Hartman and so many others who have been incredibly supportive and contributed to the success of the Kansas City Jewish Museum of Contemporary Art."
The KCJMCA board of directors has appointed a search committee to develop a new job description and interview process to help identify Garry's replacement.
"This process is already underway with the involvement of Eileen and the rest of the staff," Kort said. "A big part of the conversation is how best to build upon Eileen's accomplishments, what we want for the future of the organization, and how to continue moving forward with the great momentum she has helped to create."