As it celebrates centennial, JDC enjoys fruitful partnership with local Jewish Federation
Published: Thursday, 13 February 2014 12:00
Written by Marcia Montgomery, Community Editor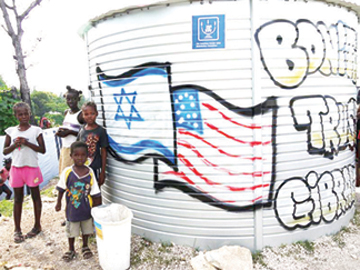 It's simply impossible to describe everything the American Jewish Joint Distribution Committee has done to save Jews from all over the world over the past 100 years. As a JDC online campaign says, JDC ensures Jewish life can be passed from one generation to another.
Known as JDC or The Joint, since 1914 it has been considered the world's leading Jewish humanitarian assistance organization. Today, JDC works in more than 70 countries and in Israel to alleviate hunger and hardship, rescue Jews in danger, create lasting connections to Jewish life, and provide immediate relief and long-term development support for victims of natural and man-made disasters.
Kansas City will celebrate the JDC's centennial at two events — tomorrow night (Feb. 14) at Congregation Beth Torah with a joint Shabbat service featuring a speech by Patricia Uhlmann, chair of the Jewish Federation of Greater Kansas City and JDC board member, and Sunday, Feb. 23, when JDC CEO Alan Gill speaks. (For more information, see below.)
Jewish Federation's President and Chief Executive Officer Todd Stettner said these two events, and others similar to it all over the country, are celebrating 100 years of JDC's good deeds.
"The JDC started out helping those who were in distress in Palestine and in Russia," Stettner said. "That role has continued to change and evolve over the past 100 years and the JDC still plays a very vital role beyond the wonderful history that it has in the rescue and the care of those Jews who were in Europe in pre-, post- and during World War II."
He said the fact that the JDC helped our grandparents and our great-grandparents survive and get out of war-torn Europe as well as helping other Jewish immigrants from around the world is not the only reason we should care about the JDC today.
"If we truly believe as a people in tikkun olam and repair of the world and taking care of one another, then the JDC's role over the last 100 years is very important and therefore the centennial should be celebrated by everyone who cares about humanity: Jews and non-Jews alike," Stettner said.
Many people know about the JDC's history — including many survivors who were literally saved by the JDC before they settled here after the Holocaust — but don't know much about the role the JDC plays around the world today and the connection our local community has to JDC. For instance, when there's a natural disaster somewhere in the world or in the United States, such as the earthquake in Haiti or Hurricane Katrina in New Orleans, the JDC provides non-sectarian assistance. During many of these disasters, our local Jewish Federation begins a special fundraising campaign to collect money, and then hands it over to the JDC to distribute.
"Those donations go directly toward assisting that particular crisis," Stettner said. "Those funds do not come from our annual campaign."
JDC helps provide basic assistance such as shelter, food and clothing for Jews in many parts of the world. Funding for some of that, Stettner said, does come from the Jewish Federation's annual campaign and is managed through its Israel and Overseas Committee. But JDC does more than provide money and services to Jews around the world, it also helps them learn to do for themselves. Jewish Kansas Citians do so as well, in partnership with the JDC and Jewish communities in Bulgaria and Romania as well as the Ramla-Gezer region in Israel.
The Eastern European partnership began in 2000. A few years later, approximately 10 years ago, Stettner put together a professionals' exchange program where leaders from Romania and Bulgaria, Ramla, Gezer and Kansas City met each other and learned about each other's programs. Several local programs — including what used to be called the Simcha Box program that delivered food every month to those in need in the Jewish community and Jewish Family Service's Help@Home program — evolved from those professional exchanges.
That's how the relationship between JDC and Kansas City's Heart to Heart International, a locally based humanitarian aid organization, began as well. Stettner said that Steve Israelite, who at the time was the executive director of the Jewish Heritage Foundation, was a part of that professionals exchange program. After visiting Romania and Bulgaria and seeing their needs first hand, Stettner said Israelite believed these people could be helped by Heart to Heart. Since Israelite already had connections with the organization, Stettner said Israelite "made an introduction for Trish Uhlmann, who serves on the board of the JDC and is currently the Jewish Federation's president, and I to Heart to Heart," Stettner said.
Stettner explained that Heart to Heart has good relationships with large pharmaceutical companies, and through Heart to Heart's connections, JDC was able to get much needed medications to people — both Jews and non-Jews — in Bulgaria and Romania.
"We saw there was a great deal of need in Bulgaria and Romania because the medical systems in those countries really were not very good," Stettner said. "Heart to Heart was able to get thousands and thousands of dollars' worth of medication for us, which we then sent to Bulgaria and Romania."
"Heart to Heart also helped provide medical items to the Gaza Strip and in Israel," Stettner continued.
Because Heart to Heart and JDC already had a relationship, the Jewish organization was able to assist Heart to Heart immediately following the 2010 earthquake in Haiti.
"Heart to Heart was having trouble getting transportation because any vehicle that was in working condition was already taken," Stettner explained. "Through the JDC connections in the Dominican Republic, which is on the same island as Haiti, they were able to get a truck for Heart to Heart to use to transport its equipment and its personnel. In fact we saw a picture that showed a sign on the truck that thanked JDC for assisting them."
Stettner is thrilled the JDC continues its relationship with Heart to Heart and that the Jewish Federation has a part as a partner and a broker in that relationship.
"There's been all of these things that have happened over the years between us and it's been a wonderful partnership in that way. Both organizations have benefitted from it," Stettner said.
Steve Weber, executive director of Heart to Heart's Haiti division, said the partnership between Heart to Heart and the JDC has been phenomenal. He said he works very closely with JDC personnel in both Israel and New York.
"In fact a group of Jewish doctors will be coming to Haiti through JDC very soon," Weber said.
In addition to helping Jews in need, Stettner pointed out that JDC is also helping train Jewish leaders of tomorrow through its Entwine program for young adults. Entwine offers a continuum of service opportunities for young Jewish adults who want to make an impact in overseas Jewish communities, in Israel, or in other locations where JDC is involved in non-sectarian development work. Service experiences take place in countries around the world, including in Argentina, China, Ethiopia, Germany, Haiti, India, Israel, Russia, Rwanda, Turkey and Ukraine. It was through this program that KU Hillel students recently visited Romania and Bulgaria.
"So JDC is also helping develop the next generation of Jewish leaders by having a program like that," Stettner said.
Uhlmann to speak at Beth Torah
The congregations of B'nai Jehudah and Beth Torah will join together for erev Shabbat services at 6:30 p.m. Friday, Feb. 14, to be held at Beth Torah. Guest speaker Patricia Uhlmann will speak in honor of the 100th anniversary of the American Jewish Joint Distribution Committee (The Joint). Uhlmann's topic is The Joint and its role in Jewish life.
Kansas City celebrates JDC's Centennial
3 to 4:30 pm
The Temple, Congregation B'nai Jehudah
12320 Nall Ave.
Overland Park, KS
Many Kansas Citians have worked with the American Jewish Joint Distribution Committee (JDC) over the years — either directly with the organization or through their gift to the Jewish Federation — to help Jewish people who are in dire need around the world. Those who wish to celebrate JDC's many accomplishments may do so when Alan Gill, JDC's CEO, visits Kansas City. Gill's visit will highlight 100 years of helping Jewish people around the globe. Light refreshments follow the lecture. The event is free of charge; registration is requested by Feb. 20 at jewishkansascity.org/jdccentennial.
The JDC Centennial is sponsored by the Rabbinical Association of Greater Kansas City and the Jewish Federation.