Membership grows, programs flourish as JCC celebrates milestone
Published: Thursday, 06 February 2014 12:00
Written by Marcia Montgomery, Community Editor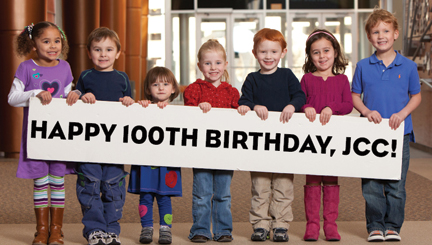 The Jewish Community Center of Greater Kansas City is celebrating its 100th anniversary this year. The 100 More Celebration, being led by Shanny Morgenstern, actually kicked off at the Jewish Arts Festival in October. Several other events are planned throughout 2014 with the 100 More Celebration culminating with a family Chanukah celebration in December.
The JCC opened in 1914 in midtown Kansas City, Mo., and has grown and adapted over the past 100 years to serve the changing needs of Greater Kansas City's Jewish and secular communities. According to an article published by The Chronicle in a special commemorative issue celebrating the opening of the Jewish Community Campus in 1988, a small group of men got together in 1914 to establish the Young Men's Hebrew Association as a program with which Jewish people could identify. The YMHA's first home was on Admiral Boulevard. The JCC moved to 3123 Troost in 1917 and then to 1600 Linwood Boulevard, which served as its home from 1924 to 1961.
Plans for relocating the JCC were initiated in 1954. The JCC's new home at 8201 Holmes Road was opened on May 28, 1961. In the spring of 1984, the JCC purchased the Nall Hills Country Club at 6201 Indian Creek Drive (where the Chabad House Center is now located) as its temporary headquarters and closed its Holmes location. The JCC moved into its current home at the Jewish Community Campus at 5801 W. 115th in October 1988.
Similar to the YMHA's original mission, today the JCC's mission is to "enrich our diverse community by cultivating an inclusive environment built upon Jewish values, heritage and culture. We offer programs of excellence that enhance wellness, meaning and joy from generation to generation."
Jacob Schreiber, who has served as the JCC's president and CEO since the summer of 2009, said today's JCC, and other Jewish Community Centers around the country, has "really taken the Jewish community from its infancy to where it is right now, which is really a very strong, impressive and influential force in America."
"One hundred years ago when this JCC was built, its mission was to help turn Jewish refugees into Americans," Schreiber said. "Now we say our mission is to better help Americans become more engaged Jews. So I think if you ask anybody here around town, the Jewish Community Center has tremendous name recognition and it's very positive."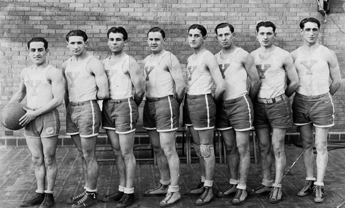 When it was first established, Schreiber noted that the JCC was the place where Jews had to congregate, in addition to the synagogues, because they really had no other options. It was a place where Jews built their identity and built a strong sense of self.
"Just sit downstairs (by the fitness facility) with the 70-year-olds, the 80-year-olds, the 90-year-olds and they'll tell you that everything was done at the JCC. All the Jews used to come. I even know somebody who met her husband at the JCC," Schreiber said.
In addition to the active seniors who still spend much of their time at the JCC, Morgenstern, the 100 More Celebration chairman, believes everyone in the Jewish community should be very proud of the JCC.
"Lots of other communities have JCC's and I bring people from out of town here and they say, 'Wow. I just can't believe the ruach that you have here.' That is a tribute to the staff," she said.
Morgenstern is proud to be chairing the 100 More Celebration, and said the JCC has played a critical role in her own Jewish development.
"As I was growing up in high school I was at the JCC weekly getting together with all my friends. When we came back to Kansas City after college we joined the JCC immediately. I exercised here, I've taken classes here, and I continue to meet friends here on a regular basis. It is a central part of my life," she said.
Now the JCC is a central part of many non-Jewish people's lives as well.
"That is a big thing. Did you imagine that 20 years ago nobody wanted to go to Israel, even Jews were afraid to go to Israel, and now gentiles from all countries are clamoring to get into Israel and I feel it's the same way with the JCC now. Thirty years ago this was just a place for Jews. Now there are other people who really want to be a part of us because they like our culture, they like our values and they really feel that we are all part of one big positive community," Schreiber said.
From his standpoint as president and CEO, Schreiber said things at the JCC are going very well.
"Membership is growing like crazy. In the past two years we are up nearly 11 percent. January was our best month I believe since we opened the new renovation. We had close to 160 new members join just in January, which blew away everything.
"We are firing on all pistons. All our programs are up. In the past four years our agency has grown 20 to 25 percent. Our budget has gone from $6.3 to $8.3 million. Our CDC has expanded participants by 25 percent, our membership is up about 15 percent. Our camps are up. This year we changed our model for Jewish Life and Learning and we've had over 3,000 people come to our programs.
"Frankly I think the Jewish environment here has really gotten a boost and all our benchmarking surveys show that our members are happier, our staff is happier and the environment here is just positive all around," Schreiber said.
That doesn't mean the JCC doesn't get complaints.
"We are the JCC, which means where Jews can complain. But that's our birthright. Most of it is done in a constructive way. People have been very good to us and very positive," he added.
"Our staff is second to none right now. They are fantastic."
The JCC is spending a little more than a year marking this special occasion. Morgenstern said more than 100 different programs have been scheduled throughout the year.
The next big program is the Night of 100 Shabbat Dinner. It is being overseen by the JCC in partnership with local synagogues and the Hyman Brand Hebrew Academy and is set for Friday, Feb. 21. There are no rules to the event other than to host or attend a Shabbat dinner.
Morgenstern said a reunion for "those of us who remember the Holmes building and for the generation who remembers the Linwood JCC," will take place June 8 at the JCC. Details are still being worked out under the direction of Bob DeWitt, who is planning the event.
The annual pool party, slated for July 13, will include special giveaways for people who have participated in the 100 More Challenge.
"It is a challenge that we have set up to reward people for being active at the Jewish Community Center. It includes people who exercise, go to classes and volunteer," Morgenstern said.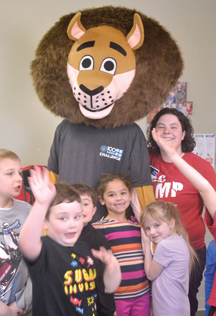 Each person who participates has a tracking sheet. For every hour of participation that can be verified by a staff member, a paw print is added to the tracking sheet. The paw print comes from Latke the Lion, the 100 More Celebration mascot.
"Once you get 100 paw prints, you get entered into a raffle that includes great prizes, including a one-year membership to the JCC," Morgenstern said. These individuals will also be recognized by having their photos hung in an area of the JCC that will be called the Hall of Champions.
The celebration's finale, "Spin 1,000" will take place just before Chanukah on Sunday, Dec. 14, at Pinstripes (opening this spring in the new Prairiefire development at 135th and Nall). Plans are not yet finalized for this "big family Chanukah event" being chaired by Beth Liss and Morgenstern.
"We're going to break the world's record for the most number of spinning dreidels at one time," Morgenstern said. "We want to get at least 1,000 people spinning dreidels at one time."
Schreiber said a series of recognition events will also be held during the year for those who have supported the JCC both "consistently and generously." Among those will be a night at "Monty Python's Spamalot," which will be presented at the White Theatre in July.
The 100 More Celebration is a large undertaking.
"All of these programs require a lot of volunteers. We encourage anyone who feels passionate about the JCC to raise their hand and we will find a role for them," Morgenstern said.