It's time for the First Jewish Baby contest
Published: Thursday, 26 December 2013 12:00
Written by Marcia Montgomery, Community Editor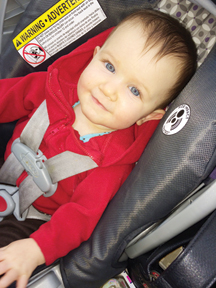 Who will be the first Jewish baby of 2014? Will the baby be born on Jan. 1 or will we have to wait until later in the month until we hear the good news? This year, as is our custom, The Chronicle will shower the first Jewish baby of 2014 with prizes. Information about The Chronicle's annual contest, and the 2014 prize package, appears on pages 12, 13 and 14 of this edition of the newspaper.
Last year's first Jewish baby, Amelia Esther Kaye, the daughter of Alison and Adam Kaye, was born Jan. 10. Dad Adam said Amelia is growing up fast, noting that she "already has a few words and signs."
"She has begun to walk and is a true daredevil. She likes hanging out in swimming pools and jumping waves in the ocean. She gets along famously with her two older siblings. Abigail showers her with kisses, Asa likes to push her down and she keeps coming back to her older brother for more," Kaye said.
The Chronicle's First Jewish Baby contest is limited to residents of the five-county greater Kansas City area (Jackson, Clay and Platte in Missouri and Johnson and Wyandotte in Kansas), and the birth must take place in greater Kansas City.
Parents should call The Chronicle editor Barbara Bayer at 913-951-8425, or contact her via email at This email address is being protected from spambots. You need JavaScript enabled to view it. as soon as possible after the child is born, preferably the day of the birth. A winner may not be declared immediately and could take as long as 24 hours after the initial contact with The Chronicle. The parent or parents must agree to be interviewed and photographed along with the baby for a story in the newspaper to be awarded prizes. The official rules can be found on page 13.