Award-winning jazz pianist Ben Sidran to perform at White Theatre
Published: Thursday, 05 December 2013 12:00
Written by Marcia Montgomery, Community Editor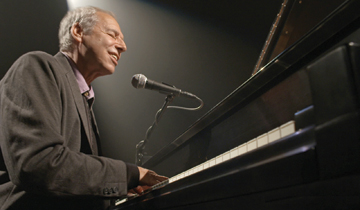 Award-winning pianist, producer, singer and composer Ben Sidran is having the time of his life and at age 70 has no plans to slow down. He says 70 is easily the new 60.
"I've been traveling and I continue to travel and I continue to perform and I'm enjoying all the different aspects of it," he said in a telephone interview from Madrid. "Being 70 at the moment doesn't appear to be any kind of obstacle to continuing."
Sidran will be performing at White Theatre at the Jewish Community Campus at 2 p.m. Sunday, Dec. 15. He will perform some of his best music and talk about his new book, "There Was a Fire: Jews, Music and the American Dream."
"I'm going to be presenting stories, themes and ideas from the book … (which is) a history of Jewish popular music in America and I'll be illustrating with songs from Irving Berlin, George Gershwin, Harold Arlen, Bob Dylan, whatever, so it will be a combination of stories, history and music," he said.
Sidran's book, "There Was a Fire," is selling very well, getting top reviews on Amazon.com. It is available in hardback, paperback and as an ebook. He wrote the book because when he was artist in residence at the University of Wisconsin, he put together a course tracing the influence of Jews on American popular music at the turn of the century, beginning with Irving Berlin, and on up to the 20th century with rap groups like the Beastie Boys.
He soon realized, however, that there was no one book he could use as a textbook for the course. Information was scattered in various places.
"So after I taught the course, I was aware that I really wanted to come up with a textbook that I wish I had had when I taught the course," he said. "And that's kind of what this is."
Although Sidran is considered a jazz musician, he says there are fine lines to his performances and songwriting.
"For example almost 20 years ago now, I made a recording called 'Life's a Lesson,' which is Hebrew liturgical music done by jazz musicians, but it also included Carole King and other people who are pop musicians. And the question is whether that was jazz or Jewish music. In my experience, it's hard to separate it out," he said.
Well known for his early session work with Boz Scaggs, Eric Clapton and the Rolling Stones, Sidran went on to gain recognition as a solo artist and a producer.
Sidran has produced recordings for Van Morrison, Diana Ross, Michael Franks, Rickie Lee Jones, Mose Allison and Steve Miller, his University of Wisconsin college buddy, with whom he co-wrote the hit song "Space Cowboy." He explained that "producing recordings" has various meanings.
"Record production can be any number of things and in each case it's different," he said. "For example, producing a record with Van Morrison, it must have been a decade or so ago, I did the arrangements, but I actually played the piano and helped with some of the gathering of materials and musicians. With the Diana Ross record, I organized all the musicians and all the music and supervised that in a recording studio. With the Steve Miller Band, I did all that, plus I wound up writing some of the songs. So it's a project by project basis — you wind up doing different things."
Sidran is also widely known as the host of the now defunct "Jazz Alive" series on National Public Radio, which received the Peabody Award. The show was cancelled due to lack of funding.
Perhaps many of his fans don't know that Sidran holds a Ph.D. in American studies from Sussex University in England. He says American studies is a catchall phrase.
"I studied it out of the country because at the time in the late '60s it was a very young field in this country, but in Europe they had been doing courses on America for years," he said.
"It's not American history so much as in my case it was sociology and literature, and my dissertation was written on studies of African-American music in the United States. So I was able to put together my love for the music with my industry and culture."
Sidran, who is Jewish, says he is not affiliated with any particular Jewish denomination, but he and his wife of 47 years have observed the Jewish holidays with a group of people in Madison, Wisc., for 35 years.
"We have kind of our own community that exists quite happily alongside Reform, Orthodox and Conservative synagogues in Madison."
He and his wife have a son in his mid-30s who is also a record producer in New York.
Sidran said his concerts are very close to his heart.
"I have a lot of fun doing it. There are a lot of interesting things people learn when they come that they don't expect, so I always enjoy talking to people after the event," he said. "I'm sure the people there will find something brand new when they come."
Sidran's latest book, "There Was a Fire," will be available for sale in the lobby and he will sign copies after the concert.
For more information and to purchase tickets, visit www.jcckc.org/bensidran or call 913-327-8054.
For more about Sidran visit his website, www.bensidran.com, where you can listen to his music, view photos, see videos of some of his performances and interviews, and much more.