Bonnie and Matt Siegel to receive Mordechai Award at March 9 Purim Gala
Published: Thursday, 05 December 2013 12:00
Written by Marcia Montgomery, Community Editor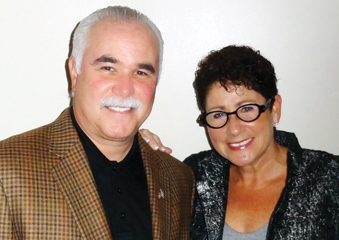 "We are thrilled to invite the community to Purim Gala 2014 on Sunday, March 9, as we recognize longtime Israel activists, community leaders and businesspeople Bonnie and Matt Siegel with the Mordechai Award," said Gala Co-chairman Howard Rosenthal. "Purim Gala has a history of recognizing individuals who have multi-dimensional commitments to the Jewish people, Israel and the greater Kansas City area." Howard and Brenda Rosenthal are co-chairing the Gala, along with Jerry and Lisa Bernard.
Arriving here in 1984, the Siegels quickly became immersed in the Jewish community — volunteering at area synagogues, the Jewish Federation, Hyman Brand Hebrew Academy, special projects for Operation Exodus, Hadassah and Young Judaea.
Advancing the local business community, Bonnie was recognized as a recipient of the KC Business Journal's Women Who Mean Business Top 25, State of Kansas: Women Owned Business of the Year, multi-time award winner for The Special Event Galas (an industry milestone), and numerous other business awards in her field. Matthew was vice-chair of the Kansas City Board of Trade and a liaison to the agricultural community in many positions. He also served as vice chairman of the KC Board Clearing Corp., and as a member of the KCBT board of directors and received the Jewish Federation's Reba Strauss Young Leadership Award.
More recently, the two built on their love of Israel, experiences at Camp Young Judaea (where they met as youngsters) and visits to the Jewish homeland to emerge as activists and leaders for AIPAC, the American Israel Public Affairs Committee. Bonnie chairs the local AIPAC Council and serves on the organization's National Advisory Council. She was recognized at its Washington Policy Conference in 2012 for her work in building support for AIPAC among lay people as well as members of Congress in both Missouri and Kansas.
"Purim is an inspirational time for all Jews and so we urge you to attend the Gala and experience for yourself a new sense of energy and excitement," said Joseph Megerman, president of Congregation Beth Israel Abraham & Voliner, which sponsors Purim Gala. "As in the past, the evening's focus will be on the lessons learned from Purim and its relevance to modern times, something that is especially meaningful given Iran's growing nuclear capability and its threats to Israel and the West," added Jerry Bernard.
For 16 years, the Gala has been the primary fundraising event for BIAV, a growing, inclusive modern Orthodox synagogue in Overland Park. Among the highlights this year will be the presentation of the Mordechai Award, which is presented to those who epitomize a devotion to the Jewish community or Israel as shown by Mordechai in the Scroll of Esther, which says that he "...sought the good of his people and was concerned for the welfare of all …"
"BIAV's spiritual leader Rabbi Daniel Rockoff is very involved in both ritual and educational matters that affect the greater community well beyond our synagogue membership. And so we're thrilled to serve our role in the diverse greater Kansas City Jewish community," explained Lisa Bernard, "by honoring a couple who continue to have a far reaching impact through their advocacy, support and commitment for Israel, as well as for the viability and health of our hometown."
"BIAV is one extension of the greater community; we are reliant on the community's reciprocal support of shared resources and best practices," Brenda Rosenthal added. "As Israel activists, generous supporters and committed volunteers, Bonnie and Matt exemplify the kind of leadership that draws people from across the religious and political spectrum in order to achieve what's best for the overall Kansas City community, U.S. and Israel."
The Siegels will join a distinguished group of community leaders who have been recognized with the Mordechai Award. Past recipients include: Rabbi Morey Schwartz, 1998; A. Robert Gast, 1999; Neil and Blanche Sosland, 2000; Merilyn Berenbom, 2001; Jerry and Lisa Bernard, 2002; Bernard H. Brown, 2003; Florence Melton, z"l, 2004; Cy Rudnick, z"l, and Esther Rudnick, 2006; G. Richard Hastings, 2007; Jim Badzin, 2008; The Helzberg Leadership Program, 2009; the Honorable Sam Brownback in 2010; Esther Levens and Vrem Levens, z"l, 2011; Todd Stettner in 2012; and BIAV's Youth in 2013.
Invitations to Purim Gala will be mailed after the first of the year and the community is invited to attend.
This year the event will be held at 28 Event Space, located at 1300 W. 28th Street, just off Southwest Blvd., in Kansas City, Mo. Tickets cost $180 each. Patron categories are available as well and include additional tickets to the Gala. An ad journal also is being produced; the deadline for submission of ads is Feb. 1. For more information, to place a congratulatory ad or to add your name to the invitation list, contact Barry Rubin at BIAV: 913-341-2444.