BVN senior blossoms into young leader through BBYO
Published: Wednesday, 27 November 2013 12:00
Written by Marcia Montgomery, Community Editor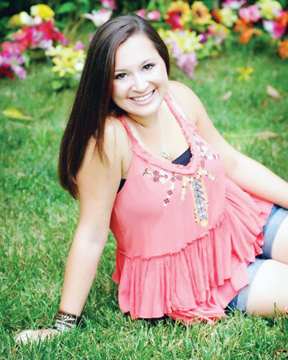 Allison Ullman says at this point in her young life, she's interested in the health care field and would like to be a pediatrician someday — at least this week. "But it changes every week," she chuckled. "I'm not sure; I'm exploring." At school, she's in a program called exploring health professions where she shadows at hospitals.
With all that she's accomplished already, Allison has lots of options ahead of her. A senior at Blue Valley North, the 17-year-old was BBYO Council president last year; she was a JSU (Jewish Student Union) Scholar; is a Mustang Mentor and on the student council at BVN; engages in cross-country running; has been inducted into the National Honor Society; and is a Presidential Community Service Award recipient for 100-plus hours of community service per year.
Her class schedule is pretty impressive as well. She has writer's workshop, AP calculus, AP literature, then AP chemistry, after which she shadows at the hospitals.
Allison has been involved in BBYO since the latter part of her eighth-grade year.
"They recruited me pretty young," she said. "But I think I went into it not knowing I would become so involved. It was just something that looked like fun."
She now realizes just how much she has gained from BBYO. In addition to the lifelong friendships she made, she has learned how to speak in front of groups of people and how to act like a leader in the Jewish community. During the second semester of her freshman year, she and four of her closest friends realized that their chapter, Saadia, was not doing very well, yet it had a lot of potential.
"So we stood up and took initiative. I ran for president and the election process is pretty intimidating at first, but I really learned a lot from it," she said. "I learned how to write a speech; I know how to take it if you don't win an election; how it's important to move on and know that you can always try again. There are just a lot of second chances."
She served as chapter president for two terms, which she said was a really challenging job.
"But I loved the challenge and I felt like I had learned a lot from my experience and I had developed into the leader that I wanted to be, so I felt like the next best step for me was to be council president because I could perhaps spread my knowledge and impact people.
"I just really wanted to help Kansas City pride as much as I could and that seemed like the perfect forum to do so."
While Allison loves a challenge, little did she know just how much of a challenge last year would be. She developed a condition called gastroparesis and rumination syndrome, which messed up her entire gastrointestinal tract and made eating a struggle.
"I would throw up anything I would eat because my body would just reject it," she said. "So I would go to the E.R. probably once a month just to get IV fluids because I would get so dehydrated."
This year, her parents took her to Nationwide Children's Hospital in Columbus, Ohio, where she qualified for a two-week stay for treatment. So she'll be leaving Dec. 2 for Columbus.
"I'm definitely getting a lot better. It's like a virus so it just needs to run its course," she said. "But it really made a big impact on my life and made life a lot more stressful. It got really overwhelming last year. This year I've scaled back a little bit on everything I'm involved in. I just want to get better before I go off to college because I won't have the support of my parents helping me through it."
Former BBYO Program Director Taly Yeyni, who nominated her for Salute to Youth, said, "She definitely has overcome some obstacles recently. I think she really has a positive attitude even when things are hard. That was a big thing I gained from her."
BBYO has also helped shape Allison's Jewish identity. She said she is now Jewish because she wants to be Jewish — not just because she was made to go to Hebrew school, become a Bat Mitzvah and be confirmed.
"I think it's cool when you're with your friends and you're doing Shabbat on a Friday night," she said. "I still like to go out and have fun with my friends, but also observe some Jewish rituals."
She enjoyed exposing her culture to others and learning about other cultures at the Kansas City Interfaith Alliance's Peace Walk. Last year was the first time BBYO participated in the peace walk and Yeyni said Allison was very active in the process.
"She really headed up and helped with that committee. She's very organized and that was a really successful event. And they did it again this year, so that was a big thing that she did," Yeyni said.
Allison said, "You're really proud of your religion and your identity in a situation like that and it's cool to be able to learn about other people's too."
Also last year, Allison attended the BBYO International Convention in Washington, D.C., and said she will likely attend this year's convention in Dallas.
"A lot of people here don't necessarily know what BBYO is if you're not Jewish. But it was so cool being in a room where everyone knew what it was and everyone was passionate about it. You had so much council and region pride," she said.
Allison has applied to four universities: KU, MU, Indiana and Wisconsin. While looking forward to college next year, Allison said it's going to be sad to leave BBYO.
"I feel like I've just evolved so much as a person. I've always been a fun-loving, outgoing, spirited person but I feel like I've gained a lot of confidence and perhaps that confidence will relay over to my freshman year of college," she said. "Maybe I won't be as nervous as I was transitioning from middle school to high school. I definitely know more of who I am and that Judaism is really important to me, so I think I'll for sure get involved in Hillel and just be sure to continue to lead a Jewish life. I'm not that religious, but I still observe the holidays."
Allison and her parents, Susan and Lee Ullman, belong to Congregation Beth Shalom.