Jewish Film Festival's 'Dorfman in Love' a lighthearted, feel-good comedy
Published: Thursday, 10 October 2013 12:00
Written by Marcia Montgomery, Community Editor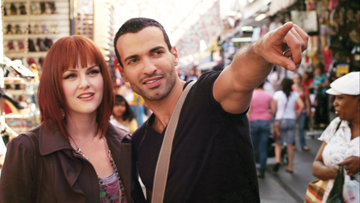 The 15th annual Kansas City Jewish Film Festival kicks off at the Jewish Community Center in the White Theatre on Saturday night, Oct. 12. As usual, it features great films with a Jewish twist. The festival's finale, "Dorfman in Love," set for Sunday night Oct. 20, written by Wendy Kout and starring Sara Rue and Elliott Gould, may be the most lighthearted on this year's agenda.
Rue plays Deb Dorfman, 27 and single, who lives in suburban Los Angeles with her depressed widowed father and works for her manic married brother. When Jay, her unrequited love, needs a cat sitter for a week, Deb volunteers. Bad news: Jay just moved into a downtown L.A. loft and it's a total mess. Good news: this gives Deb one week to transform the chaos into the perfect home for Jay and win his heart. Over the course of one crazy week, Deb Dorfman discovers true love by having learned to love herself.
Krista Blackwood, the JCC's director of cultural arts, calls the movie "a feel-good, laugh-out-loud romantic comedy."
"You'll find yourself rooting for Deb Dorfman, played by Sara Rue (best known from the sitcom 'Less Than Perfect' and the comedy-drama 'Popular'), to spread her wings and find love. Rue's deadpan comic flair brings extra charm and joy to what could have been a tired rom-com formula. And Elliot Gould is perfectly cast as Deb's kvetching dad," Blackwood said.
Writer Kout is best known for her work in television. She created and was the executive producer on the hit ABC show "Anything But Love," starring Jamie Lee Curtis and Richard Lewis. She also wrote for or developed projects for Paul Reiser, Jane Fonda, Robin Williams, ABC, CBS, NBC and Lifetime Television.
She has also written many feature scripts, but none of her film projects before "Dorfman in Love" were ever produced. Recently she's been concentrating on writing plays. Her first play, "Don't Blame Me, I Voted for Helen Gahagan Douglas," co-written with Michele Willens, was a 2006 O'Neill Conference Finalist and was nominated for the Weissberger Award. Her second play, "Naked in Encino," premiered in November 2012 in Denver and won four Marlowe Awards.
Kout describes the opportunity to write "Dorfman in Love," as beshert. It all started with a visit to downtown Los Angeles, a spot she wasn't all too familiar with, and a chance meeting with old friend and producer Len Hill.
Hill is now a real estate developer who owns a lot of downtown property and he invited Kout to see some of his properties. The tour is something she now says changed her life. It was while she was standing on the rooftop of one of his buildings that she was inspired to write this screenplay because she was moved by his passion.
"As a writer, we're always attuned to themes and characters and ideas and I started feeling something. I realized that I was looking at my friend who had repurposed his life and he was sharing it with me, who had repurposed her life from being a screenwriter to a playwright, and I was staring at our city, which was in the process of being repurposed.
"I said Len, I've just got to tell you this area is such a rich arena for a film. It's not just about repurposing our cities and our buildings. We have the capacity as human beings to be repurposed. And he looked at me and he said, 'You write it and I'll produce it.' That's what we did."
She asked for, and was given, the unusual freedom to find her voice during the process. She suggested to Hill that she write a screenplay and if he liked it, he could produce it. If not, she would move on.
She's thrilled she got the freedom to write Jewish characters.
"I'm Jewish and I write Jewish characters and I'm actually kind of proud of that and I didn't have to change that," she said. "You'll hear Yiddish in this film and you'll say 'Oh my God I'm actually hearing Yiddish in an American movie.' "
Rated PG13, the movie was theatrically released this past March after a successful run in film festivals. It won Best Feature in the Miami Jewish Film Festival (2012), Marbella International Film Festival (2012) and Hollywood Film Festival (2011) and Best Comedy in the Los Angeles Jewish Film Festival (2012).
"We have so loved the festival process and we would not have had theatrical distribution had we not been discovered by festivals and supported by them, specifically Jewish festivals all over the world," she said.
If you miss it at the local Jewish Film Festival, it is available On Demand on most cable networks and on DVD through Amazon.com.
It's gotten rave reviews as well. Alanna Berman of the San Diego Jewish Journal, noted that the film is much more than a love letter to Los Angeles.
"As much a Jewish comedy as a romantic one, the film lightheartedly explores how a change in scenery can quite literally change everything. It's no wonder that 'Dorfman' won Best Comedy at the Los Angeles Jewish Film Festival last year," Berman wrote.
Kout hopes "Dorfman" draws a big crowd here.
"The people who attend film festivals are very important to independent filmmakers," she said. "We all want them to feel our gratitude about seeing these films and attending these festivals because as our initial audience they help expand our audience with their support. Part of what has happened with our little movie is people like it and when they like it they share it on Facebook and in emails. That's how we became known to distributers and also continue to be known in the world. If you go Amazon.com you'll see 53 reviews of the movie and almost all of them are raves and those are just people who just found it," she said.
"Even though I may not be there to say this, I say thank you to the audience and all the audiences for all the films at the Kansas City Jewish Film Festival."
Kansas City Jewish Film Festival Schedule
All films will be shown in the White Theatre unless otherwise noted. For ticket information call 913-327-8000 or visit jcckc.org.
• Saturday, Oct. 12
"A Bottle in the Gaza Sea" — 8 p.m.
• Sunday, Oct. 13
"Nicky's Family" — 2 p.m., sponsored by Sheryl and Ron Davidow
"The Matchmaker" — 6 p.m., sponsored by The Alon family in memory of Michal Dishon-Alon
• Tuesday, Oct. 15
"Hitler's Children" — 7:30 p.m., sponsored by Shirley and Barnett Helzberg; discussion follows led by Rabbi Neal Schuster
• Wednesday matinee, Oct. 16
"A Bottle in the Gaza Sea" — 1:30 p.m.
• Saturday, Oct. 19
"Paris-Manhattan" — 8 p.m., sponsored by Denise and Scott Slabotsky
• Sunday, Oct. 20
"Foreign Letters" — 2 p.m., sponsored by the Gill family and the Kershenbaum family; discussion follows led by Tamara Falcov. This film will be screened in the Heritage Center.
"Dorfman in Love" —7:30 p.m., sponsored by Herb and Bonnie Buchbinder