Intensive writing program great experience for 18-year-old
Published: Thursday, 18 July 2013 12:00
Written by Marcia Montgomery, Community Editor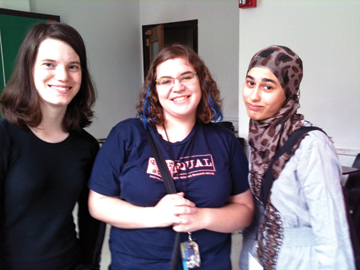 Sarah Goldman, 18, is a young woman of few words, but she undoubtedly saves her thoughts for her writing.
A National Merit Scholar, Goldman recently traveled to Iowa City, Iowa, to take part in "Between the Lines" Arab World, a creative writing and cultural exchange program that brings together talented young American writers ages 16-19 with peers from across the Middle East for two weeks of intensive creative study.
Students are chosen based on their writing skills. Goldman said she did not specifically seek out a program to work with other cultures; her brother heard about it and forwarded her the email. She thought it sounded interesting, so she applied.
"I think that in order to become a better writer, having new experiences and meeting new kinds of people are really important, because those things help you grow as a person," Goldman wrote in her application letter to the International Writing Program.
While on the campus of the University of Iowa (home of the famed Iowa Writers' Workshop), Goldman participated in intensive writing workshops and seminars, attended literary events and had an opportunity to give a public reading of her work at a local literary landmark, The Haunted Bookshop.
She said her reading went very well.
"Most of the people there were kids from the program and my parents were there, too."
Before she left for Iowa, Goldman said her writing goals for the program were "to move people, to make them shout and laugh and cry."
When asked if she did indeed make people shout and laugh and cry, she said, "Well, they laughed." Which is appropriate since she was reading a humorous piece to them.
Goldman said interacting with Arab students was fun.
"It was really cool to see how a lot of things were similar to us, like they use the same websites and have the same kinds of songs. I thought that was interesting," she said.
There was no problem communicating; Goldman said all the Middle Eastern students spoke perfect English. They came from a variety of countries. Goldman's roommate was from Palestine.
"There was a kid there from Egypt and we kind of talked a little bit about what's going on there with the revolution," Goldman said. "It was interesting because all the Americans seemed a lot more worried about it than he did. He seemed kind of excited."
During the two-week program, the participants worked closely with instructors John Murillo, an award-winning poet who serves on the creative writing faculty at New York University, and Ghada Abdel Aal, a bestselling novelist, screenwriter and blogger from Egypt.
"We learned about what writing is like in the Arab world. We had a session where they talked to us about Arabic poetry and how it's the basis of their written tradition. And we learned about their culture. … I really liked their teachers; I learned a lot about how to approach writing."
Goldman said she had not known what to expect from the program and was "kind of nervous if I would get along with everybody and what the process would be like. But I ended up having a really good time. I think I learned a lot and made a lot of friends I'm going to keep in contact with."
While the program was short, Goldman said it felt longer.
"We were only there for two weeks, but by the time we left, it felt like it had been a very long time. Classes weren't hard, but just a lot of focus."
Goldman is interested in writing realistic, contemporary fiction for young adults. She plans to attend Bryn Mawr College in Pennsylvania in the fall, but hasn't yet decided whether to major in an English program or sociology, which she feels would help foster her writing.
Goldman's parents are Don Goldman, executive director of Jewish Family Services, and Martha Gershun, executive director of CASA. She has a brother Nathan who is 21. The family are members of Congregation Beth Torah.