Gezer Park to bring Israeli setting to B'nai Jehudah Kabbalat Shabbat service
Published: Thursday, 20 June 2013 12:00
Written by Barbara Bayer, Editor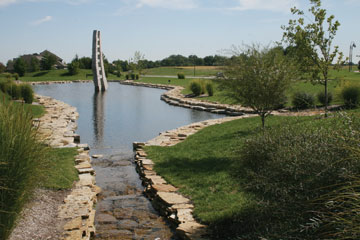 While in Israel on sabbatical this past winter, Rabbi Arthur Nemitoff learned about a Kabbalat Shabbat service at Port Tel Aviv right on the Mediterranean Sea. The more he learned about it, the more he wanted to bring a similar Kabbalat Shabbat service here. So The Temple, Congregation B'nai Jehudah is doing just that: three erev Shabbats this summer — beginning tomorrow, Friday, June 21, as well as July 19 and Aug. 16 at Gezer Park in Leawood.
"Summers are for enjoying nature and sounds and sights of the world around us. So, it seems summer-ish to enjoy Shabbat outdoors," Rabbi Nemitoff explained.
The evening begins with Bisseleh Nosh at 5:30 p.m. The one-hour service will begin at 6 p.m. It is open to the community. Those planning to attend should bring chairs and blankets to sit on.
Gezer Park, while not the Mediterranean Sea, was chosen because it's a unique spot that brings the spirit of Israel, especially the Gezer Region, right here to Johnson County. The Gezer Region just happens to be the sister city of Leawood and the region the Jewish Federation of Greater Kansas City works closely with as well.
"Included in the park are a sculpture of Jacob's Ladder, a copy of the oldest agricultural calendar known (the Gezer Calendar), and a Havdalah Garden. Celebrating Shabbat in this setting brings a bit of Israel — its history and spirituality — to our experience," Rabbi Nemitoff said.
B'nai Jehudah's senior rabbi explained these Shabbat at Gezer Park services will be come-as-you-are gatherings that will be very relaxed and full of music. A simple 8 ½ by 14-inch piece of paper will replace the prayerbook for these services.
Outdoor services have been around for centuries. Rabbi Nemitoff explained in his weekly Bisseleh Bytes email to congregants last week that in the "16th century, Jewish mystics in Safed, Israel, would go out into the fields on Friday evening, in order to welcome Shabbat. So excited and filled with joy to have this island of time to relax and reflect, they would literally go out so that Shabbat would arrive earlier ... just like we often go out our own front doors to the cars when family and friends arrive at our homes! On these three Friday nights, we go outside, to be part of nature ... as we welcome Shabbat."
Music will be provided at these three services by a group of musicians new to B'nai Jehudah.
"We are creating a vibe and a sound and feeling that we hope will be both joyful and spiritual and moving for people. We hope it will appeal to all ages," the rabbi said.
"Our service will be 90 percent musical and we hope that folks will join in and sing with us every moment of our tefillah. Through participatory singing, we will raise each other up to a place of joy," he continued.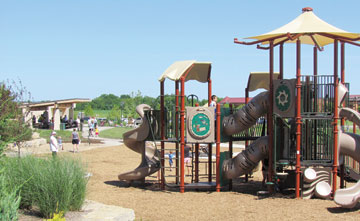 B'nai Jehudah has done a lot of experimentation with prayer for the last two years. When the formal experimentation ended last year, a group of lay people in the congregation led by Rabbi Neal Schuster, who is also a member, analyzed the data, comprised of 547 responses from 28 different services.
"What we heard was two things. Music and message were the most important aspects of tefillah for people who came," Rabbi Nemitoff said.
"They wanted music that was embracing and joyful. Whenever we had that kind of a service that was more focused on music, our attendance was higher. Our people's sense of being uplifted as they left the service was higher and it's clearly one of the things that is driving people to find meaning and spirituality in their lives.
"So we've heard that. People want participatory music and we are going to try that in these three services," Rabbi Nemitoff said.
The rabbi is hoping several hundred people will come to each of these services.
"If we have a great response we'll have people return. It may determine where we go as a congregation in terms of tefillah. We don't know. But we are hoping this is going to touch people in a very special place," the rabbi said.
These services are being marketed toward unaffiliated Jews in the community.
"But we invite anybody who wants to who would not otherwise be at this synagogue to experience Shabbat with us these three times. We do not want anybody else's numbers. But we'd love to have the world see what we're doing. We'd love to have non-Jews come to this service. We want people to see what Shabbat can be like. Nothing would be more wonderful to us than if we had 300 people and 100 of them were people who we have never seen before. And if we never see them again, that's OK too," he said.
The goal of these three services, Rabbi Nemitoff said, is to create a spiritual and joyful moment and to teach people that Shabbat can be celebrated in many different ways — outside or inside.
"We really, really want people to embrace it and find great meaning in what they are doing for that hour period," he said.
"The Port of Tel Aviv is not 133rd and Mission and 133rd and Mission is not the Port of Tel Aviv. But we hope people will see us and they'll be intrigued by it and they'll come and celebrate Shabbat with us. We just hope that it will be this incredibly wonderful experience," Rabbi Nemitoff said.
Parking is extremely limited at Gezer Park, so participants are urged to park cars in the Price Chopper parking lot on the south side of 133rd Street and walk across the street. Organizers also are encouraging people to bring a Shabbat picnic dinner to the service. A special price for a four-piece chicken dinner at McKeever's Price Chopper will be available those three evenings.
For more information about Shabbat in Gezer Park or to learn more about ordering a meal from McKeevers, contact B'nai Jehudah at 913-663-4050.